Business Environment
Investor-Oriented Support System
All current laws and regulations related to FDI have been streamlined and incorporated into a single legal framework represented by the new Foreign Investment Promotion Act (FIPA), which took effect in November 1998. Since its inception, the Act has enabled foreign investors to take advantage of onestop service and uniform treatment.

Various incentives, including tax exemptions and reductions, have been instituted to promote FDI. To cite an example, corporate and income taxes are exempted or reduced for high-tech businesses for a period of seven years. Government-owned real estate can be leased to foreign-invested firms for up to 50 years at favorable rates, and for no cost in certain instances. Free Investment Zones have also been established to accommodate large-scale FDI. The Government continues to phase out import restrictions, reducing the number of items subject to tariffs.
Service Sector
Liberalization of Korea's service sector was once limited to protect local service industries. However, the government has taken a number of actions toward its eventual full opening. To cite some examples, the life insurance industry is now completely open to foreign investors.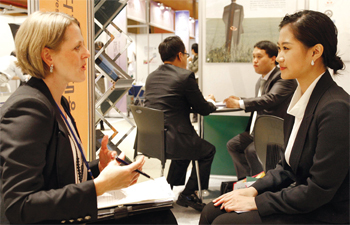 Foreign banks are no longer discriminated against. Investment by foreigners in retailing and wholesaling activities is also open, although certain restrictions still exist in specific areas. The advertising market, once open only to joint ventures with minority foreign participation, is now completely accessible to foreign investors.
Intellectual Property Rights
The government recognizes that the strict protection of intellectual property rights is essential for cooperative economic relations with major trading partners. Since 1987, the government has instituted fundamental reforms to strengthen the protection of intellectual property rights.

New copyright laws ensure comprehensive protection for both foreign and domestic work. Copyright protection lasts over the life of the author plus 50 years. Also, safeguards against intellectual property infringement have been extended to computer software products through specific legislation.
Agricultural Market
In Korea, as in many countries, agricultural policy is fraught with far-reaching social and political implications, making liberalization of this sector a daunting challenge.

Korean sensitivity about agriculture derives in part from the fact that arable land per farmer in Korea is only 1/57 that of the United States, which makes it impossible for Korean farmers to be as competitive as their U.S. counterparts. Nonetheless, the Korean government is making efforts to further open the domestic agricultural market. These efforts are accompanied by continuing government initiatives to strengthen the competitiveness of Korea's agricultural sector.
To translate its commitment to improving market access for various agricultural products, the government formed a task force in December 1988 to revise the schedules for agricultural import liberalization until 1991. Revised plans have helped to increase the scope of liberalization and accelerate the pace of market opening.
World-Class Logistics Hub
Incheon International Airport, opened in March 2001, is equipped with stateof- the-art facilities and provides advanced traffic networks for its customers. With its strategic location, the new airport is poised to become a leading logistics and transportation hub in Northeast Asia. Expansion plans for the airport area include the 2nd passenger terminal, establishing a Free Trade Zone, and International Business Center.

Incheon International Airport was selected as the best airport for six consecutive years in the annual Airport Service Quality or ASQ conducted by the Airports Council International, which has 1,700 world airports as its members.

Incheon International Airport has seen a continuous increase in the volume of cargo since its opening in March 2001, and is now the world's second largest airport in terms of international air cargo volume handling 2.7 million tons in 2010.

Container ships from Korea ply international sea lanes to ports in South and North America, Europe, Australia, the Middle East and Africa. Foreign ocean liners, cruise ships and passenger-carrying freighters also pay frequent visits to Korean ports.

Port cargo volume also climbed steadily, from 11.89 million twentyfoot equivalent units (TEU) in 2002 to 22.54 million TEU in 2012, with the expansion of port facilities and increased productivity through improved cargo handling capabilities at Busan Port, Gwangyang Port and Incheon Port.*Songdo International Business District (IBD) Songdo IBD is an international business center being developed on 6 km2 of reclaimed land along Incheon's waterfront. It is located 60 km south of Seoul and will be connected to Incheon International Airport by a 11 km highway bridge.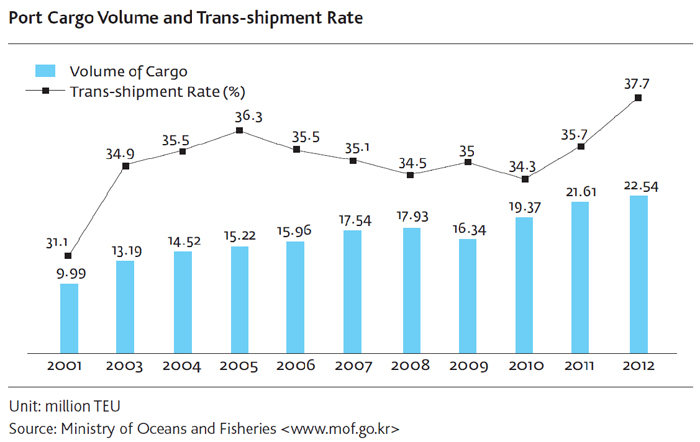 Economic Outlook
In 2013, the Korean economy is expected to grow around 3 percent, considering strong exports backed by the global economic recovery, private consumption boosted by stabilizing domestic and overseas financial markets as well as improving employment and income, and continuously rising investment. The number of newly employed, led by the private sector, is predicted to be around 320,000.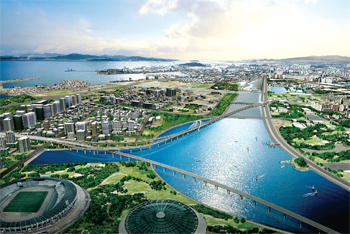 However, there are uncertainties from outside affected However, there are external uncertainties due to the worldwide financial crisis, unstable oil prices, and fluctuations in exchange rates, and ongoing European fiscal crisis. The government will closely monitor the economic situation and continue its efforts to maintain the recovery and keep prices stable.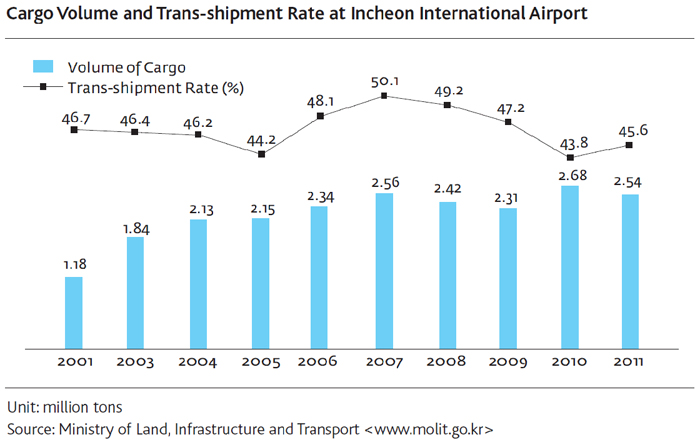 Department Global Communication and Contents Division , Contact Us