Service Institutions for Foreign Nationals
Service Institutions for Foreign Nationals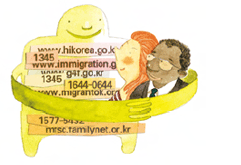 HiKorea is a government on-line service center for foreign nationals. It provides such services as immigration, civil applications, labor, consulting, and information for daily life. It is run in four languages (Korean, English, Japanese and Chinese). Foreign nationals can make appointments to visit the office, get permission for re-entry, and even extend online their period of stay.
The most important duties of the Immigration Office are to issue Alien Registration Cards and permission to stay. It also provides education and information for immigrants.
General Information Center for Foreign Nationals
|
(Call 1345)
Consulting services are provided for such things as language, daily life and law, visas and citizenship and many other problems foreigners may have.
A civic organization for helping solve various problems foreign employees may face. It provides consultation on such topics as unpaid wages, changing jobs, immigration, industrial accidents, medical services and welfare, international marriage, fraud and violence, training in Korean, computers or taekwondo, law and safety, and adjusting to life in Korea. Call 1644-0644 on Sundays (1 pm-7 pm) and business days. Call (02) 6900-8000 on Saturdays.
Established to support immigrants with issues of marriage and living in Korea, there are 171 branch offices of the center nationwide. Various services are provided, such as Korean language education for multi-cultural families, information on understanding multi-cultural family culture, family education, consulting, employment, starting up businesses, and translation. It also offers bilingual programs and Korean language courses for children.
Multilingual Support Websites
| Name of Institution | Website | Description |
| --- | --- | --- |
| KBS Worlds News | http://world.kbs.co.kr | Multilingual news, current affairs, culture and TV shows |
| Immigrant Broadcasting | www.mntv.net | Multilingual news, Korean language for everyday use |
| Multi-cultural family e-Learning | http://ecamp.kdu.edu | Korean language instruction |
| Mangonet | www.mangonet.kr | Online community for immigrants about marriage, education, health and jobs |
| Salad TV | http://saladtv.kr | Internet broadcasting for foreign nationals, multi-cultural families and overseas residents |
| Korea Tourism Organization | www.visitkorea.or.kr | Information on travel and festivals in Korea |
Department Global Communication and Contents Division , Contact Us