Education, Research, and Industry
Education, Research, and Industry
Education System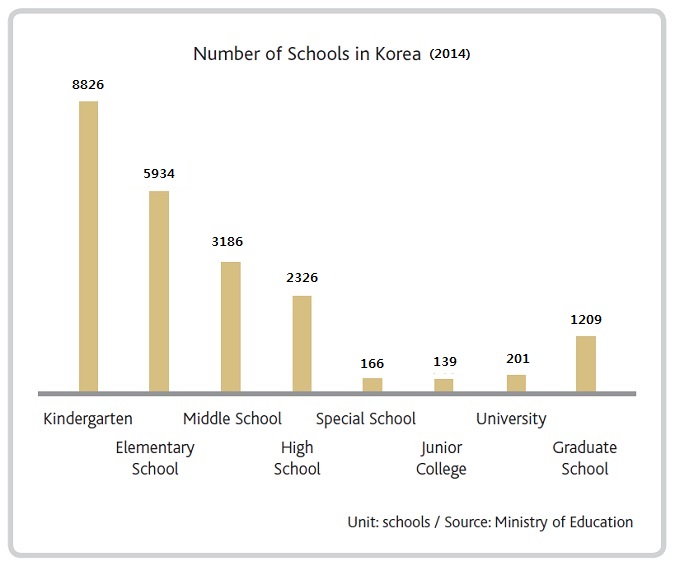 Koreans regard education as very important. In the process of industrialization, human resources emerged as an important factor in connection with the need to cope with scarce capital and resources more efficiently. Parents' fervor regarding their children's education has resulted in the production of a large number of well-educated people, which in turn has helped the country achieve rapid economic growth. The basic school system is composed of kindergarten (1 to 3 years), elementary school (6 years), middle school (3 years), high school (3 years), and university. There are also junior colleges (2 or 3 years) and graduate schools (for masters and PhD degrees). Since 2004, all South Koreans are required to finish middle school under compulsory education. The government started paying childcare allowances for all infants aged up to 5 in 2013.
"Korean style education will create a whirlwind of popularity as K-Pop does."

U.S. President Barack Obama often refers to Korean parents' fervent eagerness about their children's education to urge American parents to make more strenuous efforts. It is reported that the innovation campaign initiated by President Obama in 2009 for the invigoration of education in science, skills, engineering, and math for American middle and high school students was modelled on the South Korean experience. The most successful case of introducing Koreanstyle education into the United States is the Democracy Prep Charter School in New York. About 80% of the students of this school in Harlem, New York, which is notorious for its high rate of narcotics and crimes, originate from low-income households. Principal Seth Andrew (34) of this school taught English for one year in South Korea and saw that Koreans believed that the only way out of poverty is education. He decided to make sure that students of his school hold a similar belief and show respect for both teachers and education just as Koreans do. Such efforts on his part have brought about noticeable results in six years. In 2010, his school was selected as the best among the 125 charter schools in New York in 2010 -2011 in a school performance appraisal. Seth Andrews said, "I am sure that Korean-style education will create a whirlwind of popularity as K-Pop does."
High Educational Competitiveness
Thanks to a good system and the high regard for education, the country has many skilled people in virtually all sectors. Korea's universities produce talented young people specializing in basic science, including physics, and other major sectors, such as electronics, mechanical engineering, business management, economics, and accounting. Many educated adults can make themselves understood in English, with some of them speaking another foreign language. At present, the widespread availability of vocational education sessions at high schools helps students obtain qualifications in specialty areas. According to the OECD's Programme for International Student Assessment (PISA), South Korean students display a high level of academic achievement in reading, math, and science.
R&D Investment
South Korea has a large number of talented people engaged in cutting-edge research. At government institutes, in universities, and also within Korea's many world-leading corporations, a vast range of projects are undertaken: from basic research to the development of advanced technologies and innovative new commercial products. The government R&D budget supports programs in a wide variety of sectors, including high-end convergence, green resources, bioscience, welfare, and machine parts. A remarkable 12.4 out of ever 1,000 economically active people were employed as researchers in 2012, a total of more than 401,724; and their activities result in numerous patent applications, both at home and abroad.
Sophisticated Information Society
South Korea is a leading powerhouse in information and communication technology. It is a country full of dynamism. It became the first country in the world to commercialize the CDMA and WiBro technologies and established a nationwide network based on the use of these technologies in 2011. The country has also made Digital Multimedia Broadcasting (DMB) part of people's daily lives, while establishing a nationwide 4G communication long-term evolution (LTE) network.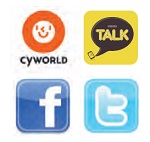 These sophisticated information and communication technologies have led to changes in diverse social sectors, including the innovation of government administration. With the help of such advanced technologies, the procedures for reporting a baby's birth, moving home or registering a person's death are handled more efficiently. Under the Social Networking Service (SNS), people now use an interactive communication system in which the government provides useful information to people while members of the public can report cases of inconvenience to the government. The country exported e-government-related technologies worth US$873.18 million between 2002 and 2012.
In the biennial e-government evaluation conducted by the UN, South Korea ranked No. 1 in terms of comprehensive scores in 2010 and 2012 among the 193 countries evaluated. The country took first place in development indices associated with information/communication infrastructure and human resources as well as in people's online participation.
With the improvement of sophisticated communication infrastructures and the increase in the number of mobile communication devices, people can engage in real-time communication and exchange of information with others worldwide. Social Networking Services such as Twitter and Facebook are bringing about revolutionary changes in society. Especially, the SNS Kakao Talk (global mobile instant messenger) developed in South Korea in 2010 has been attracting considerable attention. The number of Kakao Talk subscribers stands at 100 million worldwide. It is used by most South Korean smart phone users. Pop Cast, another form of SNS, is establishing a new area in the communication (broadcasting) sector. Now, SNS even exerts an influence in politics through the formation of public opinion, in addition to its inherent functions such as the delivery of information or entertainment.
Changes and Vision
South Korea is rapidly changing into a knowledge-based society. Human resources are regarded as the most important element of society and as a primary source of national competitiveness.
In South Korea, the development of creative good-quality cultural products, in which human resources are combined with cultural resources, is viewed as an industrial sector that will play a leading role in the 21st century. Current examples of the country's promising cultural products include K-Pop, TV dramas (e.g. Dae Jang Geum), and TV animations for infants (e.g. Pororo). According to the United Nations Development Programme (UNDP), the country's Human Development Index (HDI) is rising, apparently as a result of the growing emphasis on investment and the development of human resources as key actors of creative industrial sectors. The Human Development Index (HDI) is a composite statistic of the life expectancy, education, and income indices used to rank countries into four tiers of human development.)
Featured Topics
http://www.korea.net/AboutKorea/Society/Education-Research-Industry
URL Copy
Department Global Communication and Contents Division, Contact Us