Overall Olympic Standing
An active participant in many international sports competitions, Korea participated in the London Olympics in 1948 for the first time under its own national flag. In 1936, a Korean marathoner, Sohn Kee-jeong, won a gold medal in the Berlin Olympics, but he competed as a member of the Japanese team because Korea was under Japanese colonial rule at the time.

Korea's athletes have continued to improve their performances in Olympic Games. In the 1976 Montreal Games, Korea ranked 19th among more than 100 participating nations. In Los Angeles in 1984, Koreans captured 10th place out of 140 nations and achieved fourth out of 160 nations in the 1988 Seoul Olympic Games.

Korea placed seventh in the final medal standings in the 1992 Barcelona Olympics. It was a memorable event for Koreans especially with Hwang Young-jo's gold medal in the marathon, enabling him to become the nation's first marathoner to win this Olympic event under the Korean national flag.
Number of Total Summer Olympics Gold Medals by Category (1936~2008)
Source: International Olympic Committee
In the 1992 Barcelona Olympics, Korea ranked seventh out of 172 countries with twelve golds, five silvers and twelve bronzes. Korea ranked 10th in the 1996 Atlanta Olympics with seven gold, 15 silver and five bronze medals, and 12th in the Sydney Olympics four years later with eight golds, nine silvers and eleven bronzes. In the 2004 Athens Olympics, Korea won nine gold, twelve silver and nine bronze medals, placing ninth. In the
2008 Beijing Olympics
, Korea ranked 7th, winning 13 golds, 10 silvers and 8 bronzes. In the 2008 Olympics, Korea recorded the most outstanding performance ever, including the country's first gold medal in swimming by Park Tae-hwan, 9 straight wins and the gold medal by the baseball team and 5 world records by Jang Mi-ran in the women's over-75 kilogram weightlifting event.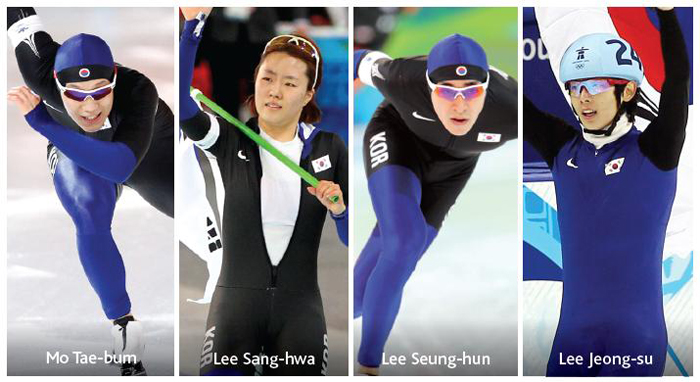 At the 2012 London Olympics South Korea came 5th overall among the 204 participating countries, winning medals in archery, fencing, shooting, swimming, and soccer (bronze).
Korea finished fifth at the
Vancouver 2010 Winter Olympics
with six gold, six silver, and two bronze medals. In addition to the two gold medals won in short track, Korea also took home three gold medals in speed skating. The gold medal roundup was completed by Kim Yu-na's historic victory in the ladies figure skating competition
Korea hosted the 1988 Olympic Games, 2002 FIFA World Cup, and the 2011 Daegu IAAF World Championships in Athletics and is organizing the 2018 Winter Olympic Games. The country is among only half a dozen nations that are achieving a "grand slam" of hosting the four major international competitions mentioned above. The Korean people's quest to contribute to world peace and harmony through sports will continue in the years to come.
Department Global Communication and Contents Division , Contact Us