Seoul Olympics in Retrospect
Seoul Olympics in Retrospect
Traditionally, Korean people have enjoyed a variety of sporting activities and games. The impressive economic advancement of recent years has drastically increased interest in sports. More and more Koreans are now exercising or competing in organized sporting events.

On a national level, the most noteworthy accomplishments include the hosting of the 1988 Seoul Olympic Games and co-hosting of the 2002 FIFA World Cup with Japan. Also, Daegu has been selected as the host city for the 2011 IAAF World Championships in Athletics, one of the top three world sports events along with the Olympic Games and the FIFA World Cup.

Considering the size and population of Korea, its performance in international sport competitions has been outstanding. Unprecedented in Asia, Korea has qualified for the FIFA·World Cup seven times.


Seoul Olympics in Retrospect
The 24th Summer Olympic Games were concluded after a 16-day run in Seoul, from September 17 to October 2, 1988, under the theme of Peace, Harmony and Progress. In what was the largest-ever Olympiad up to that time, more than 13,000 athletes and officials from 160 countries gathered to promote the lofty ideals of harmony and peace, while transcending the barriers separating East and West, and North and South. The first boycott-free Olympics in 12 years, the Seoul Olympic Games rose above ideological division and national interest and returned the Olympic movement back to its founding ideals.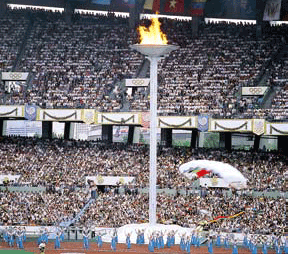 The Olympic Flame at the 1988 Seoul Olympics
Partly as a result of the 1988 Seoul Olympics, Korea now has many world-class sports facilities, concentrated in Seoul and Busan where most of the Olympic events were held. The Seoul Sports Complex, which encompasses a land area of 545,000 square meters, includes the Olympic Stadium with a seating capacity of 100,000, two gymnasiums for basketball and boxing, an indoor swimming pool, a baseball stadium and a warm-up field.

Olympic Park, occupying a vast area of some 1.5 million square meters in southeastern Seoul, comprises a 6,000-seat velodrome, three gymnasiums, fencing and weightlifting venues, indoor swimming pools, and tennis courts.
A key training facility for the country's athletes is the Taereung Athletes' Village, located on the eastern outskirts of Seoul. Built on a 17.1 acre site in the midst of a beautifully wooded area, the village includes a skating rink, indoor swimming pool, shooting range and gymnasiums for wrestling, boxing and weightlifting.
Ranking and number of Gold Medals South Korea won at Summer Olympic Games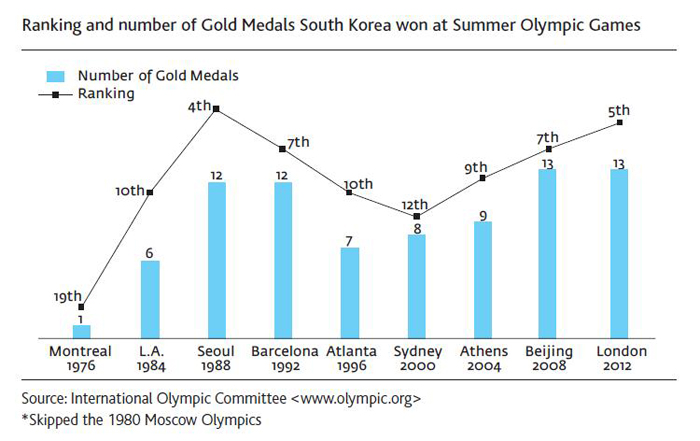 Department Global Communication and Contents Division , Contact Us