Summit Diplomacy

RSS
Summit Diplomacy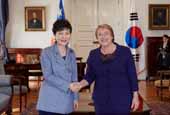 Korea-Chile Summit (April 2015)

President Park Geun-hye and Chilean President Michelle Bachelet discussed how to upgrade the free trade agreement (FTA) between their two countries and strengthen cooperation on high value-added areas at a bilateral summit on April 22. During the summit at the presidential palace in Santiago, the two leaders exchanged their opinions on expanding exchanges and cooperation in new growth areas including science and technology, information and communications technology (ICT), the health and medical industry, the defense industry and education.
Current Affairs Presidential trip to 4 South American countries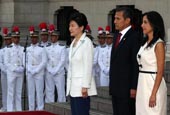 Korea-Peru Summit (April 2015)

President Park Geun-hye and Peruvian President Ollanta Humala held a bilateral summit on April 20 and discussed issues of common interest between the two Pacific trade partners. The two leaders exchanged opinions on how to expand cooperation on the economy and trade as well as on regional and international affairs during the summit, held at the presidential palace in Lima, the Peruvian capital.
Current Affairs Presidential trip to 4 South American countries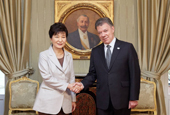 Korea-Colombia Summit (April 2015)

President Park Geun-hye and Colombian President Juan Manuel Santos have said in a joint statement that, "We intend to strengthen our bilateral partnership in high value-added industries." President Park and Colombian President Santos took part in a joint press conference at the Presidential Palace in Bogota after holding a bilateral summit there on April 17. "During this visit, the two nations signed 18 memoranda of understanding (MOUs) in the fields of energy, security, health, financial assistance and infrastructure construction, among others. This will provide a foundation to diversify bilateral cooperation, which I think is very meaningful," said President Park.
Current Affairs Presidential trip to 4 South American countries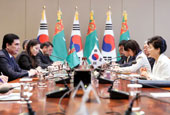 Korea-Turkmenistan Summit (April 2015)

President Park Geun-hye held summit talks with Turkmen President Gurbanguly Berdimuhamedov at Cheong Wa Dae on April 13. President Park expressed her gratitude to her Turkmen counterpart for visiting Korea with such a large delegation by saying that the visit shows his will to develop the bilateral relationship. She pointed out that the two countries have great potential in their bilateral relationship, while mentioning that the volume of bilateral trade has expanded 35 times since the establishment of diplomatic relations in 1992. President Park further hoped that the Turkmen leader's trip to Korea would become an important watershed to bolster bilateral relations and to lead toward the co-prosperity of both countries.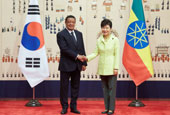 Korea-Ethiopia Summit (April 2015)

President Park Geun-hye held a summit with Ethiopian President Mulatu Teshome Wirtu at Cheong Wa Dae in Seoul on April 14. The Ethiopian leader was visiting Korea to attend the seventh World Water Forum. President Park said that Ethiopia is the only "blood brother" of Korea in Africa, as it sent troops to aid the South during the Korean War (1950-1953). She valued the continuing development of the bilateral relationship between the two countries. Mentioning the Memorial Hall for Ethiopian Veterans in the Korean War, she said that the hall symbolizes the will of the Korean people, who will never forget the sacred sacrifices made by the Ethiopian soldiers who fought in the war.
President Mulatu responded by saying that Korea is a true "blood brother" of Ethiopia. The Ethiopian leader added that Ethiopia is carrying out growth strategies that model Korea as a benchmark of economic development. He also expressed hope that the two countries could boost bilateral cooperation in the future.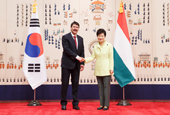 Korea-Hungary Summit (April 2015)

President Park Geun-hye met with Hungarian President Janos Ader for a bilateral summit at Cheong Wa Dae in Seoul on April 14.
At the summit, the two leaders agreed to combine Hungary's well-developed science and technology and Korea's manufacturing and production technology so that various joint projects in rapidly growing industries, such as information technology, automotive components and biopharmaceuticals, can be pursued.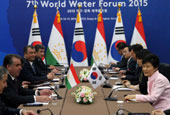 Korea-Tajikistan Summit (April 2015)

President Park Geun-hye hosted a summit with Tajikistan President Emomali Rahmon at the EXCO convention center in Daegu on April 12. The Tajikistani leader is visiting Korea to attend World Water Forum 2015. President Park praised the leading role Tajikistan plays in the international discussions on water, as it hosted high-ranking U.N. cooperation meetings on water in both 2013 and earlier this year. She also mentioned that the country is rich in water resources, ranking eighth in the world. She welcomed the opening of the Tajikistani embassy in Seoul on April 13, on the occasion of President Rahmon's visit, saying that the new embassy will strengthen bilateral cooperation across many fields and boost people-to-people exchanges and economic cooperation.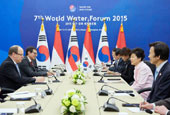 Korea-Monaco Summit (April 2015)

President Park Geun-hye held a summit with Prince Albert II of Monaco, who is in Korea to attend the seventh World Water Forum 2015 in Daegu on April 12. President Park noted the fact that bilateral trade between the two nations is increasing and hoped that their cooperative relationship would be further expanded through the mutual exchange of information about areas of possible future cooperation.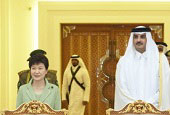 Korea-Qatar Summit (March 2015)

President Park Geun-hye held a summit with Tamim bin Hamad Al Thani, the emir of Qatar, on March 8 in Doha. The two heads of state discussed cooperation on energy and construction, currently the foundation of their relationship, and agreed to strengthen cooperation in the areas of investment, nuclear energy, defense and public health. President Park stressed that Qatar has been a close partner in both energy and construction, as well as in newer rapidly growing industries. She said that Korea and Qatar have many opportunities for cooperation in the future, as Korea has its "Creative Economy" plan and Qatar has its National Vision 2030. She hoped that bilateral cooperation would expand in high value-added industries, such as new technologies, public health and IT.
Current Affairs Presidential visit to 4 Middle Eastern countries
Korea-UAE Summit (March 2015)

President Park Geun-hye, on her four-state visits to the Middle East, held a summit with Crown Prince Sheikh Mohammad bin Zayed Al Nahyan of Abu Dhabi in the United Arab Emirates, the third stop on her tour. The two leaders held in-depth discussions concerning a wide range of issues, including the two countries' existing areas of cooperation -- nuclear power plants, energy, construction and infrastructure -- as well as new areas of cooperation such as health & medicine, food and agriculture. "There are only three countries that I've visited twice since my inauguration. One of them is the United Arab Emirates," said President Park. "It reflects the strong strategic partnership between Korea and the UAE."
Current Affairs Presidential visit to 4 Middle Eastern countries