Summit Diplomacy

RSS
Summit Diplomacy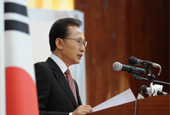 Korea-Ethiopia Summit (July 2011)

President Lee Myung-bak held summit talks with Ethiopian Prime Minister Meles Zenawi on July 8 in Addis Ababa and discussed reinforcing bilateral ties in development and resources. The two leaders called for expanded cooperation in the agriculture and green growth sectors, in line with the successful implementation of the Ethiopia's five-year "Growth and Transformation Plan," which includes insights from Korea's development experience. Both leaders also agreed to step up policy cooperation on the G20 Development Agenda and to enhance the level of partnership for increased trade and investment, resources development and science technology collaboration.
Current Affairs President Lee's state visits to African countries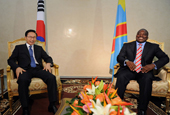 Korea-Democratic Republic of the Congo Summit (July 2011)

President Lee Myung-bak held summit talks with President Joseph Kabila of the Democratic Republic of the Congo on July 7, during his state visit to Kinshasa. The two leaders discussed boosting bilateral cooperation in the fields of agriculture, investment and resources. Presidents Lee and Kabila saw further agreement on a comprehensive partnership in infrastructure projects, including water purification facilities and coastal structures, while exchanging views on the state of international affairs in African region and the Korean Peninsula.
Current Affairs President Lee's state visits to African countries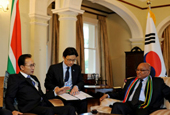 Korea-South Africa Summit (July 2011)

President Lee Myung-bak held a summit with President Jacob Zuma of South Africa on July 5 on the occasion of President Lee's state visit to Durban, South Africa. At the summit, both leaders agreed to further reinforce bilateral partnership in nuclear and mineral energy resources and to increase trade and investment. They sought closer collaboration in making progress on the implementation of G20Seoul Summit Consensus.Seoul and Durban also agreed on stronger cooperation on the 2012 Nuclear Security Summit in Seoul next March.
Current Affairs President Lee's state visits to African countries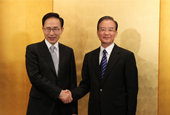 Korea-China Summit (May 2011)

President Lee Myung-bak and Chinese Prime Minister Wen Jiabao held a summit on May 22 on the occasion of the fourth Korea-Japan-China summit in Tokyo. At the summit, President Lee and Prime Minister Wen agreed to strengthen cooperation in nuclear safety and disaster control management and work together for the denuclearization of the Korean Peninsula. They also agreed to boost exchanges among high-profile officials to mark the 20th anniversary of the establishment of diplomatic relations between Korea and China.
Current Affairs The 4th Korea-Japan-China Summit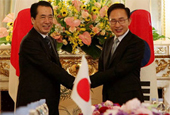 Korea-Japan Summit (May 2011)

President Lee Myung-bak and Japanese Prime Minister Naoto Kan held a summit on May 22 on the occasion of the fourth Korea-Japan-China summit in Tokyo. At the summit, President Lee expressed condolences to the victims of the earthquake and tsunami that hit northeastern Japan in March. The two leaders agreed to strengthen cooperation in nuclear safety and disaster control management.
Current Affairs The 4th Korea-Japan-China Summit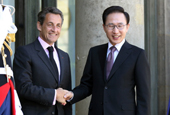 Korea-France Summit (May 2011)

President Lee Myung-bak held summit talks with French President Nicolas Sarkozy on May 13 in Paris. Presidents Lee and Sarkozy discussed ways to enhance bilateral cooperation in trade and investment and advance the G20 Summit. Both leaders also discussed ways to expand bilateral cooperation in trade and investment when the Korea-EU free trade agreement (FTA) takes effect in July.
Current Affairs Presidential visit to Germany, Denmark, France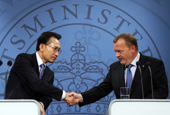 Korea-Denmark Summit (May 2011)

President Lee Myung-bak and Danish Prime Minister Lars Lokke Rasmussen held a summit and agreed to forge an unprecedented Green Growth Alliance with Denmark on May 12 in Copenhagen. President Lee said in his congratulatory speech that both Denmark and Korea will be "smart movers," leading the world economy toward the green growth through the alliance.
Current Affairs Presidential visit to Germany, Denmark, France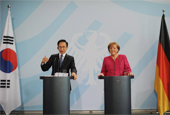 Korea-Germany summit (May 2011)

President Lee Myung-bak held a summit with German President Christian Wulff on May 9 in Berlin and discussed ways to further consolidate bilateral partnerships in core strategic industries.The two leaders agreed to reinforce mutual cooperation in the political, economic and cultural realms, especially in light of the two nations shared background of national division.
Current Affairs Presidential visit to Germany, Denmark, France
Korea-Australia Summit (April 2011)

President Lee Myung-bak and Prime Minister of Australia Julia Gillard held bilateral talks at Cheong Wa Dae on 25 April, 2011. The two leaders agreed that the Korea-Australia partnership had developed over the last 50 years into a broad-based partnership including significant commercial ties, strong security cooperation and wide-ranging people-to-people links. They renewed their commitment to further strengthen this partnership in the next 50 years on the basis of shared values, mutual respect and genuine friendship.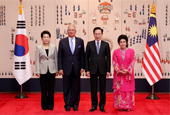 Korea-Malaysia Summit (April 2011)

President Lee Myung-bak held a summit on April 5, 2011, at Cheong Wa Dae with Prime Minister Mohd. Najib bin Tun Abdul Razak of Malaysia, who was paying an official visit to Korea. At the summit, Prime Minister Najib said Malaysia will play an active role as financial mediator if Korea enters into investment projects in Muslim countries. In response, President Lee expressed his hope that the two countries can cooperate in the financial sector. The two leaders also held in-depth discussions on bilateral cooperation in the economic, trade, science, technology and energy sectors.