K-Pop
Feb 13, 2012
Korean pop music or K-pop as it is commonly known is steadily gaining traction internationally and becoming the focus of local fan communities.

Starting in the late 1990s, Hong Kong-based Channel V began to feature Korean pop music videos. Following the success of Korean idol groups NRG, Baby V.O.X. and H.O.T. among others in neighboring countries, Korean pop music emerged as the next epicenter of pop culture in Asia.


The biggest appeal of K-pop can be found in its catchy riffs and strong beats alongside its "total entertainment" aspect combining flashy dance moves and fashion.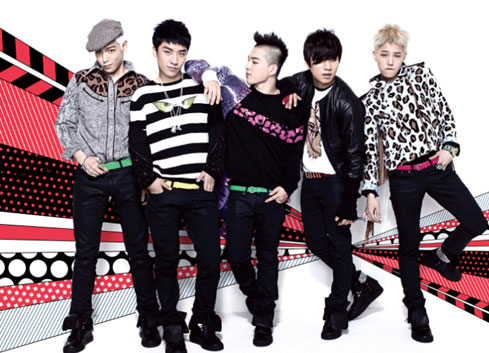 Big Bang, a K-pop idol group (Photo courtesy of YG Entertainment)
Artists and groups like BoA, Wonder Girls, Girls Generation, Super Junior, and Big Bang have become popular in most Asian countries and recently have begun mesmerizing fans and aficionados on other continents.


The power of word of mouth and the ripple effect of online media sites like YouTube have been a major driving force for K-pop in the beyond-Asian market.


A good example of the Korean wave's growing reach would be the passion displayed by European fans at Le Zenith de Paris, where the SM Town World Tour was held on June 10 and 11, 2011.


Initially, only one performance was planned, but as seats sold out in just 15 minutes, hundreds of fans who were unable to buy tickets converged on May 1 for a flash mob on an impromptu stage in front of the Louvre Museum to convince SM Entertainment to add a second concert to their European tour schedule.


Ever since, flash mob demonstrations have become a common tactic for overseas groups trying to bring K-pop concerts to their home countries.


In light of the ever-growing popularity of Korean pop music across the globe, along with a sharp increase in demand for Korean cultural content provided in foreign languages, YouTube has launched an exclusive channel dedicated to Korean pop music (www.youtube.com/music/kpop)


The opening of the anticipated K-pop channel marked the first time a national music genre got its own separate section in a YouTube Music category, adding K-pop to the ranks of global music genres including pop, rock, R&B, rap, folk, Latin, and reggae.


For more information on K-pop and singers, click here.


http://www.korea.net/Government/Current-Affairs/Korean-Wave/view?affairId=209&subId=292&articleId=2927
URL Copy
Department Global Communication and Contents Division , Contact Us