K-Fine Arts
Aug 20, 2012
Korean contemporary art is making a name for itself abroad. Starting with the works of pioneers like video artist Paik Nam-june (Nam June Paik) to other modern artists whose works are now receiving recognition on the international stage, there are a number of artists gaining attention overseas.
Modern Korean art developed through the chaotic periods of Japanese colonial rule (1910-1945), independence (1945) and the Korean War (1950-1953). As the traditional value system collapsed, many young artists turned to the international art world, generally filled with abstract forms of expression popular in the West at the time.
Western oil painting styles were first introduced during the colonial period and later became prevalent. Kim Whan-ki who used dots for his artwork was one of the first-generation painters of abstract art in Korea. Another big name, Lee Jung-seob was reputed for successful appliance of western technique to draw cows, roosters, chickens, and other familiar domestic sights.

Three art works of artist Kim Ki-chang (1913-2001), from the left: "Bird that Swallowed a Sun" (1968), "Gunmado" (1969) and "Cheongsando" (1976) (Photo: Yonhap News)
Na Hye-seok was the first woman painter of western arts in Korea and Chun Kyung-ja, another female artist, was recognized for her colored paintings of flowers, animals and women.
Oriental-style painters of this period included "Unbo" Kim Ki-chang who used traditional materials such as paper, brushes, and ink to paint a unique, semi-abstract style of human figures with divided planes. He also experimented with abstract representations of Chinese characters and the use of crumpled paper, dyed and painted with dots.
After Korea's liberation from Japanese rule in 1945, traditional Korean painting styles were revived by a number of outstanding artists. At the same time, many Korean artists educated in Europe and the United States helped their home country keep up with the contemporary trends of the outside world.
The tragedy of the Korean War, meanwhile, led to the rise of Abstract Expressionism. Then-young painters like Park Seobo and Ha Jong-hyeon devoted themselves to what was called the "informel" movement.
In the 1950s, the government-run National Exhibition played a leading role in the advancement of Korean art. The National Exhibition had a rather formal and academic atmosphere and tended to choose works that were realistic in style.
Sculptors also began to employ a greater diversity of materials, including assorted metals and stones, amid a conflict between realism and abstracticism. In 1954, the work of Kim Jong-yeong was selected by the international sculpture competition held in England and he became a pioneer of Korean abstract sculpture.
Young artists pursuing creativity in their works, therefore, pursued art in tune with the new age. In the late 1960s, modern Korean painting began to change directions to geometrical abstraction. Other artists took a deep interest in subject matters that conveyed the innate unity between man and nature.
Impressive progress was made in local sculpture during the 1960s and 1970s. There were two big movements of the time, the so-called "anti-formal abstractionism" of the 1960s that sought spontaneous expression through nonrepresentational shapes, and the "sculptural conceptualism" of the 1970s that pursued pure abstraction free from all emotional binds and connotations.
Korean paintings of the 1980s were largely a reaction against the modernism of the 1970s. During the '80s, artists strongly felt that art should convey a message dealing with current social issues. Since then, there has been an interest in the issues of modernism and post-modernism. It was also during this period that Koreans experienced a dramatic increase in the number of foreign works and exhibitions at home, while at the same time more Korean works were presented abroad. Local artists began to realize the worldwide appeal of the traditional art world.
In the '80s Korean sculpture embarked upon new and culturally diverse trends, some even eyeing the traditional trends of a more humane nature. A realistic tendency was also necessary to bring the art closer to the public. Genre boundaries between sculpture and other forms of arts were also being broken down.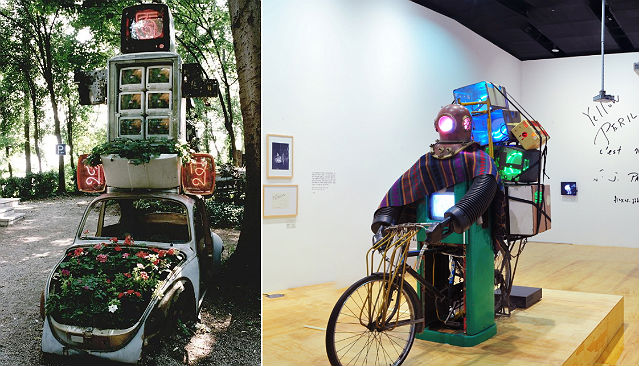 Meanwhile, modern technology also emerged as new raw materials for sculpture. Nam June Paik (Paik Nam June) for example used video to the fullest to express his views and ideals, becoming the pioneer of Video Artist.
At the 1995 Venice Biennale a Korean Pavilion was built, with Korean media artist Jheon Soocheon representing the country. The artist earned wide acclaim, receiving an Honorable Mention from the Venice Biennale.
The Gwangju Biennale art show was first introduced the same year. The event provided an opportunity for modern Korean artists to get together with leading figures from the international art world.
Today, Korea abounds in cultural facilities of all kinds, where people can enjoy exhibitions and stage performances throughout the year. From internationally recognized museums to small theaters where performers and spectators can casually mingle and interact, these facilities vary in type and scale to satisfy the diverse interests and penchants of their target audiences.
Another recent trend in fine art includes auctions. Korean contemporary artists, having established their presence at world-renowned auction houses such as Sotheby's and Christie's, are continuing to expand in new realms. As of today, Korea's contemporary artists continue to mesmerize art fans throughout the world, showcasing their works in some of the world's most prominent museums.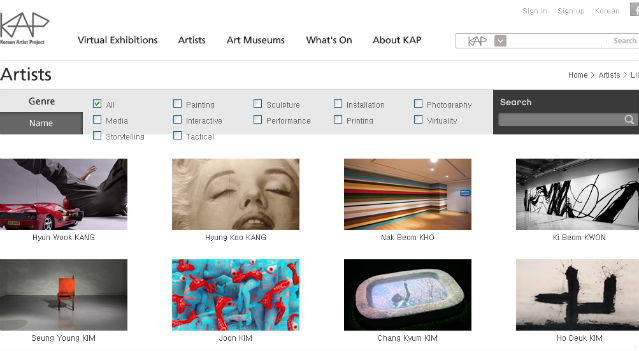 The virtual museum Korean Artist Project offers online exhibits so global audiences can appreciate some of the most inspiring artwork produced by Korean artists from the comfort of their own home, without having to visit the country's art neighborhoods or museums.
You are invited to discover the latest works of Korean artists practicing in diverse mediums within the genre of contemporary art anytime, anywhere, when you need to fuel you creativity by viewing different kinds of exhibitions through just a few clicks. For more information, visit
www.koreanartistproject.com/eng_main.art?method=main
.
http://www.korea.net/Government/Current-Affairs/Korean-Wave/view?affairId=259&subId=336&articleId=5275
URL Copy
Department Global Communication and Contents Division , Contact Us