Hangeul
Aug 20, 2012
The official language of Korea is Korean, and the official orthographic system is called Hangeul. This simple fact contributes to this country's national unity and gathers all Koreans under their shared roots.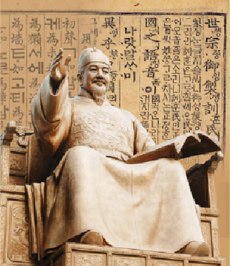 Hangeul is a unique writing system, considered one of the most creative and scientific language inventions in the world. Unlike most other writing systems, records clearly show when and by whom Hangeul was invented, with the original handbook still preserved. Hangeul was invented in 1443 by King Sejong (left), the fourth ruler of the Joseon Kingdom (1392-1910) -- considered to be one of the greatest rulers of Korea -- and began to be promulgated in 1446. The handbook created at this time was called Hunminjeongeum, meaning proper phonetic system to educate the people.

The term Hangeul was first used in the early 20th century, and is said to have been coined by a scholar name Ju Sigyeong (1876-1914) who studied the Korean language. 'Han' in the word Hangeul has a composite meaning: 'big,' 'unity/one,' and Han of the Korean people. Both North and South Korea use the same writing system; however, in the South, the term Hangeul is used to refer to the writing system of the Korean people, whereas in the North, the term Joseongeul, meaning Joseon alphabet or writing, is used.


Hangeul is a phonetic writing system with the letters written in syllables, like a syllabic alphabet, consisting of ten vowels and 14 consonants, allowing it easily be combined to form numerous, syllabic groupings. Hangeul is simple yet systematic and comprehensive, and is considered one of the most scientific writing systems in the world.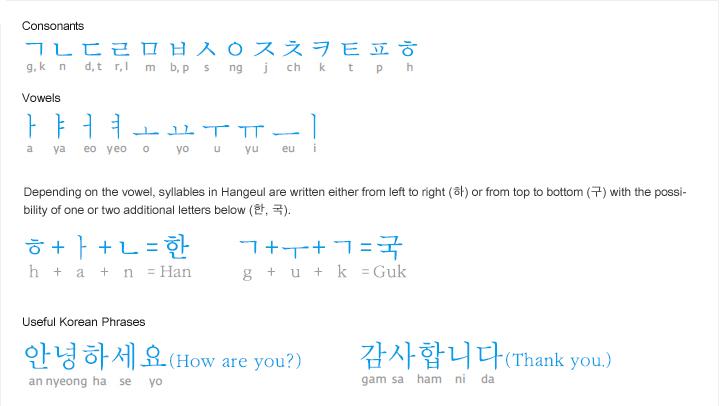 Thanks to Hangeul, Korea has achieved a nearly 100% literacy rate. The scientific and easy-to-write alphabet has also given the country an edge in the computer age.


In 1997, UNESCO added the first Hangeul handbook Hunminjeongeum to the UNESCO Memory of the World Register as a global documentary heritage. Earlier, in 1989, UNESCO established the King Sejong Literacy Prize, and since 1990 on the International Literacy Day (September 8th) UNESCO rewards individuals or organizations that contribute to fighting illiteracy with the King Sejong Literacy Prize, named after Hangeul's founder.


For more information on learning the Korean language, go to Resources > Useful Info > Learn Korean or click here: http://www.korea.net/Resources/Useful-Info/Learn-Korean


For more information on Korean language tests, go to Resources > Useful Info > Korean Language Tests or click here: http://www.korea.net/Resources/Useful-Info/Korean-Language-Tests
http://www.korea.net/Government/Current-Affairs/Korean-Wave/view?affairId=260&subId=339&articleId=5277
URL Copy
Department Global Communication and Contents Division , Contact Us