Korea in the foreign press
Korea in the foreign press
As Korea continues to distinguish itself internationally as a leader and innovator across various sectors, foreign press coverage has also focused increasing attention on the elements that define Korea today. Looking in-depth at everything from new trends and old traditions to noteworthy events, policies, industries, and more, these reports offer diverse perspectives on the changing face of Korea. For those interested in learning more about Korean culture, politics, business, and society as seen from the outside, the stories compiled here offer unique and relevant insights.
What's New
more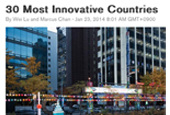 Jan 27, 2014
Korea has been selected as the most innovative country in the world. According to Bloomberg, Korea scored a total of 92.10 points, ranking first in its Global Innovation ...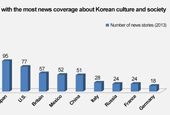 Jan 21, 2014
The year 2013 saw a continued rise in news stories spotlighting hallyu, also known as "the Korean Wave," in media outlets worldwide. According to the Korean Culture and I...