Korea in the foreign press
Korea in the foreign press
As Korea continues to distinguish itself internationally as a leader and innovator across various sectors, foreign press coverage has also focused increasing attention on the elements that define Korea today. Looking in-depth at everything from new trends and old traditions to noteworthy events, policies, industries, and more, these reports offer diverse perspectives on the changing face of Korea. For those interested in learning more about Korean culture, politics, business, and society as seen from the outside, the stories compiled here offer unique and relevant insights.
What's New
more

Oct 15, 2013
Indonesian media reported in detail and with eagerness on President Park Geun-hye's recent state visit to Indonesia and on the progress made in Korea-Indonesia bilateral ...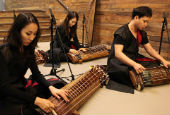 Jun 19, 2013
An article in leading UK business daily Financial Times spotlighted Korean musicians participating in the ongoing K-Music Festival 2013 currently being held by ...