Korean firms show off latest gadgets and technologies at MWC
Mar 05, 2013
Korea's leading tech firms flexed their muscles with their latest gadgets and technologies at the
2013 Mobile World Congress
(MWC). New products introduced at the MWC that just wrapped up in Barcelona, Spain, included the Galaxy Note 8.0 tablet PC by
Samsung Electronics
and Optimus series smartphones by
LG Electronics
.
Samsung's lot at the exhibition covered 2,500 square meters, taking up the biggest space at the MWC among all participants. The Galaxy Note 8.0 allows users to divide the screen for two different app functions such as searching the Internet and watching a movie simultaneously. The new tablet PC is equipped with one 1.6GHz quad core processor and 16 or 32 GB memory.
J.K. Shin, head of Samsung's IT & Mobile Communications Division, described the product as having a large screen and increased mobility at the same time.
According to Shin, the global tablet PC market, now dominated by Apple's iPads, is expected to grow 50 percent this year.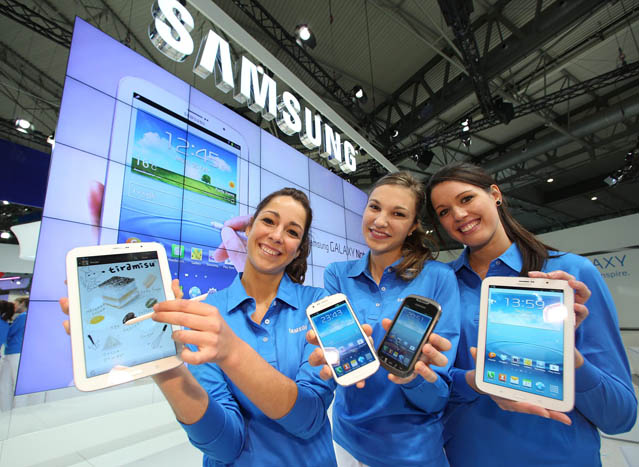 Samsung, the world's leader in smartphone sales, sold 17.7 million tablet PCs in 2012, according to an estimate by market researcher IDC. Shin also said the company will unveil the Galaxy S4 smartphone, the follow-up to its flagship Galaxy S3, at a New York event scheduled on March 14.
Meanwhile, LG rolled out the Optimus G Pro smartphone. With a 5.5-inch screen, it is an upgraded and larger version of the flagship Optimus G. LG, Korea's second-largest smartphone maker, slipped by one notch to fourth place in global smartphone sales last year, behind Huawei Technologies of China.
The Optimus L Series 2 has a dual SIM feature that allows two different phone numbers in one device, enabling users to have one business and one personal number. The company also introduced low-end smartphone models: the Optimus F5 and Optimus F7, both having what LG calls the QSlide function, allowing users to open two apps at the same time.
Another milestone at the 2013 MWC is the emergence of new mobile OS platforms. Currently, over 87 percent of smartphones in the world run on either Apple's iOS or Google's Android operating system, according to market researcher Strategy Analytics. However, there was a rush of new operating systems at the exhibition to challenge the two dominant formats.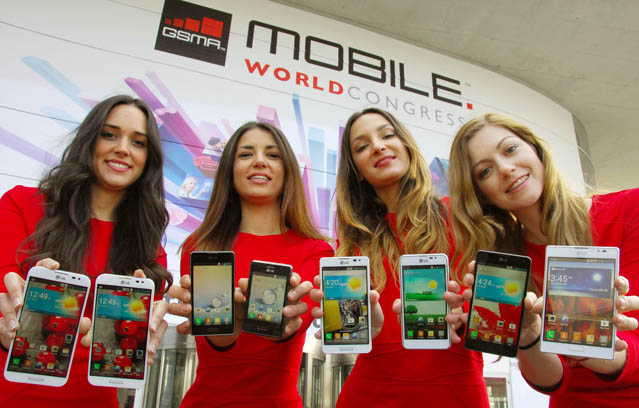 Samsung and Intel introduced a Linux-based open source operating system, Tizen 2.0. Also participating in its development are NTT DoCoMo, SK Telecom, Vodafone, Orange, Panasonic, and Huawei. Samsung is also a key player in the development of the Microsoft Windows Phone 8.
Conversely, LG announced that it would participate in the development of Firefox OS, an open source operating system for smartphones and tablet computers developed by Telefonica and Mozilla. Some 18 mobile carriers including Deutsche Telekom and Sprint Nextel are supporting the system.
Korean mobile telecommunications carriers including
KT
and
SK Telecom
also showcased new technologies. KT developed Hotspot2.0 technology that allows users to automatically log into Wi-Fi overseas without typing in IDs and passwords. For example, if a KT customer visits Japan, he can select NTT DoCoMo's Wi-Fi service and use data roaming and vice versa. SK Telecom showcased LTE-Advanced, which the company said is twice as fast as the existing LTE service.
By Limb Jae-un
jun2@korea.kr
Featured Topics
http://www.korea.net/NewsFocus/Business/view?articleId=106096
URL Copy
Department Global Communication and Contents Division, Contact Us