Busan motor show establishes itself as nation's premiere auto event
May 13, 2010


The Busan International Motor Show (BIMOS) 2010 opened on Apr. 29 and ended its 10-day-long journey and closed May 9.

According to the venue, Busan Exhibition and Convention Center (BEXCO), and the BIMOS office, approximately 1.1 million people visited the show. The number of visitors to the city's event has topped a million four times in a row up to this year, which indicates that it has established itself as a national auto culture show, said organizers.

The show, introducing a wide variety of new vehicle models, started out with a press day on Apr. 29 and drew to a successful conclusion.

A total of 154 auto companies, including Korea's Hyundai and Kia, Britain's Lotus and Japan's Subaru took part in the motor show that had the slogan "Drive green, live clean", attracting a sea of people during its 10-day run.

Tens of environment-friendly vehicles, such as hybrid cars, hydro-fueled buses and electric automobiles, were introduced at the show, contributing to the awareness of the motor show's green theme.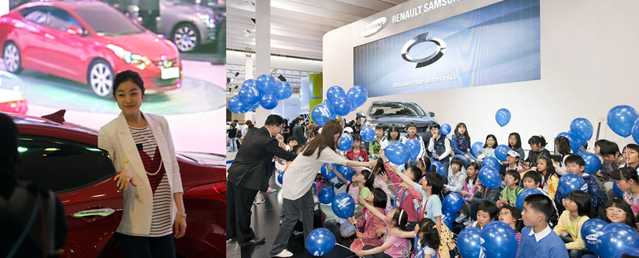 A great number of families stopped by the motor show, taking the opportunity afforded by May being traditionally the month for family in Korea. They were joined by delegations from the auto industry, auto engineering students and teenagers.

BIMOS 2010's economic ripple effects were valued at 250 billion won, when expenses paid by auto firms, participants' accommodation and revenues from ticket sales are all combined, said organizers. Sales by auto firms and auto parts manufacturers to almost 400 foreign companies amounted to US$966 million, they added.

Cultural performances further added to the festive ambience. The national figure skating heroine Kim Yu-na and actresses Han Chae-young and Park Jin-hee made appearances at the May 29 press day event. Singers such as Alex and Son Dam-bi and the music band W & Whale attracted more tourists to the event, while racing girls' fashion shows captivated onlookers.

* Photos courtesy of Yonhap News

By James Ro
Korea.net Staff Writer
Featured Topics
http://www.korea.net/NewsFocus/Business/view?articleId=81263
URL Copy
Department Global Communication and Contents Division, Contact Us