Korea releases high-speed electric car
Sep 15, 2010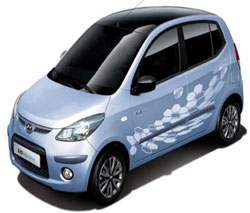 Korea released its first high-speed electric car, BlueOn, on Sept. 9. This car is only the second of its kind worldwide to be put into mass production.

Hyundai Motors Co., the largest automobile maker in the country, showcased their new electric vehicle for the first time at the Presidential Office of Cheong Wa Dae. Over 50 high-level state officials and business figures attended the launch, including President Lee Myung-bak, Minister of Knowledge Economy Choi Kyung-hwan, and Minister of Environment Lee Man-eui. President Lee test-drove the car with Hyundai Motor's Vice Chairman, Lee Hyun-soon.

BlueOn is comparable in function to Mitsubishi's i-MiEV, but capable of going a greater distance on a single charge, and its batteries can be charged more quickly. BlueOn can reach a speed of 100 kilometers per hour in 13.1 seconds, which is 3.1 seconds faster than its Japanese counterpart. It can also cover up to 140 kilometers on a single charge, while i-MiEV can go for approximately 130 kilometers.

BlueOn requires six hours to completely recharge its battery, while seven hours are needed to fully charge an i-MiEV. If an urgent recharge is needed, the BlueOn takes 25 minutes to be ready for use, but 30 minutes are for the i-MiEV to be ready again. Both offer a maximum speed of 130 kilometers per hour.

BlueOn's design is based on Hyundai's existing i10 hatchback compact model for the European market. More than a year of research and the participation of 44 mid-sized firms and suppliers were necessary to complete it. A total of 40 billion won was used for research and development of the vehicle.

The name "BlueOn" comes from Hyundai's concept of blue as an environmentally friendly and creative color, and the idea of "switching on." The vehicle is compact, but boasts a strong motor powered by a domestically developed lithium-ion polymer battery.

President Lee Myung-bak test-driving the electric vehicle, "BlueOn" (left) after listening to the explanation of Hyundai Motor executive on Thursday, Sept. 9.
The vehicle also has power steering, a water pump, and oil brakes that are all motor-driven. Hyundai also linked the existing Mozen Autocare Service with smartphone services to create a telematics system exclusively for the electric car. The telematics system monitors battery conditions and provides relevant information to the driver, such as the location of the next recharge center. Also included is a 4.2-inch TFT LCD Super Vision Cluster that allows the vehicle to give voice directions.

Hyundai Motors plans to roll out another 30 electric cars by October of this year for distribution to government ministries and local government bodies for further test-driving. For the next two years, until August 2012, the company plans to devote itself to fully developing and establishing a recharge infrastructure for the electric car. BlueOn will also be featured in future state events, including the G20 Seoul Summit in November and the 2011 World Championships in Athletics in Daegu.

Based on the latest breakthroughs, the government is now planning for massive production of mid-size electric vehicles and related infrastructure by 2014. The aim is to increase the distribution rate of electric vehicles to 10 percent of the domestic compact car market by 2015, and 20 percent by 2020.

The government will offer subsidies for purchasing the electric car, and is also considering benefits such as tax discounts for car registration. Other state assistance will go towards establishing 2.2 million battery recharge stations at public facilities, including large markets and parking lots by 2020.

By Kim Hee-sung
Korea.net Staff Writer
Featured Topics
http://www.korea.net/NewsFocus/Business/view?articleId=82864
URL Copy
Department Global Communication and Contents Division, Contact Us