Korea, Indonesia become partners in creative industries
Oct 22, 2013
* This is a contribution from Minister Yoo Jin-ryong of the Ministry of Culture, Sports and Tourism to the Donga Ilbo, a daily newspaper.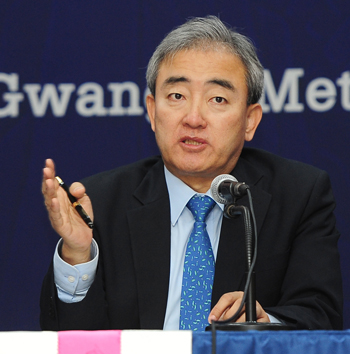 During a recent visit by President Park Geun-hye to Indonesia, in honor of the 40th anniversary of the launch of diplomatic relations between Korea and Indonesia, the two countries signed a memorandum of understanding (MOU) to cooperate on the development of the creative industries.
With this MOU, Indonesia became Korea's second Asian creative industry partner, after China. The MOU covers a wide range of cooperation between Korea and Indonesia, from the sharing of digital music, films, performances, animation, games, and art through to the exchange of information, ideas, training and collaboration on research and development projects.
Indonesia, with its 240 million-strong domestic market, has been recording a six percent or more annual economic growth rate over recent years. Taking into consideration the nation's population and growth potential, Indonesia seems highly likely to become an Asian leader in the not-too-distant future.
Since the launch of its new Ministry of Tourism and Creative Economy in 2011, Indonesia has strived to slowly shift its economic paradigm from areas of traditional economic importance, such as mining, farming and manufacturing, toward more creative industries. For Indonesia, the creative industry ranges from film, TV, photography, advertising, publishing and printing through to the arts, culture and knowledge- and information-related industries. It is in these fields that Korea-Indonesia cooperation can soar. According to data released by the Indonesian Ministry of Tourism and Creative Economy, creative industries cover a KRW 50 trillion (USD 47 billion) market and account for 7.1 percent of GDP and 4.91 percent of annual growth.
In an effort to develop these industries, Indonesia has strengthened its cooperative partnerships with other nations and has learnt from their experiences. In November last year, Indonesia signed an MOU with the U.K. It chose Korea as its second creative partner because it wants to share in Korea's creative industry experience and strengthen cooperation.
In the months and years to come, a wide variety of collaborative projects will be able to take concrete form. Film festivals will take place on a regular basis, in alternating host countries, and a Korean theater will be constructed in Indonesia.
This MOU will bring new opportunities to Korea, as well. Korea has traditionally focused its attention on the larger markets of China and Japan, but it now has a new partner with whom it can develop its creative industries.
This bilateral partnership will come to fruition and spread to other Asian countries, bringing the development of the creative industries beyond only East Asia to the Asian region as a whole.
Translated by Lee Seung-ah
Korea.net Staff Writer
slee27@korea.kr
Department Global Communication and Contents Division, Contact Us