Tradition, Today, and Tomorrow Shake Hands in Clay: Ceramics Festivals in Korea
May 03, 2012
The Icheon Ceramics Festival and the Yeoju Ceramics Festival are held around the same time in spring, but their programs and themes are not quite the same.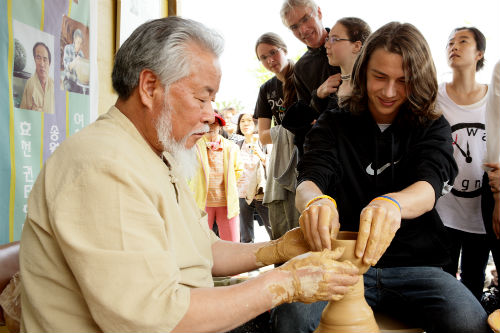 The two cities of Icheon and Yeoju in the province of Gyeonggi-do are famous for pottery. Both are excellent locations for the production of ceramics as they abound in kaolin (a.k.a. porcelain clay), clean water, and pine wood, suitable for firing kilns. However, this doesn't mean that these two cities produce the same types of ceramics. Icheon is considered the modern mecca of Korean pottery. It has long been a home to masters who add artistry to their creations. Yeoju is the center of functional ceramic products used in our daily lives. It produces over 40 percent of the ceramic products for everyday purposes in South Korea.
These two cities lure throngs of tourists who are eager to get their hands dirty with clay during the popular ceramics festivals every spring.
The Icheon Ceramics Festival

This spring marks the 27th
Icheon Ceramics Festival
, which takes place in and around Seolbong Park in Icheon from April 28 to May 20. This 23-day festival, with the theme "Ceramics, Sharing, and Relaxation," features hands-on activities for inner healing and relaxation and is joined by more than 150 pottery studios. You can spend a full day as a potter, create your own artwork, and even stage a performance using your imagination in which you express with gestures the struggle of perseverance that firewood and ceramics go through in a kiln.
In addition to these activities are special exhibitions such as an exhibition about tea and ceramics, exhibitions by Korea's master potters, an exhibition of more than 5,000 makgeolli cups, an exhibition of popular pieces that are recommended by designers, and an exhibition of pieces that have been popular among collectors over the past year. As Icheon is a town of artistic ceramics, simply browsing these exhibits is an uncommon joy and an opportunity to discover how beautiful Korean ceramics truly are.
If you want to relish the beautiful scenery of the city as well as its culture, don't miss the Dolle Dolle Ceramic Trip, a tour that connects the site of the festival with the other attractions of Icheon. In Potters Teaching Me, you will learn the pottery techniques of the experts.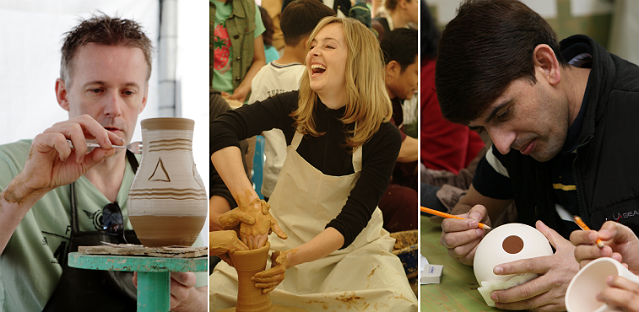 The festival charges KRW 5,000 (approx. USD 5) per person, part of which is reimbursed in the form of gift certificates that you can use during the festival.
The Yeoju Ceramics Festival

The 24th
Yeoju Ceramics Festival
takes place around Silleuksa, a temple with a history of over 1,000 years in Yeoju. The festival runs for 23 days, from April 21 to May 13. Here, tradition meets modernity with displays of new products that bring beauty into our lives, and a number of hands-on activities. Exhibitions are another major draw, including the Yeoju Namhangang Ceramics Exhibition led by young potters in Yeoju, the Judo (Drinking Etiquette)
Exhibition where drinking vessels and other liquor vessels are displayed and sold, and a relay of special exhibitions that feature the works of 100 potters from across the country who produce pottery for everyday purposes. These exhibitions are especially good opportunities for visitors to relish the artwork of Onggijang (a master potter of onggi, a type of traditional Korean earthenware pottery.), Sagijang (a master potter of sagi, a type of traditional Korean porcelain.), and master potters from Yeoju.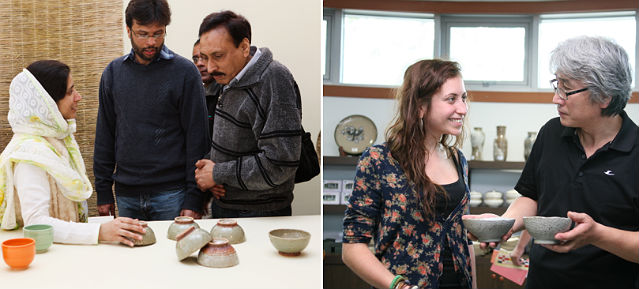 There are even shopping malls where artistic and practical ceramics produced in Yeoju are sold at deep discounts. Visitors can also carve out unforgettable memories through fun activities such as throwing baseballs or bowling balls at ceramic targets, making shapes of fish and other animals with clay, and painting gypsum models of popular cartoon characters like Pororo.
*Article from Korea Magazine (May 2012)
Department Global Communication and Contents Division, Contact Us