Traditional Korean music marches forward
May 17, 2012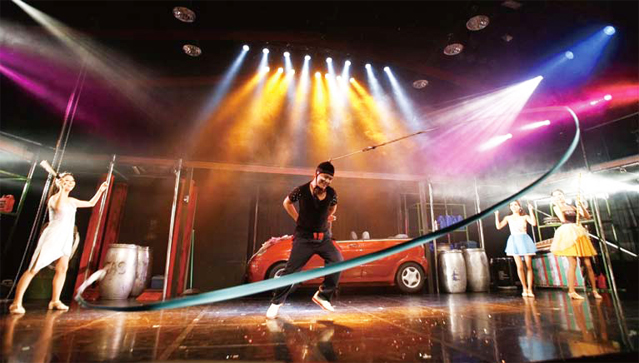 Traditional Korean music developed over a period of 2000 years, but it has barely managed to survive over the past century or so as a result of changing tastes of the public and other such developments over time. It has been kept alive by people from all walks of life, and is presently undergoing a significant transformation.
One of the most notable recent developments has been fusion or crossover with other genres of arts. gugak musicians are discovering new ways of communicating with their audiences.
For example, a western orchestra plays a pop song with a gugak instrument. Last month, an interesting criminal comedy was staged with the narrative structure of pansori, a genre of traditional Korean music where a vocalist accompanied by a percussionist sings and chants a story. Traditionally, one vocalist stands and sings alone for hours, but in this fusion musical, two vocalists were featured. The music was faster and more sprightly, and western instruments such as the saxophone were used along with traditional instruments including a traditional drum called the buk, the geomungo (a zither with six silk strings), and the taepyeongso (a woodwind).
Among the many crossover performances, percussion ones are the most popular.
Percussion instruments make your heart beat; a club DJ adds to the excitement; and teen pop dancers take the stage. Young audiences become thoroughly enraptured. The formats of western orchestra music and musicals draw the gugak closer to audiences that are now more familiar with western culture.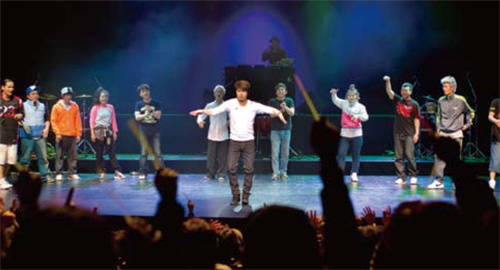 A case in point is the performance Ta, Get, staged at the National Theater of Korea in October 2011. (The title Ta, Get is not a typo of the English word "target" as one may suppose; "ta" means "beat" in Korean.) It was an omnibus of fusion percussion performances by musicians of the National Orchestra of Korea and featured the dancing of Poppin' Hyun Joon and his crew, one of Korea's hottest dancers, as well as the DJing of DJ Needle, one of the best hip-hop DJs in Korea. To merely say that the performance was dynamic, thrilling, rhythmical, and charismatic may be an understatement. It threw the mostly young audience into raucous excitement that could easily compare with that of a club party.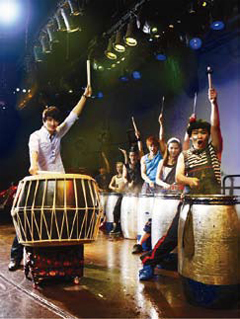 Another example is the light gugak musical Fanta-Stick, for which the wildly popular Korean actor Song Seung-heon serves as honorary ambassador. Fanta-Stick started last month and has garnered rave reviews. The rhythm is taken from gugak, and many different gugak instruments including the buk , the janggu (an hourglass-shaped double-headed drum), and the haegeum (a string instrument) are featured. Traditional Korean dancers wear a sangmo hat with a long ribbon and dance and twirl the ribbons. Their performance is very acrobatic: it requires all of their sharply honed sangmo dolligi and nearly cart-wheeling jaban dwijipgi skills.
More and more variations on traditional Korean dance and music are being staged, prompting the composition of numerous gugak pieces. This, in turn, is raising demand for new and redesigned instruments that allow for a wider range of expression. The piri (a type of pipe) is coming out in different lengths and diameters, and the haegeum with different registers. The gayageum (a type of zither originally with 12 strings) is now becoming available with up to 25 strings. These redesigned instruments may not have the deep resonance of the originals, but they too produce the unique and alluring "pulling," "pushing," "pressing," and "dropping" sounds.
Gugak is no longer "difficult" or "boring" music. It is building on tradition in original and dynamic ways and is drawing more people to gugak concerts and performances with lighter steps and greater expectations of fun and excitement. What else can gugak do to meet their expectations?
*Article from Korea Magazine (May 2012)
Department Global Communication and Contents Division, Contact Us