Learning Korean on a budget
Jul 05, 2012
As Korea extends its reach culturally and economically, the demand for Korean language education is increasing. Some learn Korean for career or business opportunities, and others are simply fascinated by Korean culture. Many universities, language institutes, and books offer Korean lessons, and there are also several free and affordable lessons available to language learners both in Korea and abroad.


The first step to learning Korean is learning how to read Hangeul, the Korean alphabet. Unlike complex Chinese characters, Hangeul is entirely phonetic, with only 24 consonants and vowels to memorize. It was created in the 15th century under King Sejong, who sought a new writing system in order to bring literacy to the peasant class. "A wise man can learn it in one morning," wrote scholar Jeong In-ji in the Hunminjeongeum Haerye, "and a fool can learn it in the space of ten days."

Most Korean-language courses introduce Hangeul in the first days of their lowest-level class, taking only a few days to go over it, but it's easy and rewarding to learn Hangeul on one's own. An excellent guide to the basics of Hangeul can be found on the website of the Korea Tourism Organization (KTO). Charm Lee's Beginner Korean Class promises that "In just 30 minutes, you'll be reading the Korean Alphabet, Hangeul!" The KTO website also offers Korean expressions for travelers and a tourism-themed intermediate lesson called Korean Language Adventure.

"As Korea's presence in the world stage gets bigger, so do the opportunities that come along with it," writes KTO President Lee Charm in an introduction to the online material. "Not only is Hangeul easy to learn, the language and culture is absolutely fascinating."

Visit the KTO website at http://english.visitkorea.or.kr (English, Japanese, Chinese, French, Spanish, German, Russian, Thai, Arabic, Turkish).

Learning Korean is a long process, and it can't be done alone. The Seoul Global Center offers free Korean language classes in nine levels, geared mainly toward basic, beginner, and intermediate learners. Registration for the fall 2012 term is held on July 23 and 24, and placement tests are held the following week. Although the class is free, students are expected to purchase a textbook. Located on the third floor of the Seoul Press Center, the Seoul Global Center was founded in 2008 under the Seoul Metropolitan Government to provide a comprehensive support center for foreign residents of Korea.

Learn more about the class, and other services of the Seoul Global Center, at http://global.seoul.go.kr (English, Japanese, Chinese, French, Korean).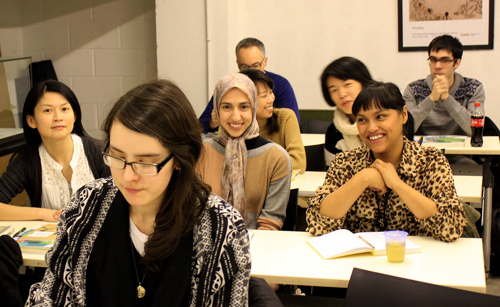 Many migrant centers and organizations also offer free Korean language courses to migrant workers and marriage immigrants, who often have more urgent needs for Korean language skills in order to better communicate with employers or spouses. Classes are often held on weekends for migrant workers who would be at work during the week, and weekday mornings and afternoons for migrant wives while their spouses are at work.

The Korea Support Center for Foreign Workers offers two 20-week semesters per year, covering preparatory, basic, intermediate, and advanced levels, as well as test preparation for the Korean Language Proficiency Test (KLPT). The center, located in the Guro district in southern Seoul, also offers weekly taekwondo classes, as well as computer classes in English, Thai, and Vietnamese. Learn more about the Korea Support Center for Foreign Workers at http://www.migrantok.org (English, Korean, Tagalog [Philippines], Mongolian, Vietnamese, Chinese, Indonesian, Thai, Sinhala [Sri Lanka], Uzbek, Urdu [Pakistan]).

The Migrant Worker's Welfare Society in Korea offers six levels of Sunday courses for all levels of Korean ability. Located in Guro as well as the city of Uijeongbu, it also offers weekday cultural education courses for migrant spouses, as well as courses in computer hardware and software. Learn more about their classes and other services at http://www.miwel.or.kr (Korean).

The Seoul Migrant Workers Center in Jangcheung-dong in eastern Seoul offers Korean language classes as well, along with computer classes and an annual Migrants Song Festival, a K-pop music competition in which migrant workers are invited to perform. Tuition for the classes is 10,000 won, and textbooks are extra. The first round of the Migrants Song Festival was held in Gyeongdong Cathedral, and the remaining two rounds will be held in the city of Changwon in Gyeongsangnam-do (South Gyeongsang Province). For more, please visit http://www.withmigrants.org (Korean, English, Chinese, Japanese, Spanish, Russian, French).

As well as migrant centers, there are also volunteer organizations that provide Korean language classes in order to improve the lives of foreign residents in Korea and help them experience Korean culture.

The Korea Foundation Volunteer Network offers classes divided into four levels on weekday afternoons and evenings. It also offers lessons in Korean culture as well. Their office can be found in downtown Seoul, not far from City Hall. Visit their website at http://volunteer.kf.or.kr/activity/language.asp.

As well, several of Seoul's district offices offer Korean classes for foreign residents, including district offices for Nowon-gu, Eunpyeong-gu, Yangcheon-gu, Guro-gu, Gangdong-gu, Seongbuk-gu, Yongsan-gu, and Jongno-gu. Times vary from district to district.

For those living abroad who may not have access to any of these classes, they may be in luck if they live near one of the Korean Cultural Centers (KCC) operated by the Ministry of Culture, Sports and Tourism. Many of these centers also house a local branch of the King Sejong Institute, a Korean language institution dedicated to Korean learners and teachers around the world. Each institute offers a slightly different program, and some courses are free while others have a very small tuition, ranging from USD 60 at the KCC in Los Angeles to 3,000 naira (approx. USD 18) in Nigeria, and courses are free in the UK.

The King Sejong Institute at the Korean Cultural Center UK offers five levels of free Korean language courses stretching from beginners to advanced. Each course takes one year to complete, divided into three semesters. The program has been so successful, it has attracted too many applicants, and students are selected in a random lottery.

The class teaches not only language but also about Korean culture. "In order that we may take full advantage of the related events in the [KCCUK], there will be a synergy between the Sejong Institute and the art exhibitions at the centre as well as the film nights and film festivals," says the course introduction. "Courses will therefore include talks with curators, artists and directors as well as practical workshops, for example with Korean cooking."





For a list of the Korean Cultural Centers, please visit http://www.korea.net/AboutUs/Overseas-Korea-Centers/Korean-Cultural-Centers.

Nuri-Sejonghakdang, an affiliate of the King Sejong Institute, offers online language courses, study materials, and supplements to offline lessons. To find out more, please visit http://www.sejonghakdang.org/nuri/sjc/SJC_Main.

For more information about Korean language education, including universities and online classes, please visit http://www.korea.net/Resources/Useful-Info/Learn-Korean.

By Jon Dunbar
Korea.net Editor
http://www.korea.net/NewsFocus/Culture/view?articleId=101122
URL Copy
Department Global Communication and Contents Division, Contact Us