K-comics in the spotlight at Bucheon
Aug 22, 2012
It can be said that a common key ingredient found in successful pop tunes, art pieces, or novels is a good story. From
pop music
to >contemporary art and >literature, Korea's diverse storytellers have been attracting growing audiences through various mediums, and the excitement at the recent
Bucheon International Comics Festival (BICOF)
proved that Korea's comics creators are no exception.
An estimated 92,000 people flocked to Bucheon, Gyeonggi-do (Gyeonggi Province) from August 15 to 19 for the 15th annual BICOF. Today one of the world's three largest comics-related events, this year's BICOF brought together record numbers of not only comics enthusiasts and internationally renowned comics writers and artists but also industry professionals, academics, and aspiring young comics creators for a packed five days.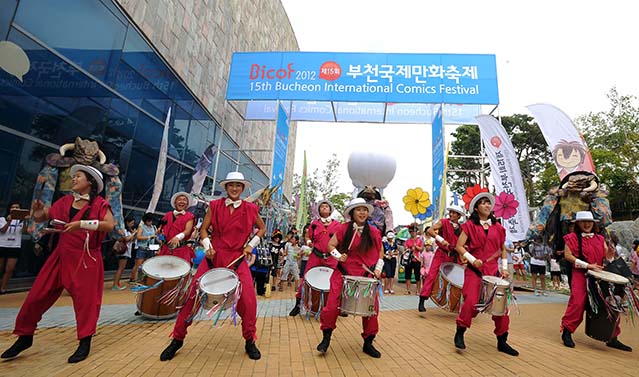 "The Koreans go all out for comics," wrote award-winning Australian illustrator and multimedia designer Stuart Campbell on his official website. Campbell's digital works were featured at BICOF2012 in a special exhibition entitled "Nawlz," and the artist also took part in a lecture on interactive comics and a digital education workshop for children. "I love it," continued Campbell. "I wish we had the same culture and respect for comics and illustrated stories in Australia."
K-Comics, in conversation with the world

BICOF2012 opened with a bang with an opening performance by K-pop group B2ST and a red-carpet gala attended by famous illustrators as well as
celebrity supporters and comics fans
such as Clazziquai's singer Horan and actors Kim In-kwon and Oh Yeon-seo.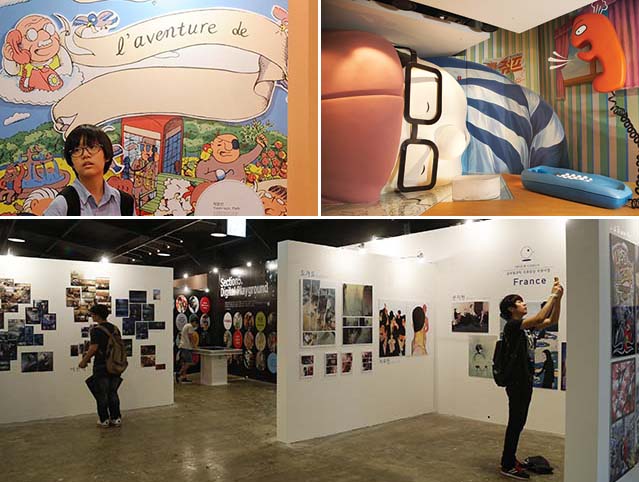 The next several days saw large crowds exploring the various exhibits located in and around the
Korea Manhwa Museum
and the Bucheon Media and Culture Complex.
The main exhibition, designed around the festival's theme of "A New Language to Communicate with the World, K-Comics (MANHWA)," featured displays on the history of the export of Korean comics, the current trajectory of exports to major markets such as the United States, Japan, and Europe, and the recent popularity being enjoyed by the made-for-Internet "webtoons" and related digital-viewing applications.
"K-Comics New Frontier," which showcased works by some of Korea's representative new artists, also highlighted the advent of the online cartoon age and the frequent incorporation of platforms such as tablet computers and smartphones. Nicolas Finet, the renowned French illustrator, editor, and organizer for the annual
Angoulême International Comics Festival
, the largest comics festival in France, was reported to have described the exhibit as allowing him to "better appreciate the earnestness and strength of Korean comics."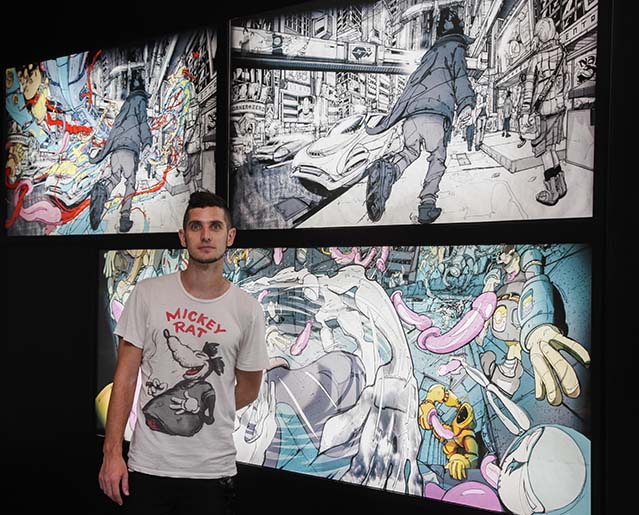 Other notable exhibitions included "BD Franco-Coréenne," displaying works by Korean artists in France, "Avengers Assemble," bringing together the popular Avengers characters, "Reverse, Yameyori," featuring popup displays of the
popular 2012 webtoon of the same name
, and "Choi Gyu-Sok's Ecology Report," presenting the life and artwork of 2011 Bucheon Manhwa Award-winner Choi.
"The Korean style that I see is fast-paced, but really focuses on the real tender moments," remarked C.B. Cebulski, senior vice president of Creator & Content Development for leading U.S. publisher Marvel Comics, in an interview with
Arirang News
. "I think that draws on a little bit more from Korean drama, the kind of emotional beats; they're very good at telling stories with characters' faces and using body language, just as much as they're telling strong action stories." Cebulski also participated in the festival as a guest lecturer.
Celebrating the fun of comics together

A first for this year's festival was the International Children Comic Artists Awards (ICCA) Exhibition featuring a collection of 160 works by children from all over the world. The newly launched ICCA included an online competition component, winners of which were awarded at the 2012 closing ceremony on August 19, as well as a comics camp and workshop.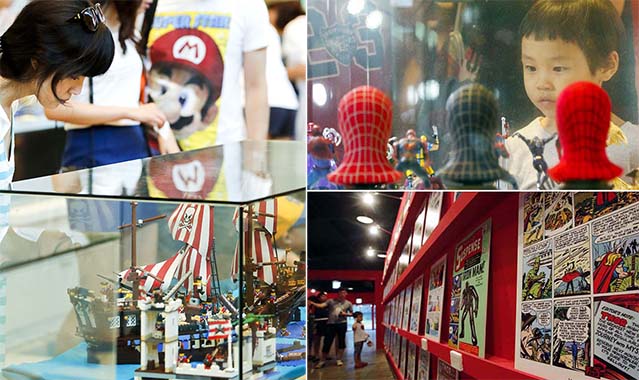 In addition to the various exhibits, events designed especially for industry professionals included business networking receptions and seminars on project investment and export support.
Events for comics fans included an authors' signing event with popular artists such as the aforementioned Choi Gyu-sok, an animation soundtrack concert performed by the
Bucheon Philharmonic Orchestra
, and a cosplay contest that included dance and musical performances by popular character look-alikes. Throughout the festival, visitors in the outdoor area were treated to a manhwa character parade with familiar faces such as
Pororo the Little Penguin
and Dooly the Little Dinosaur, along with magic acts and other carnival-like attractions.
Also taking place in conjunction with the festival was "Mankik," which saw 90 artists currently in residence at Bucheon Manhwa Production Studio take to the streets, meeting with locals at Bucheon Station and neighboring areas to promote a love for comics. Activities included face painting for children, caricatures, wall painting, a comics flea market, musical performances by bands created by comics artists, and more.
"This year's festival featured a wide array of programs designed to appeal to everyone from artists and industry professionals to students and the wider general public," said president Kim Byung-heon, president of the
Korea Manhwa Contents Agency
(KOMACON), in attendance at the closing ceremony on August 19. "Thus, despite poor weather conditions, each day of the festival saw packed crowds, and the total visitor count was 15% higher than last year."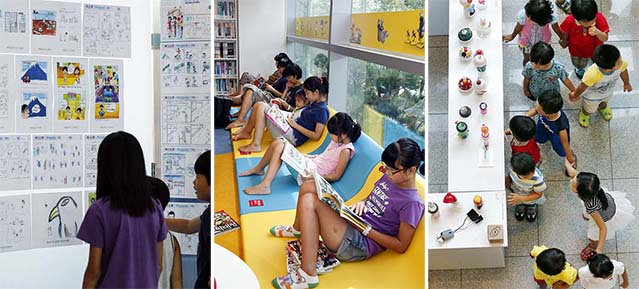 The celebrations on the festival's closing night included ceremonies for the 2012 Bucheon Manhwa Award, given for the best comics and webtoons produced this past year, and the National Student Manhwa Competition.
"The Bucheon International Comics Festival is playing a central role in carrying K-comics to the world market," said Bucheon Mayor Kim Man-soo. "It is our hope that K-comics, like K-pop, will become a leader in the international arena."
The festival, organized by KOMACON in partnership with Bucheon City and the Gyeonggi Provincial Government, has been held annually since 1998.
The
Korea Manhwa Museum
, this year's festival venue, has been visited by over a million people since opening in 2001 and moving to its current location next door to the KOMACON building in 2009. In addition to various exhibit halls, the museum has an auditorium for screenings and performances, a reading room stocked with over 250,000 different volumes of comics and comics-related references, a 4-D animation cinema, and multiple "experience zones" that invite visitors to try on costumes and walk through life-size sets as characters in their favorite comics. Regular admission is 5,000 won and the museum is closed on Mondays and holidays.
By Kwon Jungyun
Korea.net Staff Writer
Department Global Communication and Contents Division, Contact Us