4th World Korean Educators Conference opens in Seoul
Aug 22, 2012
As
Hallyu
continues to bring greater international exposure to Korea and its culture,
learning the Korean language
is becoming an increasingly important, not to mention popular, priority for new and old fans.
In light of this growing trend, Korean language learners and educators from around the world have gathered together in Seoul to share their insights on the present and future of
Korean language education
.
The World Korean Educators Conference 2012 kicked off on August 22 with an opening ceremony that included an opening address by First Lady Kim Yoon-ok and a special lecture by
Culture Minister Choe Kwang-shik
.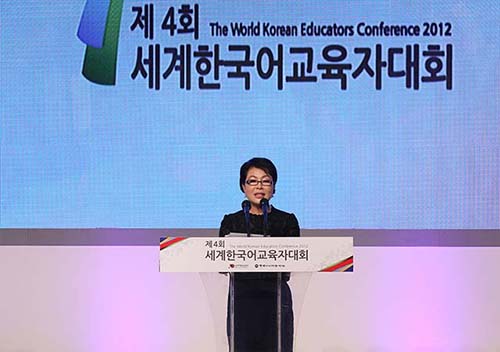 Over 200 Korean language educators and instructors, together with 67 outstanding Korean language students from the
King Sejong Institutes
of 28 countries, were welcomed at the day's ceremony.
"I would like to learn about diverse education methods for teaching the Korean language to foreign learners," said Kim Eung-su, director of the Sejong Institute in Nairobi, Kenya. "I hope these several days will be a valuable time for Korean language educators who work in different settings to share their various experiences."
The opening event also included an official certification ceremony for the 28 new King Sejong Institutes that will be in operation by the end of the year in 22 countries, including China, the United States, Mexico, Brazil, Chile, Sri Lanka, Turkey, Peru, Algeria, and Colombia. Twenty government-licensed Korean language education specialists who will be dispatched to King Sejong Institutes in eleven countries, including Mongolia and Vietnam, were also invited onstage for a send-off ceremony.
Creation of the new learning centers comes in response to high student demand, with the institute in Mykolaiv, Ukraine having been opened in response to a petition request signed by 178 local students.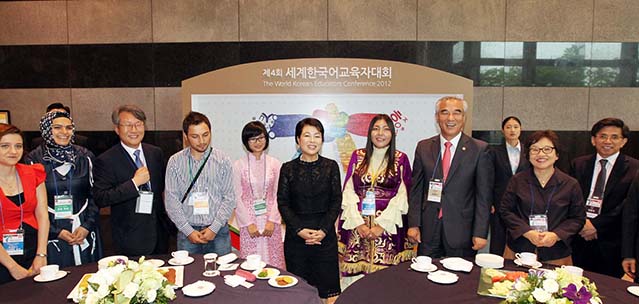 Peruvian student Francisco Javier, who expressed his love for Korean culture with a performance of the traditional Korean folk song Arirang during the opening day event, explained that he had started his studies at the King Sejong Institute in Lima because he wanted to understand the whole of Korean culture, including its history, philosophy, and
literature
.
It was in light of the enthusiasm showed by students like Javier that conference organizers also prepared a weeklong sightseeing and cultural tour for the visiting international students that will take place after the conference. The students will travel to traditional sites such as
Jeonju Hanok Village
and
Gyeongbokgung
in Seoul as well as more modern attractions like a televised
K-pop
concert.
The students' itinerary also includes special classes designed according to their answers on a previous survey of their personal interests. Professional instructors will be teaching the students
taekwondo
, K-pop dances, acting, traditional dance, and
samul nori
percussion instruments, in preparation for a final performance on August 27.
The burgeoning interest in the Korean language that has accompanied Hallyu and the growing international exposure to Korea's popular culture has resulted in a steady increase in the number of King Sejong Institutes worldwide. In October, the Korean government will launch a new foundation to oversee management of the overseas King Sejong Institutes and provide systematic, specialized Korean language education for a greater number of students.
The World Korean Educators Conference was organized by the
Ministry of Culture, Sports and Tourism
and the International Korean Language Foundation. More information on the King Sejong Institutes, as well as access to writing and speaking projects created by students around the world, can be found at the
Nuri-Sejonghakdang online learning portal
(available in Korean, English, Chinese, Mongolian, Thai, Russian, and Indonesian).
By Kwon Jungyun
Korea.net Staff Writer
Department Global Communication and Contents Division, Contact Us