World's museum chiefs talk about sustainable museum learning
Sep 18, 2012
Museum education and the issue of engaging and facilitating learning were integral themes at the fifth General Conference of the Asia-Europe Museum Network (ASEMUS) that lasted for two days from September 13 to 14 at the National Museum of Korea in Yongsan, central Seoul.

The discussion over the theme of the conference, "New and Sustainable Museum Education," started with along realization that museums are more than storages of knowledge but also places where people engage in learning and studying the tangible and intangible heritage of humanity.

Michael Koh, chief executive officer of the National Heritage Board of Singapore, put a stress on active learning by visitors over more passive forms of education given by museums.

"In recent times, the term 'museum learning' has increasingly been used in favor of 'museum education,'" he said in a keynote speech at the conference on September 13. "This signals a shift in emphasis that the museum should not be viewed just as a storehouse of knowledge. And we must avoid the strict didactic approaches toward telling our stories. Increasingly, the emphasis is on 'museum learning' where learning is seen as a process and a journey of discovery and museum visitors take on a more active and engaged role in their museum experience."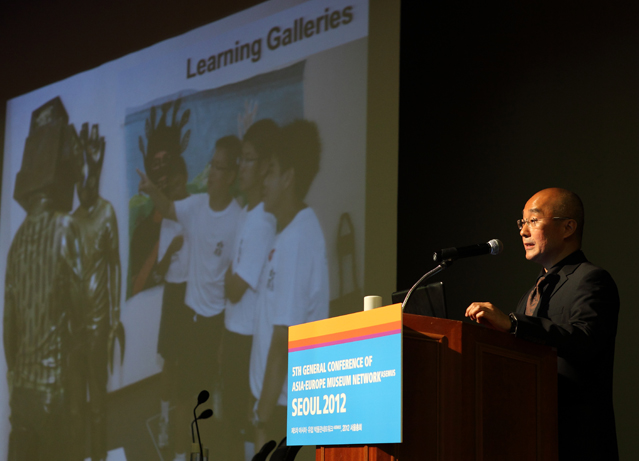 Koh also said for museums to fulfill their role in promoting and facilitating learning, they need strong partnerships with the private and public sectors as well as the visitors.
Kim In-hoe, the honorary president of the Korea Association Museum Education and a former Yonsei University professor, stressed in his opening remarks that it is the museum's role to educate visitors.
"As the culture of museums changes, more visitors like to have hands-on experiences and engage with cultural heritage on their own," he said.
Participants of the conference also included Chairperson Bae Ki-dong of the Korean National Committee of ICOM, Executive Director Amareswar Galla of the International Institute for the Inclusive Museum in Denmark, Julie Garradd, head of visitor programs and services at Australian Museum, Director Hans van de Bunte of public programs at Tropenmuseum in the Netherlands, and Jennifer Siung, head of art education at the Chester Beatty Library.
Korea is currently the chair country for the ASEMUS. The ASEMUS was founded to promote a mutual understanding and exchange of information on collections among museums in countries participating in the Asia-Europe Meeting. Korea joined the network in 2009 and was appointed chair in 2010. Korea will remain chair through 2014.
Another theme of the discussion was the opening up of content on vast collections at museums, which have increasingly allowed the public to reuse and reprocess digital data solely owned by government institutions.
Hans van de Bunte at Tropenmuseum raised the key issue, which many curators around the world are keen about today: sharing of open knowledge and data, and the use of new media by museums as well as engaging with culturally diverse audiences. Tropenmuseum collaborated with Wikimedia to allow global access to its digital collections.
"There are 1.5 million hits per month on our content available on Wikimedia and people are using our images and sharing information," he said. "They also share opinions how and what to share on the Internet."
In a similar context, Research Director Waltraut Ritter of Knowledge Dialogues, spoke of Europeana, the revolutionary cultural digital portal of Europe. She said, "Recent development in open public data policies and digital convergence strategies in many countries have created new opportunities to access and use digital cultural content from memory institutions such as libraries, archives, and museums."
In the past few years, Europeana has created a community of museum professionals, developers, and users who are exploring possibilities of using the European application programming interface to develop new applications and discover ways of learning while enjoying museums. "It opened up cultural content from institutions and data on 20 million objects," she said. "It is open for everyone on the planet."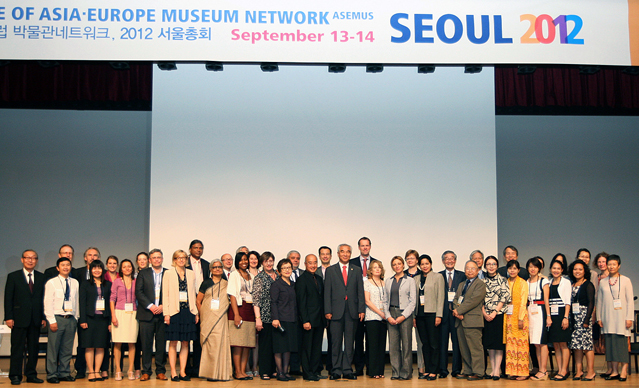 Ritter emphasized that it is something unprecedented. "By opening up the data, you can reuse, or copy, the content," she said, "Everything produced by public organizations must be openly accessible and reusable."
Encouraging Asian institutions to follow suit, she said, "Most Asian cultural institutions are closed." "Opening up cultural data will enable more collaboration."
By Limb Jae-un
Korea.net Staff Writer
Featured Topics
http://www.korea.net/NewsFocus/Culture/view?articleId=102607
URL Copy
Department Global Communication and Contents Division, Contact Us