Bountiful harvests, events for Chuseok
Sep 27, 2012
Chuseok, the Korean harvest festival, is a time to reunite with loved ones people have not seen for a long time and appreciate the year's harvest. However, it is relatively short this year as it falls on a weekend. Some people may find it difficult to travel very far during this holiday, one of the biggest of the year, and choose to stay in Seoul. But worry no more.
Even if you are stuck in Seoul, there are plenty of things to do and see during Chuseok this year thanks to the many cultural events happening in the capital. Traditional maskdance and tug-of-war are among many things Seoul citizens can enjoy during the Chuseok long weekend that falls from September 29 to October 1.
A traditional performance festival will unfold at Gwanghwamun Square in central Seoul from September 30 to October 3. This is the fourth such festival this year since its inauguration in 2007 to revive raise awareness of traditional Korean celebrations.
This year's event is unprecedented in some ways because the festival intends to invite the public to participate rather than showcase traditional performances. Creative performances that were selected through open competitions are also be scheduled around the holidays.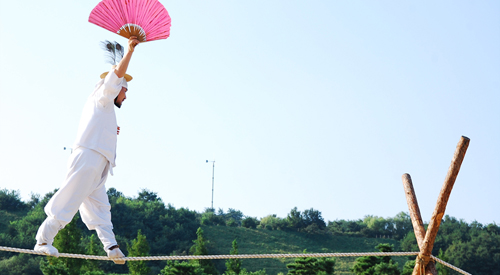 At Gwanghwamun Square, traditional juego and tug-of-war will start at 5 p.m. on September 30 and October 3. Those who want to participate can register for the events online and find the schedule for other performances.
There is also a rare chance to see a range of performances registered on
UNESCO'S list of intangible cultural heritage
in all-in-one event. Pansori (opera singing), namsadang nori (performance by wayfaring male entertainers), taekkyeon (martial art), and jultagi (tightrope walking) are among the performances that will be shown.
There is also entertainment for families. Visitors can experience neolttwigi (see-sawing) and try making dolls, tying knots, and learning how to do the lion maskdance. The events are free of charge. For more information, please visit
www.openpan.com
or call 02-739-7873.
The
National Gukak Center
will present musical performances at 4 p.m. on September 30 and October 1 at venues near Seoul Arts Center in southern Seoul.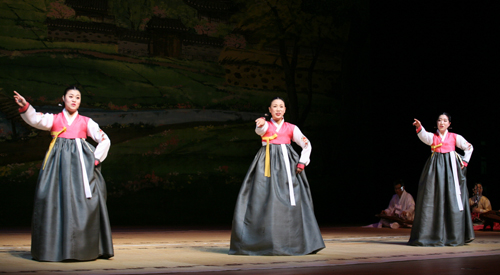 Performers will sing 15 different versions of Arirang at Yeak-dang, the main theater. Most people -- even Koreans -- are not aware of all the many variations of Arirang, which differ from region to region. At its outside theater, there will be folk performances including exorcisms and saucer-spinning. Starting at 3 p.m., visitors can try neolttwigi, top-spinning, and spear-throwing games.
For more information and reservations, please go to
www.gukak.go.kr
or call 02-580-3300. Ticket price is KRW 10,000.
The
Korean Folk Village
in Yongin, Gyeonggi-do (Gyeonggi Province), will demonstrate traditional festivities. Among many events, they will present Seongju Gosa, a ritual in which people pay tribute to their ancestors and thank them for a good harvest and store freshly harvested rice in a jar.
Visitors can also learn the traditional method for making tteok. Handmade songpyeon (half-moon-shaped rice cake) will be put on a steamer, which is again placed on a furnace. The rice cakes are steamed with pine needles to carry the scent. When it is cooked, visitors can taste the freshly cooked tteok.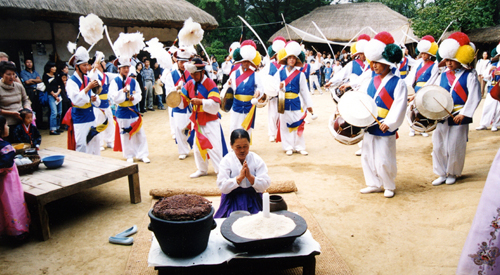 Children can learn about ssireum (traditional wrestling) from a demonstration by
Yong In University
. They can also participate in wrestling matches themselves. The events will continue every day through October 3. For more information, visit
www.koreanfolk.co.kr
or call 031-288-2931.
The
Korea Tourism Organization
will hold various cultural events at Cheonggye Square in central Seoul from September 27 through October 4. Visitors can try playing a game of yut, spear-throwing, and shuttlecock dribbling, and also wear Hanbok (traditional Korean clothes). For more information, call 02-729-9497~9.
By Limb Jae-un
Korea.net Staff Writer
>
Featured Topics
http://www.korea.net/NewsFocus/Culture/view?articleId=102723
URL Copy
Department Global Communication and Contents Division, Contact Us