"Korea Style Event" -- share our video of PSY's concert at Seoul City Hall
Oct 09, 2012
The video of PSY's concert at
Seoul City
Hall on October 4 has been viewed through YouTube by more than 8,890,000 people in 241 countries around the world. This is very unusual because it was uploaded by
the government
. The video produced by
Korean Culture and Information Service (KOCIS)
has been spotted on more than eight prestigious media outlets abroad including NBC, Billboard.com, and MSN.
PSY proves his unprecedented influence on the masses around the world again. PSY posted the video by KOCIS on his Twitter and Facebook and it was linked by his manager Scooter Braun and the video has been re-tweeted 2,082 and 1,178 times, respectively, and on PSY's Facebook page the video has reached 45,927 likes and 1,090 shares.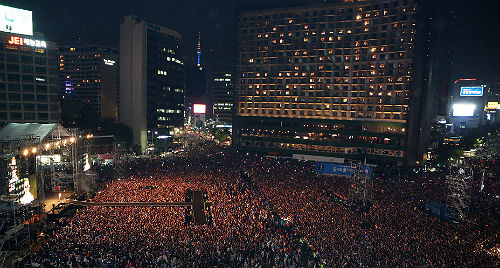 The video by KOCIS has been catching foreigners' interest in Korea with the love of "Gangnam Style." There are over 13,394 comments which show the envy and enthusiasm, reminiscent of the
Red Devils supporters
during the 2002 World Cup. Many foreigners commented on the passionate concert, expressing their love of Korea. Also many of them are saying that they really want to visit "dynamic Korea."
From October 9 to 31, KOCIS will host the Korea Style Event online, in which you can share our video of PSY's concert at Seoul City Hall or share your own "Gangnam Style" parodies online and win prizes. For the Korea Style Event, visit at
http://www.korea.net/Others/Renewal-Event
Seo Jung-sun, manager of the global communication and content division of KOCIS, said that the purpose of this event is to communicate Korea and Korean culture to foreigners. He also mentioned that the interest in
Korean language
and Korean culture has been on the rise due to Psy's "Gangnam Style" representing K-pop.
By An Myungok
Korea.net Staff Writer
Department Global Communication and Contents Division, Contact Us