Project K brings Korean films to Frankfurt
Oct 16, 2012
This past weekend saw Korean films break new ground in the heart of Germany.
Films by major directors like Kim Ki-duk (
Pieta
), Bong Joon-ho (
Mother
), and Park Chan-wook (
Oldboy
), were the main event at the first ever Project K Korean Film Festival held in Frankfurt from October 12 to 14.
Organized jointly by the Department of Korean Studies at the Goethe University Frankfurt, the
Consulate General of the Republic of Korea in Germany
, and members of the
Korean-German Network
(KGN), a cultural society for second-generation Koreans in Germany and other local youths interested in
Korean culture
, Project K screened a total of 19 films at Goethe University's Bockenheim campus.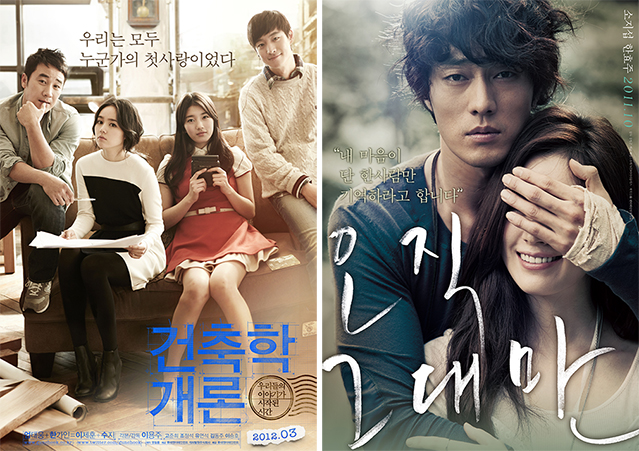 Among the selections were several films that had never before been screened in Germany, including this year's popular nostalgic romance film
Architecture 101
, 2011
Busan International Film Festival
opener
Always
, and the internationally acclaimed 2009 drama
Breathless
.
Also, in celebration of director Kim Ki-duk's having received the
Douglas Sirk Award for lifetime achievement at the Hamburg Film Festival
earlier this month, in addition to his
earlier win
at the Venice Film Festival, his film
Spring, Summer, Fall, Winter… and Spring
was screened for free on Project K's opening night. Multiple showings of Kim's lauded
Pieta
were also held throughout the festival.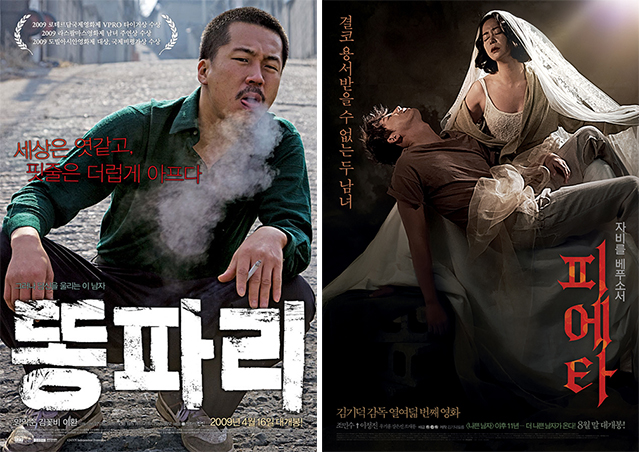 As Project K was designed as a platform to not only promote Korean movies but also raise greater awareness of Korean culture, this year's festival also provided visitors with opportunities to try on Hanbok (traditional Korean dress), make Hanji (traditional Korean paper) crafts, participate in a traditional Korean tea ceremony, and learn simple Hangeul calligraphy. A Hansik (Korean food) stand offered dishes such as bibimbap (rice mixed with vegetables, meat, and pepper paste) and bulgogi (marinated beef) for curious gourmands.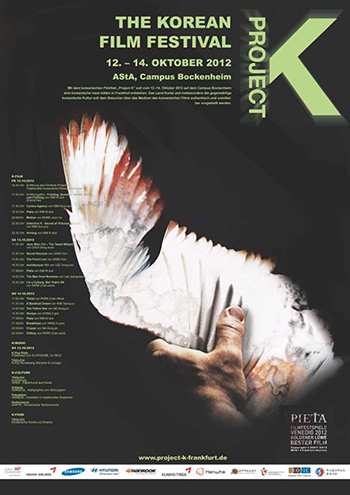 The first annual Project K Korean Film Festival screened a total of 19 films in Frankfurt, Germany from October 12 to 14 (photo courtesy of the Consulate General of the Republic of Korea in Germany).
Additional programs included an underground Korean noraebang (karaoke lounge) set up in the basement of the festival venue, where fans of Korean music were free to try their hand at everything from
PSY's "Gangnam Style"
to older K-pop classics. With
K-pop
enjoying growing popularity among German youths, Frankfurt's first "K-Pop Party" was held in conjunction with the film festival on Saturday, October 13 at Student's House, a two-floor student activities center on the Bockenheim Campus. DJ Seiji from Paris provided the night's beats with a unique mix of K-pop and urban club music.
"Project K was made possible through an active partnership with a growing network of young people in Germany who are interested in Korean culture," said a spokesman for the Consulate General of the Republic of Korea in Germany. "We look forward to seeing Project K bring about more opportunities for Korean-German cultural exchange."
In addition to being one of Europe's main financial centers, the city of Frankfurt has been receiving attention in recent years as a site for lively cultural exchange. Nippon Connection, a Japanese Film Festival, has attracted tens of thousands of visitors annually since being held in Frankfurt for the first time in 2000. This year saw Frankfurt host its first China-in-Motion Chinese Film Festival. With the successful run of the first annual Project K, festival organizers anticipate that Korean films will find a greater following in Germany as well as the greater European region.
All proceeds from this year's festival, including sales from admission, will go to financing future festivals. More information can be found at the official website of Project K:
http://www.project-k-frankfurt.de/index.php
(German only).
By Kwon Jungyun
Korea.net Staff Writer
Department Global Communication and Contents Division, Contact Us