Korea in the spotlight from culture to economy
Nov 07, 2012
Psy's huge success with hit song "Gangnam Style" seems to have brought the world's attention to his home country. The world's interest not only lies in K-pop and Korean films but also in its resilient economy.
In the last few weeks, media outlets around the world reported on various aspects of Korea ranging from the
Templestay
program and urban lifestyle to the country's big businesses and appreciation of its currency, as if "Gangnam Style" cast a new light on Korea.
Korea's well preserved traditions caught the interest of Portugal. The Portuguese travel magazine Volta ao Mundo released a 16-page special report on Korea in its October edition with a photo of Korean women wearing Hanbok (traditional attire) on the cover, with the title "Korea, Tradition and Progress."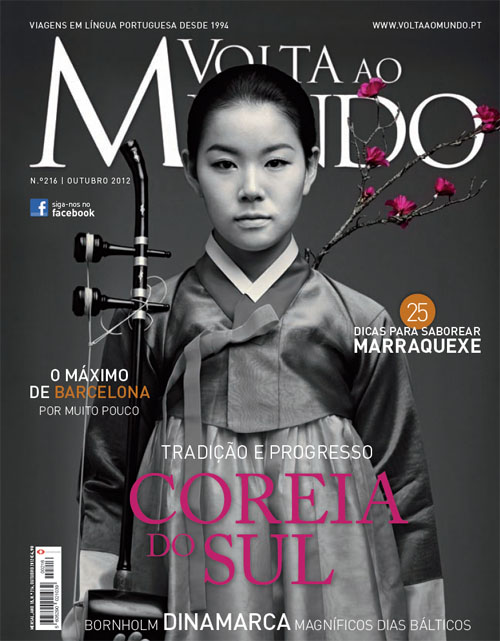 The article, titled "Korea, Nirvana and Post-Modernism," depicts in detail a trip to Korea that consists of traditional experiences such as a temple stay, tea ceremony, and calligraphy as well as urban encounters including fashion, nightlife, and dining. It provides a rare opportunity for the people of Portugal, a country thousands of miles away from Korea, to have a peek at the country.
The report said Korea has strong contradictions within itself: life that revolves around thousands of years of tradition that survived rapid modernization. The report starts with a tea ceremony describing strict rituals of contemplation in Zen Buddhism, a tradition passed from generation to generation.
"Young students devote themselves to studying subjects from hundreds of years ago and it contrasts with the future-driven Korea that is addicted to advanced technologies and consumption of Western culture," the magazine said. "Koreans come to temples for soul-searching without interruption from mobile phones and tablet PCs."
The report also explored Seoul's urban life in which citizens enjoy the world's most wired city that provides a chance for a stroll on the riverside park as well as visiting museums and buildings designed by renowned architects like Rem Koolhas and Zaha Hadid.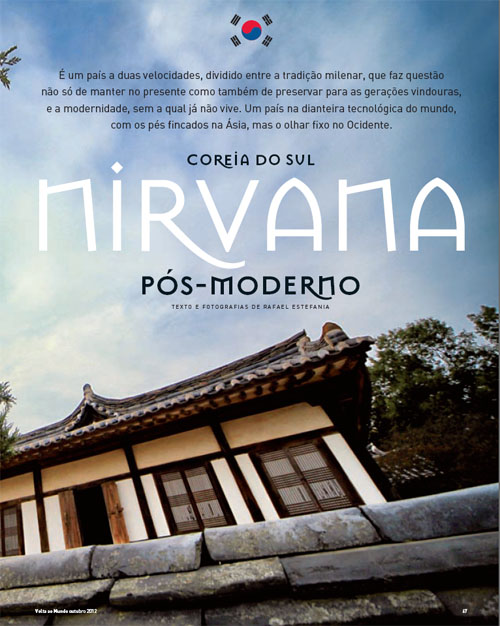 Another Portuguese-speaking nation took interest in Korea's culture. Brazilian newspaper
Folha de S. Paulo
covered the rise of Korean films on October 23. It said Korea is a hip nation and its cultural strength is well-witnessed in movies. The Taste of Money by director Im Sang-soo and
In Another Country
by Hong Sang-soo were two of a handful of Asian films that could aim for the Palme d'Or Award at Cannes Film Festival.
The Thieves
, which has become the highest-grossing Korean film since its release this summer, is knocking on America's door, the report said. With the growing influence of Hallyu (Korean wave), 20th Century Fox Studios decided to invest in a Korean feature film, it said.
The newspaper interviewed director Kim Ki-duk who won the Golden Lion at this year's Venice Film Festival for Pieta. It also said Park Chan-wook, the director of suspense thriller
Oldboy
, is now working on a new film titled
Stoker
, starring Australian-American actress Nicole Kidman. Meanwhile,
Oldboy
is being remade by Spike Lee.
Another Brazilian newspaper
Veja
reported on K-pop and films as well as Korea's literature. Psy's success is not a coincidence but is a result of the country's effort to send musicians to the Western world.
"'Gangnam Style' played an important role in promoting Korea," the newspaper said.
The report said Korea's literature is having its time; Shin Kyung-sook's book "Please Look After Mom" is for sale in 32 countries.
The foreign media's interest in Korea did not just end with its culture. Bloomberg highlighted the country's economic success amid global economic slowdown, especially Korea's rebound from the Asian financial crisis in 1997 and 1998.
Bloomberg started the article by quoting a 60-year-old Korean woman who donated her gold wedding ring in a mass donation movement to boost Korea's foreign currency reserves during the crisis along with millions of others who offered their jewelry.
Bloomberg reported that "Korea has ridden economic crises better than most advanced economies," citing stellar performances by the country's leading brands like Samsung Electronics, Hyundai Motor and Kia Motors.
It also said Korea's resilience offers a bright spot in the developed world as the IMF forecasts that Korea's economy will grow 2.7 percent this year, compared to 2.2 percent in Japan, 1.8 percent in Hong Kong, and 2.1 percent in Singapore. Because of that, the country has earned a safe-haven status in the bond market, where investors held KRW 88.3 trillion won in denominated debt at the end of September.
Bloomberg said Korea not only exports automobiles, mobile phones, and semiconductors but also culture. Korean rapper Psy's "Gangnam Style" became the most-liked video in YouTube history while Korean director Kim Ki-duk received the Golden Lion at the Venice Film Festival, the report said.
By Limb Jae-un
Korea.net Staff Writer
Department Global Communication and Contents Division, Contact Us