DC students remember the word bibimbap
Dec 31, 2012
The word on students' tongues at public schools across Washington, D.C., was "bibimbap" after trying Korean food for lunch.
Some 40,000 students attending 119 public schools in the U.S. capital tried Korean foods such as bibimbap and bulgogi at their cafeterias on Tuesday, December 4. The event, called Korea Food Day, was sponsored by the
Korean Cultural Center Washington, D.C.
and
DC Public Schools (DCPS
).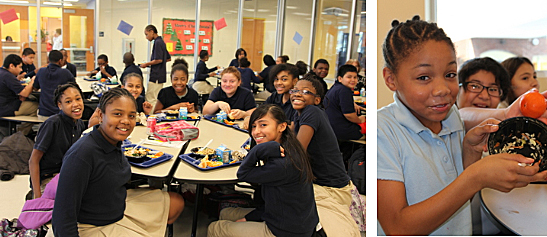 "A lot of our kids remembered the word 'bibimbap,'" said Melina Hong of the DCPS' Office of Food and Nutrition Services. "Staffers who tasted the meal were very impressed, and many students cleaned their bowls."
Korea Food Day was the fourth International Food Day event since the program started in 2011. The program consists of three to four days per year when the DCPS coordinates with a Washington, D.C. embassy participating in the Embassy Adoption Program to serve that country's own food in DCPS cafeterias to all 45,000 enrolled students (K-8 grade), including lunch and possibly breakfast and dinner.

After lunch, students at
Takoma Education Campus
also took part in cultural activities such as a kimchi workshop, chopstick challenge, and traditional Korean table setting. Three volunteers demonstrated mixing salted cabbage and ingredients and placing it into jars, while students practiced using Korean wooden and metal chopsticks and received a yeot (taffy) candy as a prize. Students had a chance to listen to traditional Korean musical instruments and KCC director Choi Byung-goo danced to Psy's "Gangnam Style," further adding to the fun.
"Clearly everyone knows how to enjoy Korean dances, and everyone knows about 'Gangnam Style,'" the Takoma EC assistant dean told students.
"The Korea Food Day project was a unique opportunity to reach a large number of American youths and introduce them to Korean food and culture," the KCC said in a statement.
"Most students in the DCPS system probably had only a casual introduction to Korea. The food served to students at most schools did not taste authentically Korean, but was meant to visually represent Korean food in design and ingredients."
By Limb Jae-un
Korea.net Staff Writer
jun2@korea.kr
Featured Topics
http://www.korea.net/NewsFocus/Culture/view?articleId=104481
URL Copy
Department Global Communication and Contents Division, Contact Us