Two-way cultural exchanges emphasized at ICCF 2013
Jan 23, 2013
Experts from various circles came together to find common ground for cross-cultural exchanges at the International Culture Communication Forum (ICCF) 2013. The forum was hosted by the Ministry of Culture, Sports and Tourism at COEX on January 18 under the theme
"In the age of co-existence and communications, how can we grow through the cultural exchanges connecting the world?"
.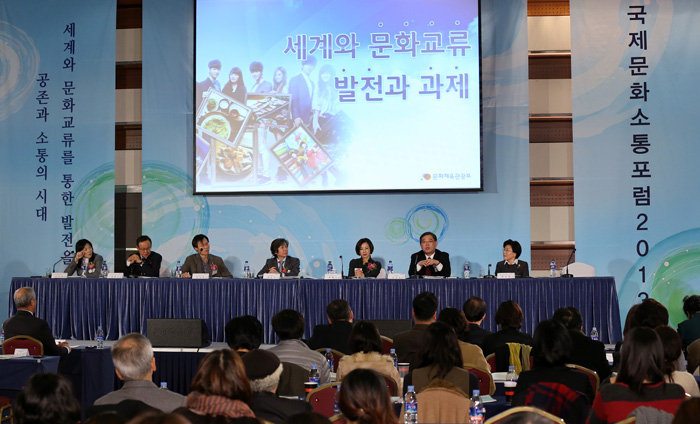 "There are three stages in terms of the development of culture: needs, demand, and desire; Korean culture is in the third stage, 'Desire,'" said former Minister of Culture, Sports and Tourism Lee Eo-ryeong during his keynote speech. "Culture exchanges should be mutual, not unilateral. Those involved in cultural exchanges need to focus on three characteristics leading to cultural exchanges: interest, relations, and observation."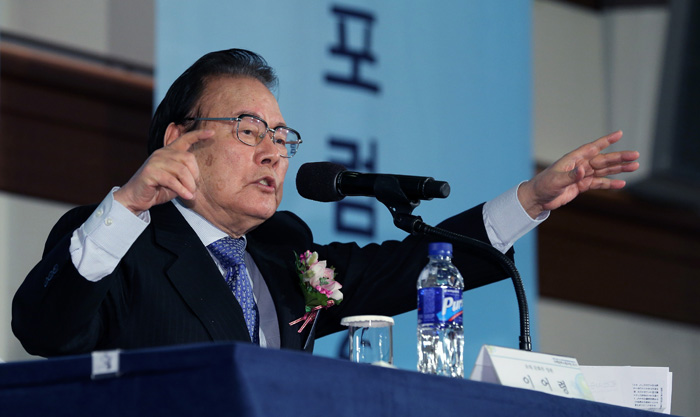 Culture Minister Choe Kwang-sik emphasized the importance of mutual communication in cultural exchanges during his congratulatory speech. "In the age of globalization where human contact and exchanges of material resources are actively taking place, the importance of practical exchanges and convergence of different cultures is growing bigger," he said.
The forum was attended by lawmaker Kil Jeong-woo, Professor Choe Jun-ho of Korea National University of Arts, Arirang TV President Sohn Jie-ae, former Secretary-General Chun Taek-soo of the Korean National Commission for UNESCO, Corea Image Communication Institute President Choi Jung-wha, JYP Entertainment Vice President Byeon Sang-bong, and artistic director Choi Tae-ji of the Korean National Ballet. The guests reached a consensus on the importance of mutual cultural exchanges, rather than unilateral spreading of Hallyu, or the Korean wave.
"Cultural development should take place interactively, not unilaterally," Kil Jeong-woo explained. "More chances to get in touch with various cultures should be available."
Sohn Jie-ae of
Arirang TV
stated that the station keeps a close eye on feedback from viewers all around the world. "When it comes to cultural exchanges, no less important is going out than coming in," she said. "Arirang TV will focus on bringing in a variety of content from other countries to Korea via Arirang Korea Channel. The analysis based on feedback from Arabic viewers shows that the Arab world tends to have a strong conservative inclination. Programs or animations targeting families would be great for viewers in the Arab world." Sohn emphasized the need for cultural exchanges which embrace the cultural backgrounds and characteristics of other countries.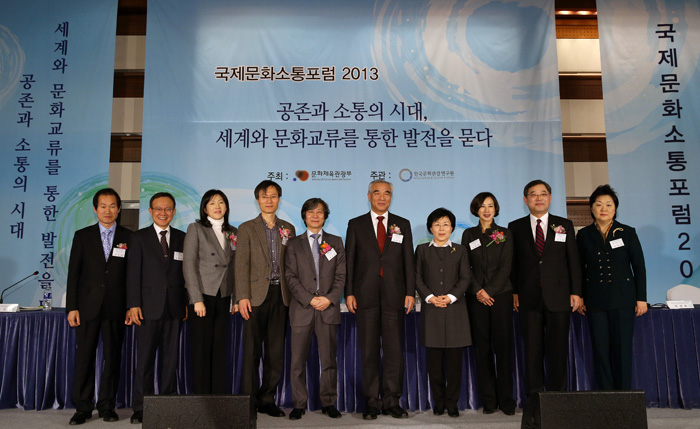 In the following section, the discussion centered on how to foster experts in international cultural exchanges and the role and status of 24 Korean Cultural Centers in cultural exchanges.
Professor Ko Jeong-min of Hongik Business School gave a presentation which provided a clear picture of Korean Cultural Centers based in 24 countries around the world in cities including New York, Russia, London, and Paris. Participants had a heated discussion about how to develop the 24 Korean Cultural Centers in an effective way.
Director General Meng Oan-ho of the Korean branch of the
Goethe-Institut
explained during his presentation,"For different cultures to be shared by all people around the world, the role of the 24 Korean Cultural Centers is more important than anything." He added that those institutes should serve as a bridge linking Korea to other countries. He also emphasized the role of the Korean Cultural Centers in providing a place for communications among artists from different cultures, enumerating culture and arts projects carried out by the Goethe-Institut, such as workshops and orchestra performances.
The Ministry of Culture, Sports and Tourism
said that concrete ideas provided at International Culture Communication Forum (ICCF) 2013 would lay the foundation for the development of international culture exchanges.
By Sohn Ji-ae
Jiae5853@korea.kr
Featured Topics
http://www.korea.net/NewsFocus/Culture/view?articleId=105063
URL Copy
Department Global Communication and Contents Division, Contact Us