"Top Three" theaters emerge as the best attraction
Jan 29, 2013
Star-studded concerts are not the only place where Hallyu happens. You can feel it at culture and arts theaters, too.
There is a steady rise in the number of foreign tourists hitting culture and arts theaters in Korea to enjoy the unique traditional musical styles of Korea.
Korea's "Top Three" theaters --
Seoul Arts Center
,
Sejong Center
, and
the National Theater of Korea
-- are rolling up their sleeves to welcome foreign tourists.
Seoul Arts Center is making an effort to attract foreign visitors with a variety of packages. The arts venue has signed a series of memoranda of understanding (MOU) with the Westin Chosun, Korea's top hotel, along with COEX and, most recently, the Korea Tourism Organization (KTO). The exchanges and cooperation that the signed MOUs make possible will pave the way for giving foreign tourists and residents more access to Korea's culture and arts.
The MOU signed between Seoul Arts Center and the Westin Chosun enables foreign visitors who buy tickets through the hotel's concierge to get up to 40 percent discounts on performances and exhibitions held at the center starting in March. Seoul Arts Center is also in the process of launching other package programs in cooperation with travel agencies operating in other countries. The arts venue is considering co-hosting international conferences and exhibition fairs with COEX and the KTO, as well.
Sejong Center runs the Korean Traditional Culture Experience program MiSuDa at Seoul Namsan Traditional Theater in Namsangol Hanok Village, one of Korea's must-visit tourist attractions.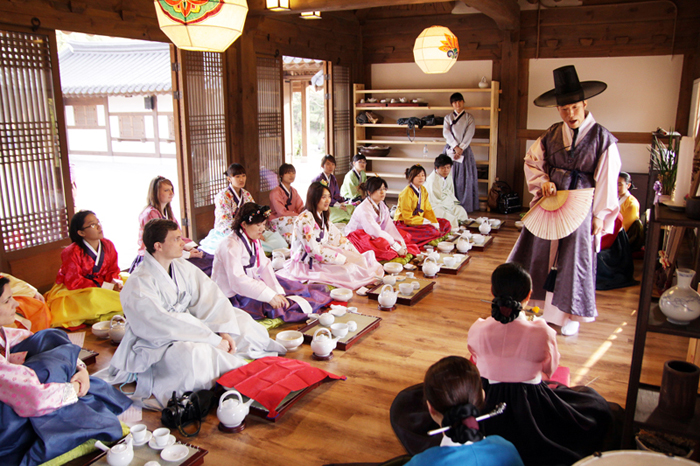 The program consists of three parts: Hanbok-wearing experience, Korean tea etiquette, and traditional Korean music. There is more to MiSuDa than just watching as a passive audience. The program offers an opportunity for foreign participants to experience traditional Korean culture by tasting traditional tea, learning the correct etiquette for Korean tea ceremonies, listening to traditional Korean music, and dressing up in traditional Korean Hanbok clothes. It is a good journey for foreigners who want to get a real taste of the Korean spirit and its genuine beauty.
Since the program's introduction in 2010, almost 70 percent of the total participants have been foreigners. Thanks to the staff members who speak English, Japanese, and Chinese, foreign visitors get a full understanding during the whole experience. The staff not only work as interpreters, but also help the program participants better understand Korean culture.
MiSuDa is available every Tuesday to Saturday at 4 p.m. at Namsan Traditional Theater. For more information, please visit the official website at
http://sngad.sejongpac.or.kr
. (Tel. 02-2261-0501~2)
The National Theater of Korea is also gearing up to reinforce its PR marketing and push ahead with various programs intended to attract more foreign tourists in cooperation with travel agencies. "More and more foreigners are coming to see
Midday Concert
and
Korea Fantasy
performed by the National Dance Company of Korea," said an official surnamed Shim from the theater. "More traditional culture-themed performances expected to capture foreigners' attention are set to be held in the near future"
By Sohn Ji-ae
Jiae5853@korea.kr
Featured Topics
http://www.korea.net/NewsFocus/Culture/view?articleId=105106
URL Copy
Department Global Communication and Contents Division, Contact Us