Seoul Arts Center attract art lovers with exhibitions
Mar 06, 2013
Seoul Arts Center is considered the center of performing arts in Korea. But, this center, located in Seocho-gu, southern Seoul, is also well-known for its art exhibitions. Currently, this center is attracting art lovers with exhibitions on famous Dutch painter Vincent van Gogh and European masterpiece artworks owned by the Vatican Museums.
* Van Gogh in Paris

This exhibition focuses mainly on van Gogh's time in Paris from March 1886 to February 1888. Art critics consider his two-year stay in Paris the most important period in his artistic foundation. During the Parisian years, van Gogh transformed himself from a realist into a contemporary leading modernist artist who pioneered a new style of art called post-Impressionism. This exhibition offers a good opportunity to learn more about van Gogh's art world and how he built his own artistic ground through exchanges with his contemporaries.
This exhibition shows nine self-portrait paintings by van Gogh, the highest number of his self-portraits ever displayed together at a single exhibition, according to Hankook Ilbo, the host of the exhibition. A total of 60 oil paintings of van Gogh are on display, most of which are from the Van Gogh Museum in the Netherlands. Apart from the self-portraits, some other important works to see include "Père Tanguy," "Ploughed Field," and "A Crab on its Back."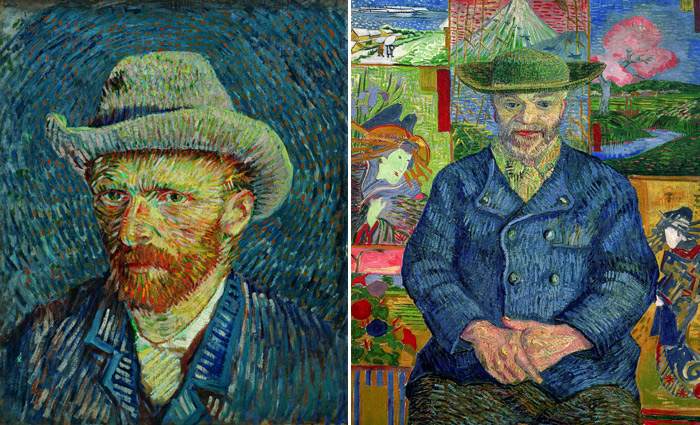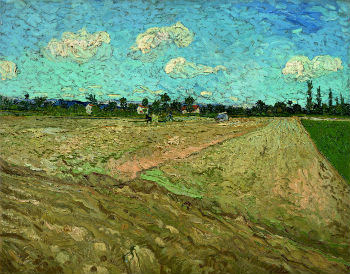 Julien Tanguy, who ran a small paint supply shop, appeared a few times in van Gogh's paintings. This exhibition shows the most sophisticated work among van Gogh's three paintings of him. This piece was purchased by famous French sculptor Auguste Rodin (1840-1917) and has been held in the Musée Rodin in Paris since then. Rodin highly praised the painting and in 1909 said van Gogh was "an admirable demolisher of academic formulae, [who] also had a genius for light," according to the Musée Rodin. This painting is a highlight of the exhibition as it is the first time that this panting has been on display outside France.
Two pieces -- "Ploughed Field" and "A Crab on its Back" -- were painted after van Gogh left for Arles, a small country town in southern France, after his two-year stay in Paris. During his life in Arles, van Gogh used impasto, a special brush stroke technique where paint is laid on the surface of the canvas very thickly in order to express rich colors and textures. Critics say van Gogh shows his impasto technique in full in "Ploughed Field."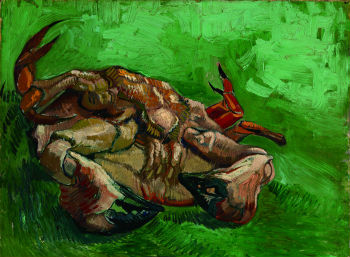 Many people have sunflowers in mind when they think of van Gogh's still-life paintings. In fact, he made many paintings of flowers. For this reason, "A Crab on its Back" is considered a rare piece in van Gogh's still-life paintings. In this work, the artistic value lies in not only in the vivid color contrast of green and red but also in the expressive brush techniques van Gogh used and his anatomical approach in the detailed description of the upside-down posture of the crab.
This exhibition not only shows 60 works of art by van Gogh but also the research findings of the Van Gogh Museum on his paintings. Visitors can also learn more about stories behind each of the pieces and the changes in van Gogh's painting styles. This exhibition will be held until March 24 at Hangaram Design Museum of the Seoul Arts Center, open from 10 a.m. to 7 p.m. during weekdays and 10 a.m. to 9 p.m. on weekends. More information is available at the homepage (http://www.vangogh2.com) of the exhibition (Korean, English).
* Musei Vaticani

If interested in the essence of European arts, "Musei Vaticani" is a must-see. For the first time in Korea, this exhibition, co-hosted by Seoul Arts Center, Musei Vaticani (Vatican Museums), and KBS, unveils a total of 73 European masterpieces owned by the Vatican Museums dating to the Renaissance from the 14th to 17th centuries. Exhibition-goers can also see the works of three great artists from the Italian Renaissance -- Leonardo da Vinci (1452-1519), Michelangelo di Lodovico Buonarroti Simoni (1475-1564), and Raffaello Sanzio (1483-1520). Aside from the paintings and sculptures, video footage of "The Creation of Adam," one of the famous paintings of the ceiling of the Sistine Chapel, is another high point of the exhibition.
Located in Rome, Vatican City is considered the smallest country in the world. This is where the pope lives and serves as the center of the Roman Catholic Church. This sovereign city-state is filled with a great legacy of European culture and art. Vatican Museums are regarded as one of the world's top three museums along with the Louvre in France and the British Museum in Britain. However, its scale and the artistic depth are incomparable as it encompasses a total of 24 museums and all forms of arts, including the Sistine Chapel.
Some pieces of note at the exhibition include "St. Jerome in the Wilderness" by Leonardo da Vinci, "Cast of Michelangelo's Pietà," and "Charity" by Raffaello Sanzio.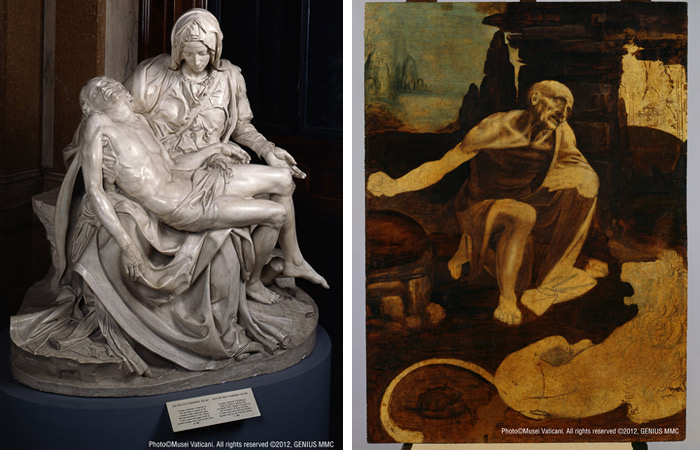 "Cast of Michelangelo's Pietà" was made in bronze after the original sculpture and was previously displayed at the exhibition room of the Vatican Museum. The original sculpture by Michelangelo made from 1498 to 1500 has been in museum storage due to partial damage.
In "Charity," Raffaello depicted a woman breastfeeding her babies and guardian angels to protect her. Raffaello created this artwork along with two more wooden paintings titled "Faith" and "Hope." This painting holds the highest insurance value among all the artworks of the exhibition at KRW 56 billion.
This exhibition will be held until March 31 at Hangaram Art Museum. Those who have performance or concert tickets for Seoul Arts Center can receive a 50-percent discount for the exhibition. More information is available at the homepage of the exhibition (http://www.museivaticani.co.kr) (Korean, English).
By Yoon Sojung
arete@korea.kr
Featured Topics
http://www.korea.net/NewsFocus/Culture/view?articleId=106152
URL Copy
Department Global Communication and Contents Division, Contact Us