Korean musicians to rock London in June
May 07, 2013
A festival to introduce both traditional and modern Korean music will be held in London from June 14 to 21.
The upcoming London Festival of Korean Music, also known as K-Music Festival 2013, will offer a rare opportunity for British people to see Korean musicians in various genres, ranging from traditional to modern. The noted performers include pansori master Ahn Sook-sun, the National Orchestra of Korea, Jang Kiha and the Faces, Yi Sung Yol, UhUhBoo Project, and Geomungo Factory.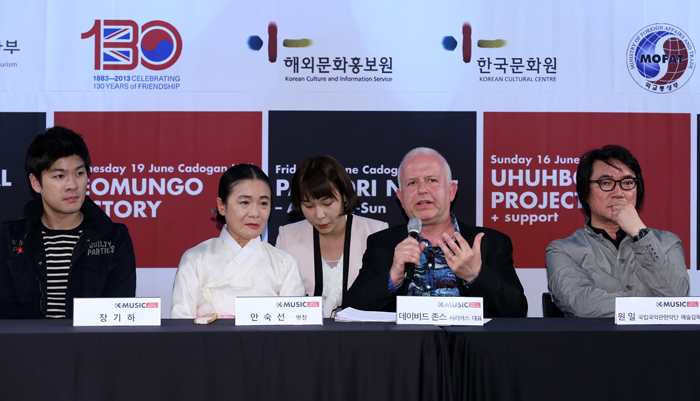 The eight-day event is held by the
Korean Cultural Centre UK
(KCCUK) under the
Korean Overseas Culture and Information Service
(KOCIS). SERIOUS, one of Europe's largest music producers, will carry out local marketing of the festival to boost cultural exchange between Korea and the UK and introduce Korean music to the world.
"The K-Music Festival 2013 will be held to mark the 130th anniversary of establishing the Korea-U.K. diplomatic relationship and the 60th anniversary of the armistice of the Korean War," said KOCIS director Woo Jin-Yung at a showcase and press conference held on May 2 at Olleh Square of the KT Building, Gwanghwamun in central Seoul. "I hope the upcoming festival will play a bridging role so that Korea and the world can coexist happily and peacefully."
The music festival will begin on June 14 at Barbican Centre, where the National Orchestra of Korea will perform "Daechita," a type of royal military marching music played on Korean traditional musical instruments, and other traditional Korean music, including "Arirang Fantasy," on the theme of "War and Peace."
Korean rock bands – Jang Kiha and the Faces, Yi Sung Yol, and UhUhBoo Project -- will perform on June 16 and 20 at Scala Theatre alongside UK bands.
Geomungo Factory will perform both traditional and modern Korean music on the geomungo (six-stringed zither) on June 19 at Cadogan Hall, a classical music concert hall.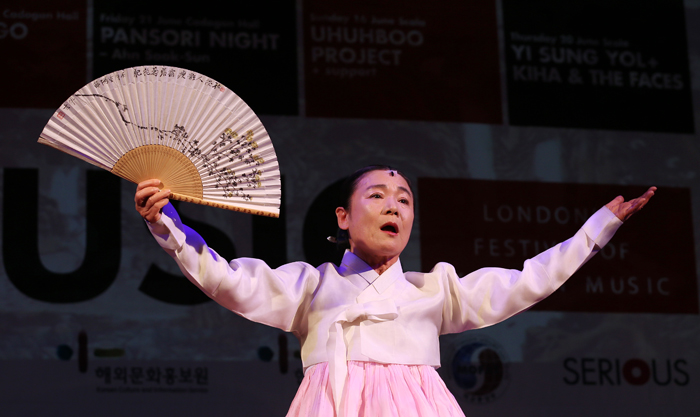 Ahn Sook-sun will perform "Heungboga," one of five well-known pansori epic songs, accompanied by gayageum (twelve-string zither) at Cadogan Hall on June 21 as the closing performance.
Ahn Sook-Sun, intangible cultural property No. 23, performed the climax of "Heungboga" to show off the charm of pansori at the showcase venue on May 2, where Jang Kiha and the Faces also performed their two hit songs. She will perform the full version of "Heungboga" at the upcoming festival in London with full English subtitles provided. She received favorable responses from the audience when she first performed pansori at the Edinburgh International Festival in 2003.
Jang Kiha and the Faces also performed their two hit songs at the showcase. This band, identified as a "rock band with Korean style uniqueness," has been gaining popularity in Korea.
"I'm so excited and can't wait to visit London, as most of musicians we admire are British," said Jang Ki-ha, the lead vocalist. "I guess Korean rock music can impress British fans with its new and fresh style."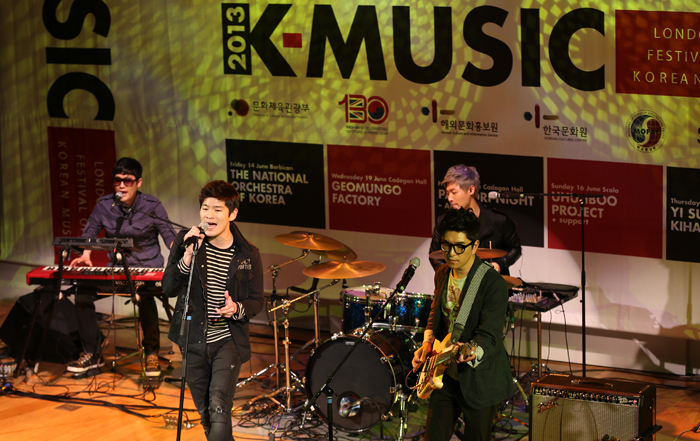 SERIOUS plans to promote the festival by fostering British music fans' interest in Korean music and encouraging their participation in the event. David Jones, director of SERIOUS, said at the press conference that he hopes the upcoming festival will help more Korean musicians enter into Europe, rather than just becoming a one-time event, mentioning his own "enthusiasm for Korean music" at the press conference.
"Korea has a developed culture," said Jones, mentioning PSY's worldwide popularity. "PSY has provoked British people's interest in Korean music, not just K-pop. I hope this event can help introduce more about Korean music to British fans and more Korean musicians come to Europe."
The KCCUK held a 100-day Korean cultural festival titled "All Eyes on Korea," during the London Olympics in 2012 which received favorable responses from the locals.
"British fans' interest in Korean music is widening to other genres such underground music beyond K-pop led by idol groups," said Jeon Hye-jung, project director of the KCC UK. "They also show their interest in Korean indie bands like Jang Kiha and the Faces, Yi Sung Yol, and UhUhBoo Project through SNS channels."
For more details of the festival, visit
http://serious.org.uk/K-Music
By Yoon Sojung
arete@korea.kr
Department Global Communication and Contents Division, Contact Us