Korean music festival attracts Londoners
Jun 19, 2013
From pansori to classical and rock and roll music, Korean musicians will meet the British public at the London Festival of Korean Music from June 14 to 21.
Also known as K-Music Festival 2013, the festival was designed to mark the 130th anniversary of the Korea-U.K. diplomatic relationship and the 60th anniversary of the armistice of the Korean War.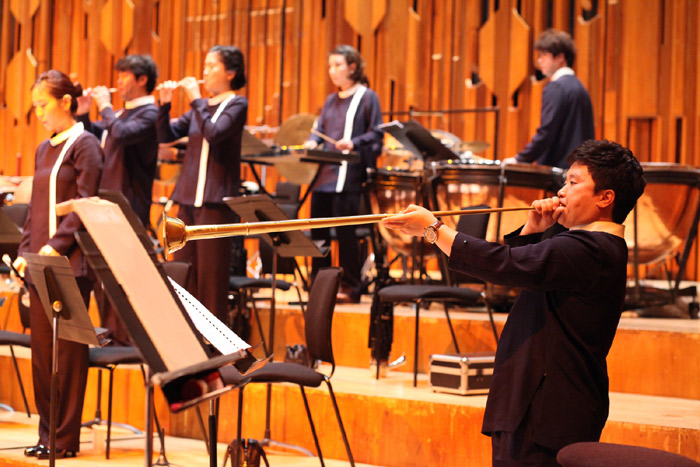 On the opening day, the National Orchestra of Korea performed "Daechita" (a royal military marching song played on traditional Korean musical instruments), Ssitgim-gut (a shamanistic ritual for cleansing a dead person's soul), and other traditional Korean songs, including "Arirang Fantasy."
Nearly 1,000 people filled the Barbican Centre for the opening performance of the orchestra on the theme of "War and Peace." Among the attendees included influential figures in British politics and economy, Director of the
Korean Cultural Centre UK
Kim Kab Soo, Korean ambassador to the UK Park Suk-hwan, other foreign ambassadors to the UK, war veterans, and London citizens.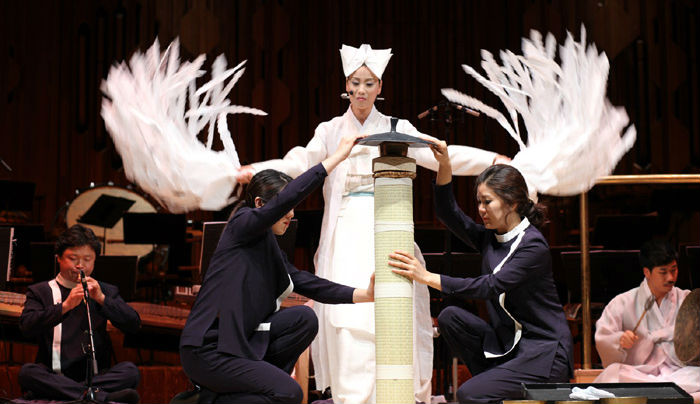 "The National Orchestra of Korea's music was so unique, surprising and beautiful that through the whole of it I was completely rapt!" reported Annabel Harrison after seeing the orchestra's performance. "Absolutely stunning! It mixed music and theatrics to create a perfect night!"
Emma Ho, who also attended the opening performance, praised the orchestra as "absolutely amazing." "It was all so grand and atmospheric it felt like we were fully immersed in a historical drama. It was all absolutely breathtaking, I never imagined seeing an orchestra perform would be so visual and emotional."
Geomungo Factory will present their interpretation of both traditional and modern Korean music played mainly on the geomungo (a six-stringed zither) at Cadogan Hall on June 19. The Korean rock bands Jang Kiha and the Faces, Yi Sung Yol, and UhUhBoo Project will perform on June 16 and 20 at Scala Theatre alongside UK bands.
Pansori master Ahn Sook-sun, intangible cultural property No. 23, will perform the full version of "Heungboga," one of five well-known pansori epic songs, accompanied by gayageum (a twelve-string zither) as the closing performance at Cadogan Hall on June 21 with full English subtitles provided. Ahn previously performed pansori at the Edinburgh International Festival in 2003 where she received favorable responses from the audience.
Click the link below for more information about the festival.
http://serious.org.uk/K-Music
By Yoon Sojung
Korea.net Staff Writer
arete@korea.kr
Department Global Communication and Contents Division, Contact Us