K-Music Festival delights London with 'Seoul Sensation'
Jun 19, 2013
An article in leading UK business daily Financial Times spotlighted Korean musicians participating in the ongoing K-Music Festival 2013 currently being held by the
Korean Cultural Centre UK
(KCCUK) in London.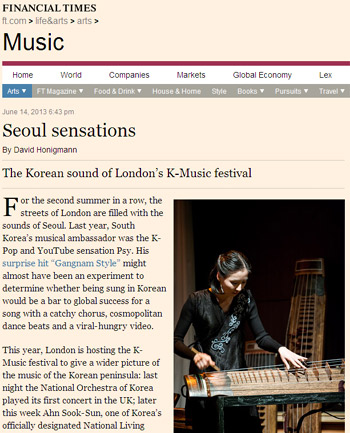 In the article titled "Seoul sensations" published in the music section on June 14, Financial Times reporter David Honigmann said, "For the second summer in a row, the streets of London are filled with the sounds of Seoul."
Honigmann focused on Geomungo Factory in particular, as "one of the most interesting groups playing in the festival." Composed of three female and one male musicians, Geomungo Factory performs their interpretation of both traditional and modern Korean music with variants of the traditional Korean stringed musical instrument geomungo.
Listing geomungo variants used by the musicians -- the cello geomungo played with a bow, a portable version, an electric version, and a xylophone geomungo -- the reporter said, "The interlocking patterns made by the instruments have prompted comparisons with Steve Reich, but, instead of Reich's smooth shimmering pulse, Geomungo Factory have a more grainy texture and their rhythms are often angular and unsettling.
Honigmann juxtaposed the traditional Korean aspects of the band with their "differing tastes in western music," mentioning their song "Byeolgeumja" where western influences can be clearly heard.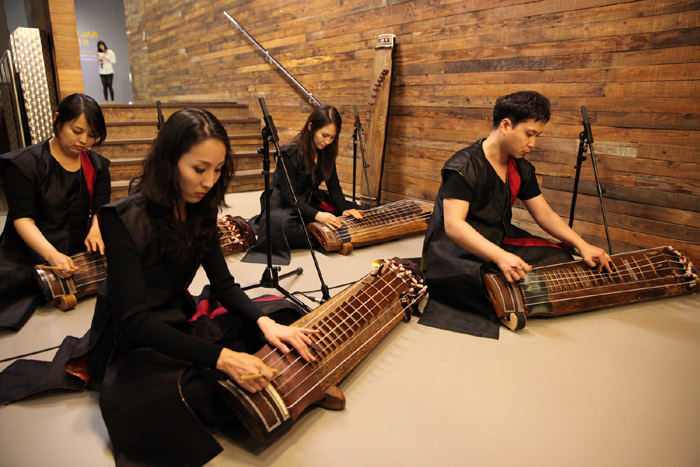 The reporter quoted member Lee Soojin who said the group is "not part of K-pop." "Geomungo Factory make music and art," he quoted Lee. "K-pop is entertainment, it's a very industrial product."
To read the article, click the link below:
http://www.ft.com/intl/cms/s/2/051e14f6-d1d5-11e2-9336-00144feab7de.html
By Wi Tack-whan, Yoon Sojung
Korea.net Staff Writers
whan23@korea.kr
Department Global Communication and Contents Division, Contact Us