Play with bugs at 3D-tech exhibition
Jul 25, 2013
Huge longhorn beetles, stag beetles, dragonflies, and butterflies in various shapes and colors approach as if they are right in front of you. You're put at ease by fresh air coming from the greenery and the sounds of bugs.
No, you are neither deep in a forest nor at a natural observation site. This is an exhibition titled "3D Insect Exposition with Larva" currently being held at KINTEX in Goyang, Gyeonggi-do (Gyeonggi Province). Starting on July 5, this is the first exhibition in Korea that uses 3D technology, offering a chance to children who live in urban areas to experience and learn more about insects and their natural ecosystem with vivid pictures and educational programs.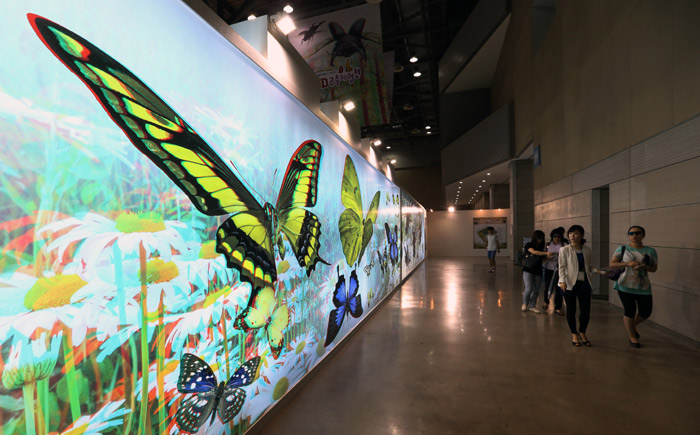 This exhibition, themed on
Larva
, a bug-shaped animated character popular among Korean kids, offers a chance to experience the bugs' world for all people, ranging from pre-school children to grown-ups, with special sound and visual effects.
Visitors are welcomed by more than 50 panorama pictures depicting human-sized bugs. People will be intrigued by funny pictures that depict children crossing a brook by stepping on the backs of giant ants, family members having fun with big, beautiful butterflies, and huge bugs coming out of a big book, which helps children consider insects as part of nature without fear.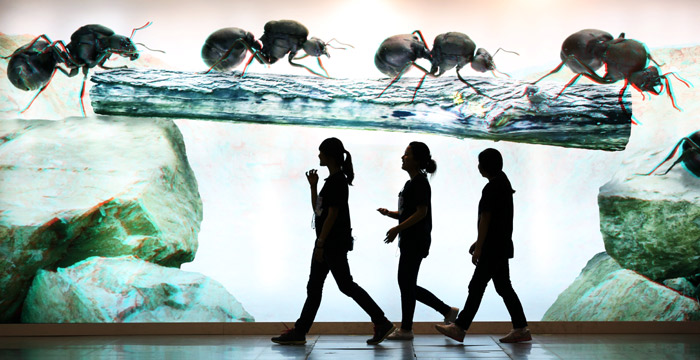 These 3D pictures can be best enjoyed by wearing a pair of special glasses made of red and blue lenses.
Various activities and attractions like climbing on spider webs and insect puzzles help children better understand insects and their characteristics, while being entertained. The most popular program among all is a dance contest in which children learn and compete in a "Larva dance" for prizes.
Two theaters are showing a documentary on insects produced by KBS and the first season of the animated TV show
Larva
inside the venue, which will keep children entertained.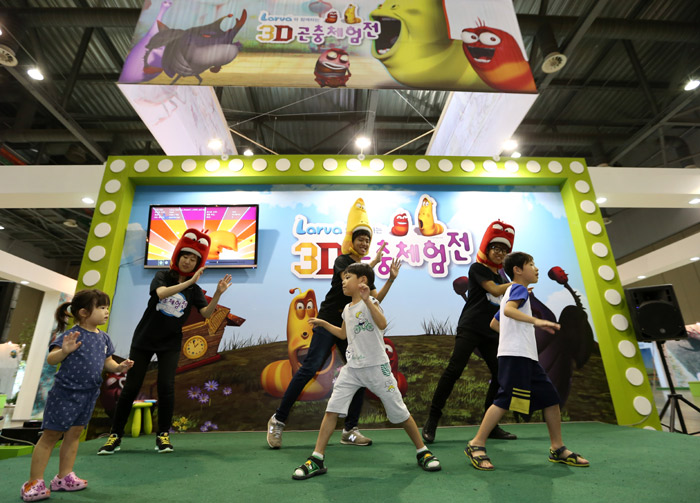 Another must-see attraction is the insect education venue where numerous insect specimens provided by Manchun Insect Museum are on display. This area displays about 200 kinds of insects, including some designated as Korea's natural monuments like longhorn beetles and buprestid beetles, and endangered insects that face extinction such as the red-dotted butterfly (Parnassius bremei Bremer).
People can learn about insects commonly found in Korea like dung beetles as well as rare insects from the Americas or Africa and precious insects like spiders with deadly venom, which excite insect lovers.
Children can also touch and observe caterpillars of longhorn beetles at the venue. Song Si-on, an eleven-year-old student at Yeokchon Primary School in Seoul, is one of the students who visited the exhibit during her summer vacation. "I have seen longhorn beetles before, but this is the first time I can see and touch caterpillars up close," said Song with a smile. "They are not scary and it's good to touch them."
"This exhibition is popular especially for children," said Yu Min-ju, manager of the exhibition. "The number of daily visitors reached 3,000 last weekend. We expect the number will increase in the future."
Tickets for this exhibition which will run at KINTEX until September 1 are 13,000 per person. Toddlers under 24 months of age can get free admission if a certified copy of their family register or passport is presented. Groups composed of more than 20 visitors can also get discounts.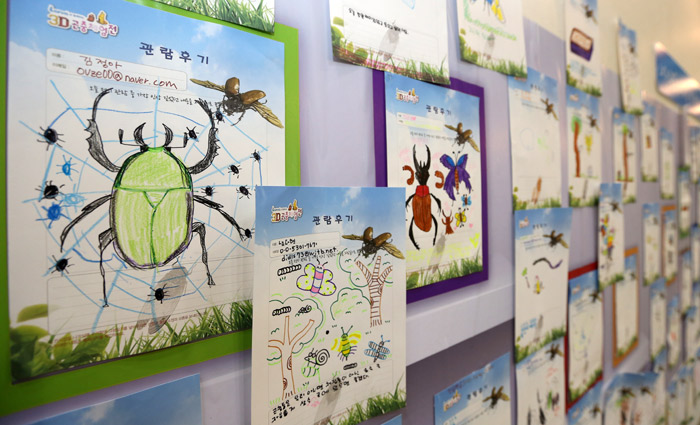 More information about the exhibition is available at its homepage
http://www.3dbugs-world.com
(Korean, English).
By Yoon Sojung
Korea.net Staff Writer
arete@korea.kr
** Quiz:
What is the name of the place which currently holds the 3D Insect Exposition with Larva exhibition? Email
arete@korea.kr
and the first three people who get the right answer will each be given two free tickets to the exhibition.
Department Global Communication and Contents Division, Contact Us