'Parasite' flooded with accolades from both home, abroad
Feb 12, 2020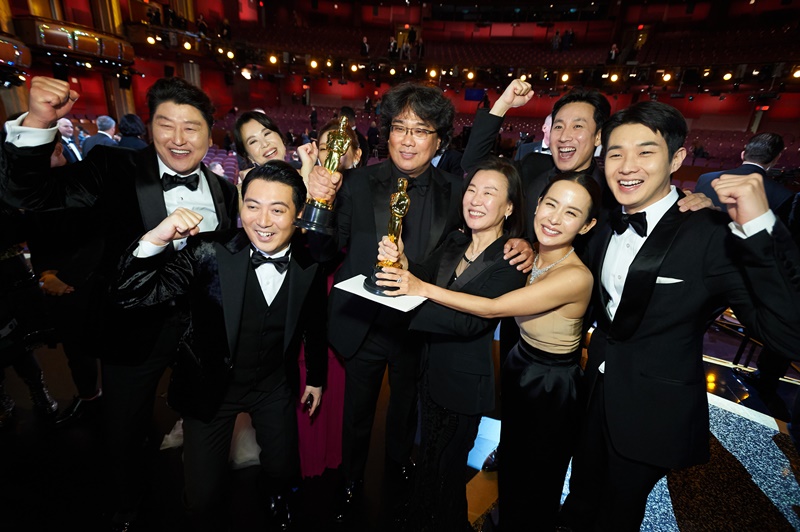 By Oh Hyun Woo and Kim Hwaya

"Parasite" director Bong Joon-ho and the film's cast and crew have received praise from all sides, as the movie made history in winning the Oscars for Best Picture, Best Director, Best Original Screenplay and Best International Feature Film.

President Moon Jae-in on Feb. 10 lauded the movie on his Facebook account, saying, "With the most Korean-style story, 'Parasite' moved people's hearts around the world," adding, "It proved the unique capacity of Korean movies with a detailed and highly individual style of directing, witty lines, scenario, editing, sound mixing, visual effects and the acting of the cast."
Minister of Culture, Sports and Tourism Park Yang-woo, who in December last year gave the Eungwan Order of Cultural Merit to Bong, congratulated "Parasite" for winning four Oscars. "Thanks to these awards, a new century in the Korean film industry will begin and the globalization of Hallyu (Korean Wave) will be spread."
The U.S., U.K., German and other embassies in Korea also commended the "Parasite" cast and crew through their social media accounts.
U.S. Ambassador Harry Harris uploaded a photo of "ramdon," aka jjapaguri, on his Facebook account. Ramdon, a portmanteau made from the words ramyeon (instant noodles) and udon (thick wheat-flour noodles), is a combination of the noodle products Chapagetti (a ramyeon dish inspired by Chinese black bean noodles) and Neoguri (ramyeon made in the style of Japanese udon).
Ramdon has gained foreign interest after the character Yeon-kyo ate it in the movie.  

A host of entertainment celebrities both domestic and international also hailed the movie's historic win including Korean Canadian actress Sandra Oh, Korean American actor John Cho, Indian actress Priyanka Chopra and the K-pop super group BTS.

Broadcast live at the awards ceremony was the moment Oh jumped up and shouted "Yeah!" after "Parasite" won Best Original Screenplay. She tweeted "Congratulations @ParasiteMovie So so proud to be Korean♥."

Additionally, the U.S. State Department, the British soccer team Manchester City and Seoul Archbishop Andrew Cardinal Yeom Soo-jung commended the film's Oscar triumph.
hyunw54@korea.kr

Featured Topics
http://www.korea.net/NewsFocus/Culture/view?articleId=182286
URL Copy
Department Global Communication and Contents Division, Contact Us