K-Pop competition finalists assemble in a flash mob
Sep 25, 2012
The finalists of the K-Pop Cover Dance Festival took to the heart of Seoul on September 21 and assembled in a flash mob.
The final contenders for the second annual festival, which was organized by the Visit Korea Committee to celebrate Visit Korea Year, danced to the tune of "Gangnam Style," Korean rapper Psy's hit song which has gone viral online and hit the billboard charts in the United States.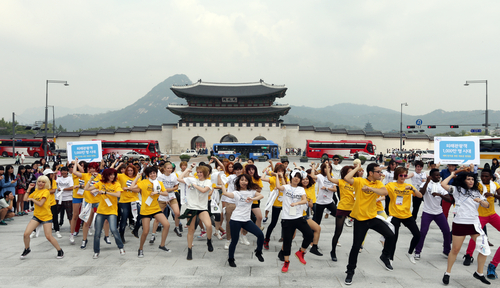 They also danced to the tune of "So Cool" and "Ma Boy" by Sistar and showed off their collective dance moves. The 70 participants of the festival are from eleven countries -- the United States, Russia, Hungary, Indonesia, the Philippines, Brazil, India, Australia, Japan, Nigeria, and Thailand.
For the final round of competition in Gyeongju, Gyeongsangbuk-do (North Gyeongsang Province) on September 22, Lollipop CZ from Thailand won the grand prize for perfectly emulating the Korean boy band Big Bang.
Featured Topics
http://www.korea.net/NewsFocus/Culture/view?articleId=577
URL Copy
Department Global Communication and Contents Division, Contact Us