PSY: "Call me an international singer"
Sep 26, 2012
PSY, reborn as a global star through YouTube finished his tight three-week schedule and returned to Korea on September 25.
"I thought I had already achieved five or even ten times more success than I had expected in Korea before I left for the U.S., but now, I just can't believe what's happening in front of my eyes," said PSY during a press conference following his return. "I express my gratitude for the love and enthusiasm for my song and my music video and I will work harder to let the world know the singer PSY."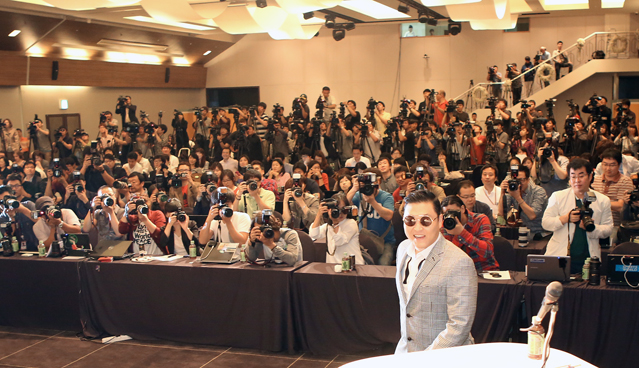 During the media conference, a chain of inquiries followed PSY who has appeared on some major American television programs. "It is too heavy for me to be called a world star," said PSY when asked about how he felt being called as a global celebrity. "I carefully thought about my title on my way back on the plane. I think 'International Singer' is a good idea. I should ponder over this issue to come up with better ideas."
PSY did not flinch at all when asked about what he will do for his fans if his popular song rises to the top of the Billboard chart in America. "I will perform the horse-riding dance topless among a dense crowd. Wouldn't City Hall Plaza be the most potential spot?"
PSY expressed his interest in the colorful parodies of "Gangnam Style" being uploaded these days. He said he keeps watching them every day, and was struck this morning by a parody performed by the marching band of Ohio State University.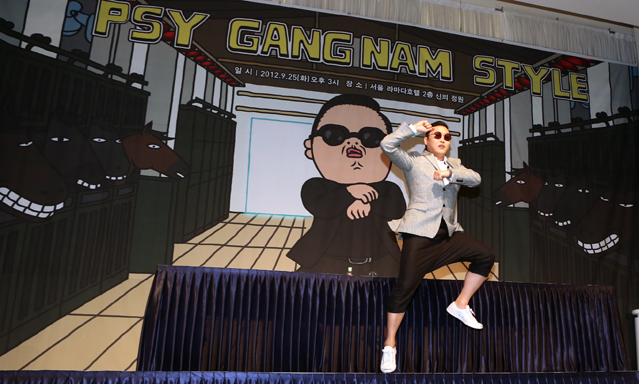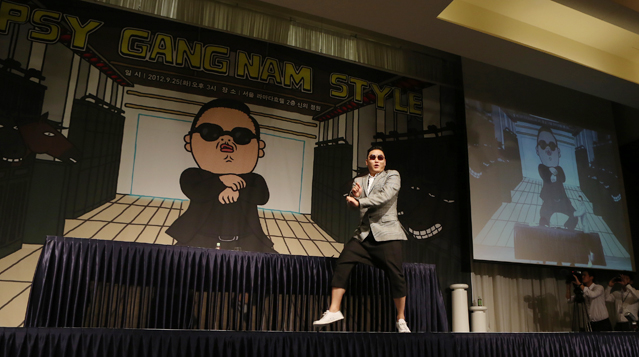 PSY's press conference, which gathered a number of foreign media outlets from the U.S., France, and Singapore and a few leading channels including NBC and BBC, was concluded when PSY walked off the stage performing the famed horse-riding dance.
PSY's "Gangnam Style" music video has been viewed more than 275 million times on YouTube and it broke the Guinness World Record for most-liked video.
By Jeon Han
Translated by Lee Seung-ah
Korea.net Staff Writer
Department Global Communication and Contents Division, Contact Us