Psy lectures Oxford students on Gangnam Style
Nov 09, 2012
Psy may not be the kind of person who would give a speech to the prestigious Oxford University debating society whose previous guests include U.S. presidents Richard Nixon, Jimmy Carter, and Ronald Reagan as well as the Dalai Lama and Mother Teresa.
Wearing his trademark dapper suit and sunglasses, however, he gave a lecture on his career in the chamber of the Oxford Union before 300 students, who had to win a draw for tickets to see the Korean rapper firsthand. Psy, whose song "Gangnam Style" has recorded 677 million hits on YouTube, started the speech by saying, "It's an honor," and then asked "It's kind of weird -- why did they call me? Until only four months ago, I was an ordinary singer with an idle schedule."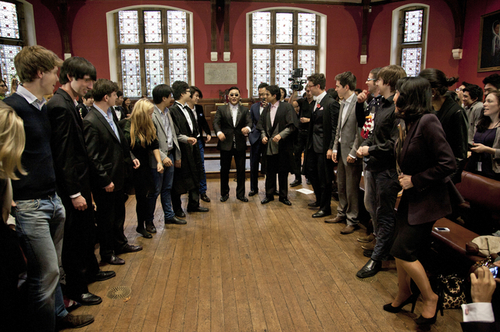 Psy discussed the hard times he had in the past. "When I was studying in the United States, I changed my course of study without telling my parents," he said. "Whenever I felt I wasn't getting attention as a singer-songwriter, I agonized over my career and every now and then I had to make difficult choices."
Psy said he always knew he was not good-looking so he tried to make it up with his humor. "I know I was not handsome enough to be a singer but I tried to make sure that people have fun and eventually I overcame such obstacle," he said.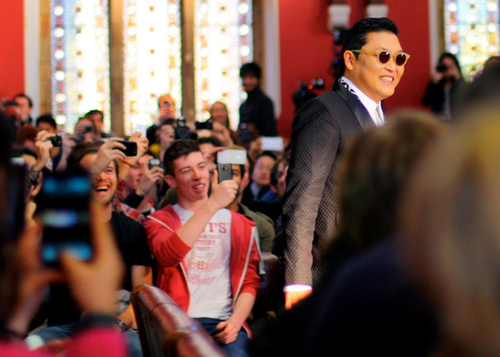 The lecture continued for 80 minutes and ended with a horse-riding dance lesson. The lecture took place after an invitation from John Seung-yoon Lee, Oxford Union's first East Asian president, who happens to be, like Psy, from Gangnam in Seoul.
Before the lecture, Psy performed in front of thousands of fans who gathered for a flash mob near the Eiffel Tower in Paris. In a press conference, Psy said he is going to release a half-English half-Korean album next February or March.
Gangnam Style remains second in the Billboard Hot 100 Chart for the seventh week this week.
By Limb Jae-un
Korea.net Staff Writer
Department Global Communication and Contents Division, Contact Us