Chinese university to open Korean food course
Oct 19, 2011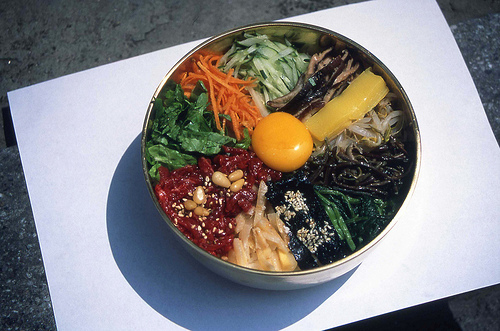 Bibimbap / Rice Mixed with Vegetables and Beef
A four-year college in China will offer a regular class on Hansik, or Korean food.
According to the Shanghai branch of the Korea Agro-Fisheries Trade Corporation (aT), Yangzhou University, one of the best Chinese universities for cooking courses, will offer a Korean food course next year supported by aT and the Ministry for Food, Agriculture, Forestry and Fisheries (MIFAFF). This is the first time that a university in China will offer Korean food as one of their regular courses.
On October 18, aT signed a Memorandum of Understanding (MOU) with the university to provide administrative support for the course and students enrolled in the department of Tourism & Cuisine. Moreover, it will invite professors from the department to Korea next month for a four-week course on cooking Korean food.
Yangzhou University was founded in 1902 and opened China's first department of food in 1983. The university has seven departments for food and cooking, including the department of Culinary Science and Nutrition Education.
"Yangzhou University will play an important role in China to spread Korean food," said Jeon Gi-chan from the Shanghai branch of aT.
"We will continue to promote Korean food in China through various programs for food education."
Previously, Drexel University in Pennsylvania also introduced two courses on Korean food in the department of Hospitality Management, Culinary Arts & Food Science in September which ran for ten weeks and was worth four credits.
By Jessica Seoyoung Choi
Korea.net Staff Writer
Featured Topics
http://www.korea.net/NewsFocus/Culture/view?articleId=89337
URL Copy
Department Global Communication and Contents Division, Contact Us