New York and London co-host Korean contemporary art showcase
Oct 25, 2011
The Korean Cultural Centre UK and the Korean Cultural Service in New York have teamed up to present a group exhibition of contemporary Korean artists based in the two cities, considered the world's cultural hubs where the most sought-after new art is created.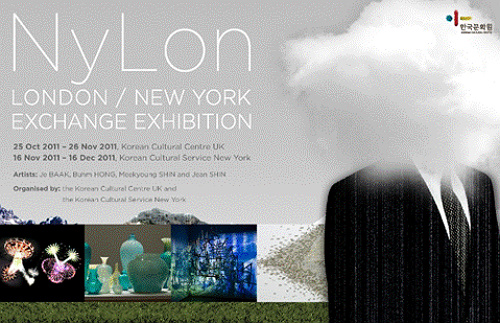 Poster of NyLon: London-New York Exchange Exhibition (Courtesy of the Korean Cultural Centre UK)
"NyLon: London-New York Exchange Exhibition" features the latest artistic productions by rising Korean artists in the international art scene. Set to start on October 25 at the Korean Cultural Centre in London, the exhibit shares creative directions and ideas of four artists who masterfully capture different cultural perspectives and multi-faceted subjects.
Participating artists -- selected by the advisory panel composed of Director Ralph Rugoff of the Hayward Gallery and Curator Lee Sook-Kyung of Tate Liverpool -- include two New York-based Korean artists Buhm Hong (Hong Buhm) and Jean Shin (Shin Jean) alongside artists currently active in the London art scene including Meekyoung Shin (Shin Meekyoung) and Je Baak (Baak Je).
Meekyoung Shin contributed her iconic reinterpretation of historic Eastern and Western relics, for which she picked soap as the medium, alongside her latest creations at the exhibition. Shin has been featured in numerous exhibitions worldwide including a recent solo exhibition at Haunch of Venison held this spring.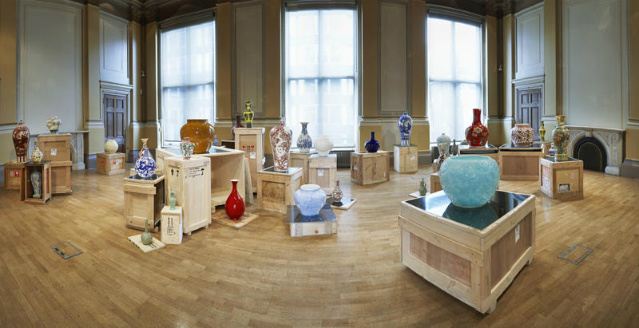 Meekyoung Shin, installation view ⓒ Meekyoung Shin 2011, Courtesy Haunch of Venison
Among the artists in the lineup is Shin Jean who has continuously expanded her artistic spectrum through a number of solo exhibitions at prestigious art institutions including the Museum of Modern Art (MoMA) in New York and the Smithsonian American Art Museum in Washington, D.C. For the NyLon Exhibition, she puts up one of her monumental assemblages, "Key Promises," a vast site-specific installation made of 2,105 computer command keycaps.
Also on view are the creations by media artist Buhm Hong, who showcased his work at "Moving Time: Nam June Paik with 30 International Video Artists," the last exhibit the father of video art had participated in before his death. Another featured artist, Je Baak, presents two of his recent works that explore the relationship between a single instant and eternity based on his observations and translations of Zen Buddhism.
The exhibition continues in London until November 26 and takes place in Gallery Korea of Korean Cultural Service in New York from November 16 to December 16. For more information, please visit the official websites at:
* Korean Cultural Centre UK:
www.kccuk.org.uk
(Korean and English)
* Korean Cultural Service in New York:
www.koreanculture.org
(Korean and English)
By Hwang Dana
Korea.net Staff Writer
Department Global Communication and Contents Division, Contact Us