New Hanok can be built in one day
Feb 23, 2012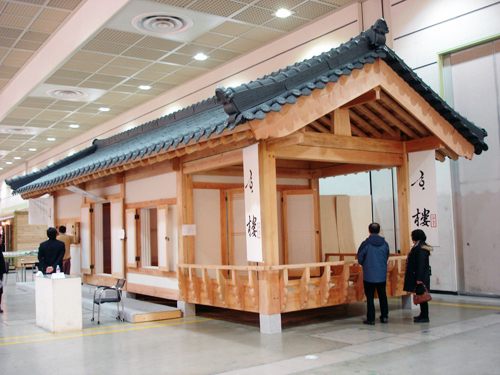 A newly introduced process for building a Hanok, a type of Korean traditional house, has halved construction costs and reduced construction time to a single day.
Evoking a classical atmosphere while making ample use of the colors and textures of nature, the Hanok has enjoyed steady popularity over the years. Due to outmoded structural designs, however, along with insufficient soundproofing, poor insulation capacity, and costs of 8 to 10 million won per pyeong (3.3058 square meters), living in a Hanok is often considered too expensive or too inconvenient a dream to realize.
This assessment may change with the introduction of Haru, which debuted last month at the 2012 Seoul International Building Material and Decoration Fair. Designed by the Korea Institute of Construction Technology and the architecture firm Maestro, Haru is a modular assembly-type Hanok designed specifically to address the drawbacks of the Hanok for modern dwellers.
"The Hanok has traditionally been built by hand, with all construction done on site," said Maestro CEO Bae Samseong. "But Haru is designed to allow for different sections, or modules, of the house to be prefabricated separately on an assembly line. The modules are then transported from the factory to the building site where they can then be assembled in a day's time."

According to Bae, the standardization of design templates and materials, along with the automation of parts of the construction process, reduces the costs of building a Hanok to an average 4 million won per pyeong.
Haru's design also addresses the chronic inconveniences of life in a Hanok, namely, poor soundproofing and insulation. According to Im Suk-ho, a researcher at the Korea Institute of Construction Technology, Haru is equipped with a double insulation system and triple-paned doors and windows to minimize heat loss, while soundproofing efficiency has been improved to satisfy modern architectural standards.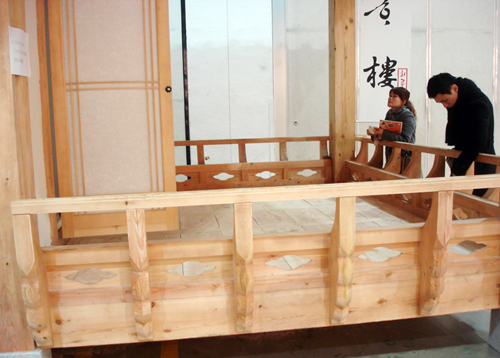 With innovative modular construction technology that makes for low costs, reduced construction time and increased energy efficiency that meets the rigorous Passivhaus standard, the Haru Hanok is expected to attract continued attention in the domestic market.

By Kwon Jungyun
Korea.net Staff Writer
Department Global Communication and Contents Division, Contact Us