Yeosu Expo, a must-visit destination
Mar 16, 2012
With Expo 2012 Yeosu Korea being slated for this coming May, the foreign media is highlighting the event, recommending it as a must-go tourism spot.
Several world-renowned media outlets have selected the Yeosu Expo as the best travel site in the world. Lonely Planet, a world-renowned travel guidebook, included Yeosu Expo in its list of "Top 10 things to do in 2012" and CNN also selected Yeosu as the number one place to visit in 2012.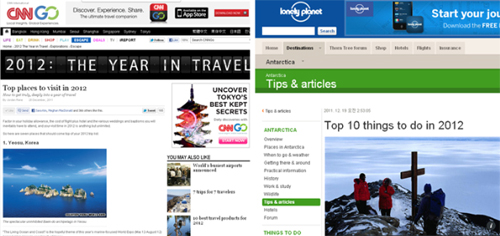 CNNgo, a website operated by CNN releasing the latest travel news and information helping tourists travel the world like a local, selected the Yeosu Expo as the top choice in the list of "Top seven places to visit in 2012," stressing the significance of the event by mentioning this marine-focused Expo supports the idea that human prosperity is inextricably tied to a healthier planet.



Euro News, Europe's most-watched TV station, covered the Expo in a special report. "As a place with 360 islands and a repository of rare marine organisms," said the report, "the Yeosu Expo is an ideal place to think about the mutual relationship between the ocean and human beings."

Chinese state-operated CCTV4 interviewed Kim Chung-seok, the mayor of Yeosu City in Jeollanam-do (South Jeolla Province). The program in which Kim featured introduces the ecology, environment of various cities, and protection policy of each city. The broadcast where Kim was interviewed will be aired in early April. Since CCTV4 is a widely watched channel securing more than 15 million homes of overseas Chinese, the broadcast is expected to give a tremendous boost to making the event known to the world.

Expo 2012 Yeosu Korea is making its appearance on the global stage more often since the Expo organizing committee began on-site promotional activities in Japan from March 13 to 15 and New York starting on March 19.

In Japan, the committee attended International Night as well as the 2012 Korea Travel Fair in Osaka to meet tourists and workers in the tourism industry and distribute the latest information about the Yeosu Expo. In addition, the Korea Tourism Organization announced that its New York office plans to conduct wrap advertising to promote the global event by utilizing double-decker buses. The bus routes go past some major tourist attractions such as the Empire State Building, Rockefeller Center, Central Park, and Wall Street. The promotional activity continues for three months until the opening of the event, expected to expose the advertisement an average of 13 million times per month.

The organizing committee said that they will continue to visit major cities to maintain the promotional activities and hopefully make it a global festival inviting in visitors from all over the world.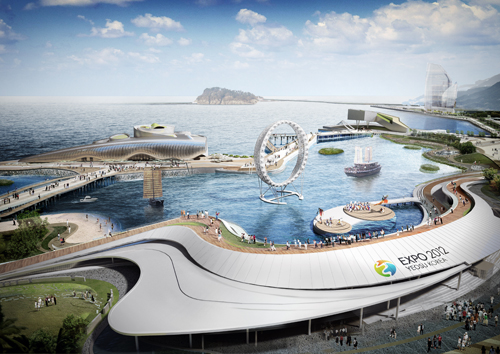 The second-largest global event hosted in Korea, Expo 2012 Yeosu Korea runs from May 12 through August 12. Regarding the high expectations for the Expo from across the globe, Kang Dong-suk, the chairman of the organizing committee for the Expo, expressed confidence that the international event will bring in a "Sea Renaissance" by presenting a new maritime culture for mankind.

For inquiries about the event for tourists, a call center (1577-2012) will open on March 15 to provide information on exhibitions, performances, transportation, and accommodation. English, Chinese and Japanese language services will be provided from April 16 until the end of the event. The service starts at 8 a.m. and continues until 11 p.m. For more information or ticket reservations, visit the official website.


By Lee Seung-ah
Korea.net Staff Writer
Department Global Communication and Contents Division, Contact Us