Spouses of NSS leaders to indulge in Korean culture
Mar 23, 2012
As the highest-level leaders converge in Seoul to discuss a shared vision of sustainable nuclear security measures to create a peaceful world, their accompanying spouses will be offered a chance to discover the essence of Korea's culinary delights alongside an abundance of cultural experiences.
On March 26, the first day of the 2012 Seoul Nuclear Security Summit, the grounds of the National Museum of Korea will turn into a banquet venue for the wives and husbands of summit participants. The spouses are invited to walk through the gallery halls inside the museum to view the award-winning pieces from the International Children's Peace Art Festival along with displays of works of art and relics in the museum's collections, getting a glimpse of a fusion of ancient and modern elements of Korean culture.
An evening of diverse surprises awaits them, including performances by Korea's up-and-coming classical musicians like 18-year-old pianist Cho Seong-Jin, the third prize laureate of the renowned Tchaikovsky Competition.
On March 27, the special guests will be invited to Cheong Wa Dae's traditional Hanok reception hall, Sangchunjae, where they will be served exquisite Korean cuisine hosted by First Lady Kim Yoon-ok, who herself has been one of the most passionate advocates at the forefront of globalizing Hansik (Korean food).
Following the luncheon, the spouses will move to Yeongbin-gwan, the State Guest House, where they will enjoy the delicate and sophisticated beauty of Korea's national costume, Hanbok along with a mini K-pop concert.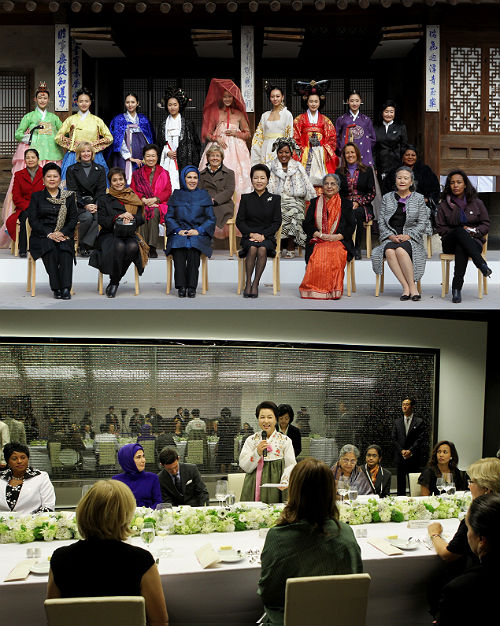 The luncheon at Sangchunjae will help them grasp a better understanding of Korea's flavors while experiencing Korean traditional housing in harmony with the natural surroundings," said an official at the Ministry of Foreign Affairs and Trade. "We expect these events will further contribute to the promotion and globalization of Hansik."
By Hwang Dana
Korea.net Staff Writer
Department Global Communication and Contents Division, Contact Us