Korean fermented foods attract global interest
Jul 17, 2012
"Cuisine says a lot about a country. It encapsulates every aspect of the country's life style and culture and enriches its culture in every respect. Metaphorically speaking, Hansik is a vessel of Korean culture, and Koreans should be proud of it."
Cho Tae-kwon, chairman of GwangJuYo, lavishes in praise of Hansik. GwangJuYo is a maker of premium ceramic tableware.
The company's roots are in Gwangju Gwanyo, which made ceramics for the royal family of the
Joseon Dynasty
(1932-1910).
GwangJuYo
adds to the dignity of the Hansik dining table by offering classy tableware with a royal touch.
What motivated you to help globalize Hansik?
Ceramics have been my family business for generations. When I inherited it, I suddenly felt a tremendous sense of responsibility and gained a new perspective as a producer of cultural products. I became interested in the cultural value of ceramics, and began to see a bigger picture, which encompasses ceramics, food, liquor, and ultimately cuisine. A range of everyday items associated with cuisine came into the big picture. I knew that all of them would help make Korea better known worldwide. This prompted me to take the lead in the globalization of Hansik.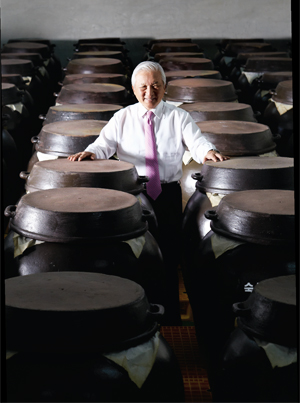 How is Hansik good? How is it different?
Hansik requires high-quality ingredients seasonally acquired not only from fields but also from the mountains, rivers, and seas of Korea. This is very much a result of Korea's four distinct seasons and its extremely varied topography of fields, mountains, rivers, and the sea.
Hansik
is unlike any other cuisine in that it includes numerous different fermented foods, which Alvin Toffler, a renowned writer and futurist, reportedly dubbed the "flavor of the future." I also think Hansik is generally very healthy: many dishes are actually slow foods, which people all around the globe increasingly demand.
You've been engaged in a variety of activities to globalize Hansik. For example, you threw a Hansik banquet in Los Angeles earlier this year. How was it received?
The globalization of Hansik is about applying science to
Korean cuisine
. In order to serve it on dinner tables around the world in a more attractive and beneficial fashion, Hansik also incorporates Korea's economic, social, cultural, and political elements. I have held many events to raise the world's awareness of the benefits of Hansik.
I held the first
Beautiful Korean Dinner Tables
exhibition in 1998 and have since held five more. I threw a Hansik banquet in Napa Valley, California in 2007 for 60 diners, and another Hansik dinner party in Los Angeles this year. I have invited people from various fields to Hansik dinners at my house in Seongbuk-dong, Seoul quite regularly for more than six years. All these dinners are intended to help opinion leaders in different fields and the general public better understand Hansik and learn about Korea's beautiful culture. I felt extremely rewarded when I saw both Korean-American and foreign gourmets taste and praise Hansik during the dinner party in Los Angeles earlier this year.
After all, food is first experienced, communicated, and shared, and then spread throughout society. Once a society-wide understanding about a certain food is forged, experts use their imaginations and creativity to develop new food, ceramics, liquor, craftwork, and accordingly interior designs. Thus, a whole new culture surrounding cuisine is established.
You always emphasize that "food is culture." What do you mean by that?
Culture of a society is clothing, food, and housing that the members of the society enjoy and use. These three elements tell much about a community or a nation, and showcase the nation's culture and intangible assets. So-called "cuisine culture" is about more than food, but table etiquette, tableware (ceramics, craftwork, and other artistic items), and interior design and architecture that create a space and atmosphere for dining. Food is more than just a meal to fill your hunger, but a product of cultural and economic activities that satisfy your five senses. In other words, a culture in the 21st century is an economy.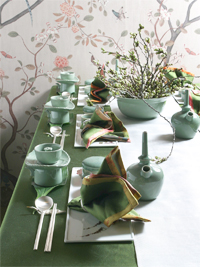 What is your favorite Hansik dish?
Kimchi jjigae
. From time to time, I buy
jokbal
(pig feet) to make
kimchi jjigae
my own way. I also occasionally make
jeon
(Korean pancake) with pork,
kimchi
, and a bit of cheese.
Throughout the interview, Cho emphasizes that food is a culture and an economy.
He expects the global food service market to reach KRW 5,000 trillion by 2030. He believes if Korea reinterprets and recreates its 5,000-year history and tradition, it will be competitive in the market.
He believes that if
Hanok
(Joseon-style Korean housing), and traditional Korean interior design, costumes, ceramics, craftwork, foods, and liquor are recreated for the 21st century with the assistance of world-renowned experts, it will make an excellent cultural set.
Cho also expects and is convinced that the day will come when people around the world will enjoy Hansik in their everyday lives. We look forward to his next creative step to enriching Hansik culture following the steps he has already taken from tableware to food to liquor.
*Article from Korea Magazine (July 2012)
Featured Topics
http://www.korea.net/NewsFocus/People/view?articleId=101318
URL Copy
Department Global Communication and Contents Division, Contact Us