Australian blogger offers artistic glimpse into life with Korean husband
Feb 22, 2013
The love story of two young people from different worlds has been attracting widespread attention among Koreans and non-Koreans alike, especially among international couples in Korea in recent weeks. Depicted with humor and honesty through regularly published illustrations on her blog
My Korean Husband
, the relationship between Australian Nichola Kwon and her native Korean husband has sparked curiosity about the unique joys and lessons that accompany international marriage.
Her blog started to gain a large following in Korea recently since being covered by local news outlets.
"It is amazing that suddenly all these people are visiting my little blog," says Nichola, expressing her pleasure at the increased attention during an interview with Korea.net. "[I appreciate that] everyone that has commented on the blog has been really lovely and supportive."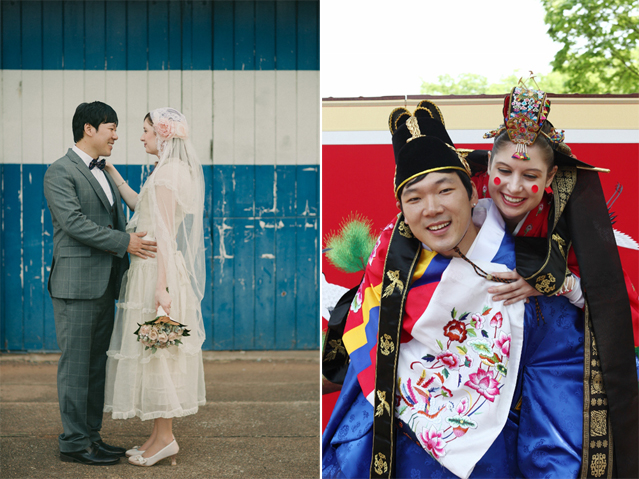 Nichola never lived outside of Australia and her husband Kwon Sun-hong grew up in rural area of Korea. The couple first met in Sydney, Australia at a language exchange program. The couple got married in 2012 after a year of dating, which Nichola recalls as having been made possible only by the undying efforts of her husband.
Nichola's artistic creativity and her affection towards her husband were the two major driving forces that motivated the new bride to produce her creative blog. She discovered by accident that when she searched "Korean husband" on the Internet, the first page was full of negative things about Korean men, mostly written by women who had gone through failed marriages.
"They blamed Korean culture for everything that went wrong [during their marriage]," says Nichola, explaining how she got the idea to start drawing her cartoons. "But the reality probably was that [many of these women] had just married a bad guy since I was enjoying a really wonderful relationship with my husband."
Having once worked as a painter, the Australian decided to publish online posts about their happy marriage, making full use of her creative and artistic abilities. The comics, which are mostly about funny situations that unfold in daily life as a result of cultural barriers, have struck a responsive chord among international couples, and largely by word of mouth.
My Korean Husband
, viewed by between 1,200 and 2,000 readers each day, receives many comments from readers who, says Nichola, identify closely with the situations in the comics.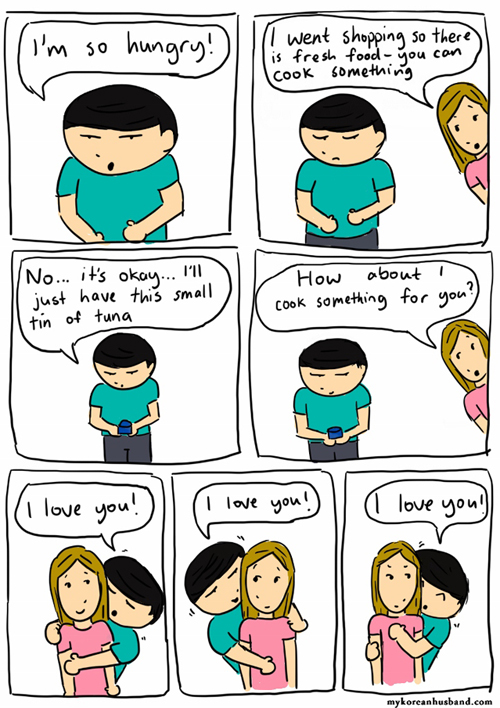 Many of the episodes show Nichola learning that the things she thought were just quirky parts of her husband's personality are actually things many other Korean husbands commonly do too.
"It is interesting to see how much where we grow up affects the way we do things," she says. Though differences of upbringing may mean different approaches of life, Nichola highlights that the simple key to maintaining a great relationship, even one that may be more fulfilling than those of couples from similar backgrounds, is having an understanding attitude toward your partner.
"People just want their partners to read their mind and know what the problem is," she continues. "There is no way we can act like that and have a healthy relationship. We talk things through so we can really understand each other. One benefit of not speaking the same native language is that we really focused on understanding each other, rather than assuming that the other understands."
The happy couple plans to share their firsthand insights into the pleasures of embracing difference with a wider number of readers in the future through more diversified channels, including YouTube and books.
*To see more cartoons, click
here
By Lee Seung-ah
slee27@korea.kr
Featured Topics
http://www.korea.net/NewsFocus/People/view?articleId=105794
URL Copy
Department Global Communication and Contents Division, Contact Us