A medical doctor caring for Filipinos
Mar 16, 2012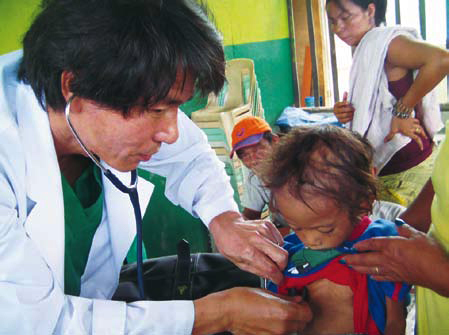 Some call him the Pestalozzi of the Philippines. Park Nuga, a South Korean surgeon, has provided free medical service in the Philippines for nearly a quarter century. He has visited more than 50 remote villages and slums as a volunteer medical doctor. Some of the villages require over a nine-hour drive, and some are inaccessible by car, requiring him to walk the rest of the way. Some are separated by cliffs and connected by only the most rudimentary rope foot bridge. Some even require him to climb a mountain barefoot with a backpack full of medicine.
A long cue of villagers forms upon his arrival -- villagers waiting to see him for their illnesses, as light as a simple cold or serious enough to require emergency care. A temporary operating room may be set up for an emergency patient, or the patient is immediately sent to a hospital in Manila, the nation's capital.
A lack of proper medical equipment and an absence of nurses make his job even more challenging. When he's lucky enough to afford the help of South Korean students studying in the Philippines or other volunteers, he can usually see all those waiting in the long cue, and the day ends on a blissful note.
Sometimes, Dr. Park receives very bad news. A few months ago, he received heart-breaking news on a medical trip to a shantytown named Tondo, Manila's garbage dump. He had been there before and treated a seriously malnourished baby boy. He visited the village again sometime later with electrolyte and nutritional supplements to give him only to hear he had passed away about a month earlier.
"Most of the people here have never been to a clinic or hospital in their entire lives. A minor disease that could easily be cured in South Korea becomes serious here without timely treatment. That breaks my heart," deplores Dr. Park, adding, "I can't help but blame myself that I should have come earlier to take care of them."

Close to the Pains and Agonies of the Sick
It wasn't his dream to volunteer for medical services when he entered medical college. It was simply by chance that he went to the Philippines on a medical volunteer trip during a vacation. It was a life-changing experience during which he applied his skills and gave his time to save precious lives. He decided to forego his dream of becoming a surgeon and leading a comfortable life and instead made up his mind to devote his life to the mission of providing medical services in remote areas. He even risked his life to serve in a region under the control of Muslim rebels on the island of Mindanao. After graduating from medical school, he studied theology to become a missionary-medical doctor. In fact, his Korean name, Nuga, is a transliteration of the name of the Apostle Luke, who himself was a missionary-medical doctor about 2,000 years ago.
After graduation and marriage, he returned to the Philippines, now with a wife and a one-year-old son. After years of living in the Southeast Asian country, his wife suggested that they go back to Korea for such reasons as their children's education, but he remained as determined as ever to stay. He could not leave the sick people who might need him, and so it came to be that he decided to remain in the Philippines alone.
Yes, he is lonesome, living separately from his family in a foreign country, but the greater challenge he faces is his own failing health. In 1992, he was diagnosed with pancreatic cancer in the early stages and underwent surgery, but in 2004, he had to go through two more surgeries to treat stomach cancer. To make matters worse, he was consequently diagnosed in 2009 with liver cirrhosis and diabetes. The doctors did not think he had more than two months to live.
"At that time, I prayed to God and experienced Him personally. With a servant's heart, I begged Him to give me just three more months to live and treat the sick, and that new life of three months has lasted this long," confesses Dr. Park. "Because I know the pain of being sick, I understand the pains of the sick better and care about them even more."
His illness brought him nearer to the pains and agonies of his patients. Standing on the verge of death several times, he decided to walk his life path as a missionary-medical doctor more faithfully. He himself grew up as a poor boy in a rural area and suffered from disease. That is why he thinks he has been molded and shaped for this mission better than anybody else. Some seven years have passed since he was diagnosed with multiple conditions, but he still reaches out to those in remote areas. He finds himself healthier and more energetic treating villagers of poor areas.
In 2004, he renovated a bus as a medical service vehicle. It is very old, so he frequently has breakdowns and has to stop on the road to make repairs, but that does not stop him from reaching out. Two years ago, he opened a small clinic on the outskirts of Manila. He named the clinic Nuga Mission Medical Center, and sick people who cannot afford paid medical care come to the clinic to see him. Patients he meets on medical trips are hospitalized and receive operations here, too.
Both his treatment and medicines are free of charge. His clinic and his volunteer activities are mostly funded by donations from churches and his acquaintances in South Korea.
Dr. Park Nuga believes that he needs to be wherever the patients need him. That is why he is in the Philippines.
*Article from Korea Magazine (March 2012)
Department Global Communication and Contents Division, Contact Us