Jeju to become a medical tourism city
Apr 25, 2012
A large-scale health care center is going to be introduced on Jeju Island.
A groundbreaking ceremony was held for Jeju Health Care Town on April 17.
As one of the six core projects on Jeju Island conducted by the Jeju International City Development Center (JDC) and the Ministry of Land, Transport and Maritime Affairs, Jeju Health Care Town will become a place for visitors to enjoy both medical service and vacation. The medical multi-complex is being built on a 1,539,000 square meter tract of land in the Donghong-dong and Topyeong-dong area in Seogwipo City, with a projected opening in 2013, and it is expected to be invested over 700 billion.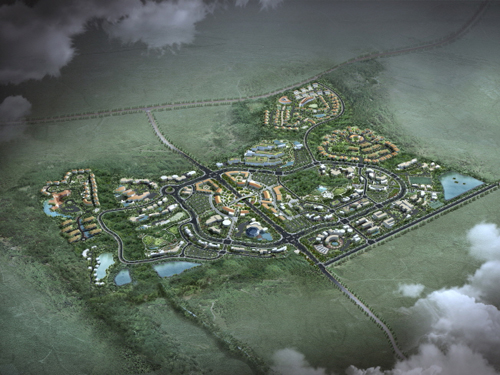 The complex will be composed of various sections such as Medical Park, Wellness Park, and R&D Park. Along with comprehensive hospitals, it will feature various institutes related to health care and aesthetic services such as plastic surgery clinics, diet clinics, spa centers, and health checkup clinics. Rehabilitation centers and senior hospitals will also be built in the town.
Inquiries into investments in the town from domestic and overseas companies have continued while memorandums of understanding (MOU) with overseas institutes also have been signed. Previously, the JDC signed an MoU with Hospital for Sick Children in Toronto, Canada in January. They will build a cooperative network to introduce the Canadian hospital's operation system for pediatric medical facilities and operational know-how to the Jeju Health Care Town.
"Once the Jeju Health Care Town is complete, Jeju Island will lead the medical industry that brings high additional value," said an official from JDC. "It will secure the competitiveness of Jeju and contribute to boost the local economy."
Meanwhile, the Korean government founded JDC under the Ministry of Land, Transport and Maritime Affairs in order to foster Jeju as a free international city. JDC is currently conducting six core projects including the Jeju Global Education City, Health Care Town, Jeju Science Park, Resort-type Residential Complex, Myths and History Theme Park, and Seogwipo Tourism Port along with various development projects such as operating a duty free shop.
By Jessica Seoyoung Choi
Korea.net Staff Writer
Featured Topics
http://www.korea.net/NewsFocus/Policies/view?articleId=100131
URL Copy
Department Global Communication and Contents Division, Contact Us