Walking trails around the DMZ
May 23, 2012
A group of expats including ambassadors to Korea from 25 countries, their families, and members of the Seoul International Women's Association visited the Demilitarized Zone (DMZ) between North and South Korea to enjoy cultural events in the woods, hosted by the Korea Forest Service.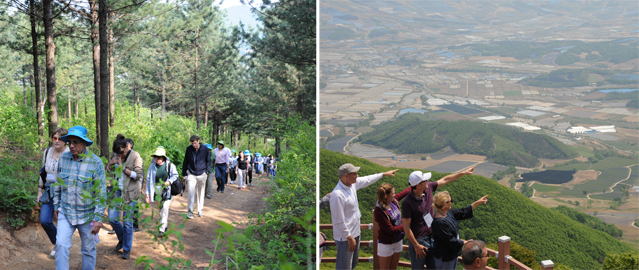 From May 19 to 20, a total of 170 expats residing in Korea visited such places as trails in Yanggu, Gangwon-do, Eulji Observatory, and Baekdamsa Temple along with participating in some programs like Templestay.


"We have prepared for the event to let them know the importance of forests as well as the preciousness of peace and unity by hosting it in the woods of the DMZ," said Minister Lee Don Gu of Korea Forest Service.


Sixty years after the Korean War, the DMZ in Korea has become a repository of abundant forest resources and nature. The Korea Forest Service has conducted its project of constructing trails near the DMZ since 2011. The completed trails are expected to connect a total of five counties including Goseong County and Cheolwon County.

The next goal of the Korea Forest Service is to carry forward a five-year forest restoration project by 2017. The four major strategies include "to define concepts of forest restoration," "to preserve and restore the core ecosystem," "to increase the variety of animals in forests," and "to build infrastructure for restoring the forest ecosystem."

The core spots to be restored through the project are around Baekdu-daegan, the DMZ, and sea coastal forests.

By Jessica Seoyoung Choi
Korea.net Staff Writer
Featured Topics
http://www.korea.net/NewsFocus/Policies/view?articleId=100482
URL Copy
Department Global Communication and Contents Division, Contact Us