Korea pays tribute to patriots, war veterans
Jun 01, 2012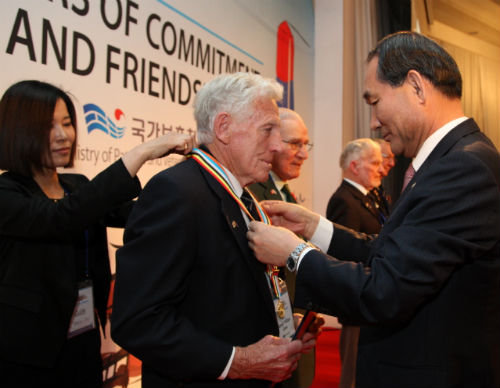 General Douglas MacArthur, who led the United Nations Command for most of the Korean War, once made a prediction that the capital city of Seoul would require a century for reconstruction.
"Expecting democracy to bloom in Korea is like hoping for a rose to blossom in a garbage bin," wrote a British journalist in
The Times
back then about Korea's possibility of attaining democracy.
In just six decades, however, Korea has taken a great leap in economic development, ranking among the top ten largest economies, and is today considered a nation of "full democracy" -- highest among Asian countries.
Prime Minister Kim Hwang-sik remarked so in a commemorative speech on June 1, urging the nation to ruminate on the achievements and sacrifices rendered by those who fought in the name of liberation, national defense, and democracy, to defend the freedom of the nation.
Marking the Merit Reward Month of June, under which the nation observes Memorial Day on the 6th and the day commemorating the outbreak of the Korean War on the 25th, the Korean government holds ceremonies to pay tribute to deceased patriots and veterans.
As you hear sirens blowing all across the country at 10 a.m. on June 6, citizens are invited to pay a one-minute silent tribute to the late patriots and meritorious veterans who fought to protect the newly established Republic of Korea. An official commemorative ceremony runs at Seoul National Cemetery in memory of the fallen patriots.
Recalling the tragic fratricidal war, the 62nd Korean War commemoration ceremony will take place at the War Memorial of Korea on June 25. Nearly 5,000 participants are expected including Korean War veterans from home and abroad.
From June 8 to 26, about 400 college students will participate in a Joint Security Area (JSA) field tour designed revive the memories of the Korean War -- often dubbed the forgotten war -- to a post-war generation.
The Ministry of Patriots and Veteran Affairs (
http://english.mpva.go.kr
) will organize a series of commemorative events, including its historic Revisit Korea Program -- for which the government invites Korean War veterans from UN forces countries –on a visit to Korea slated for June 23 to 28, along with the Peace Camp for Youth from July 8 to 14. The Revisit Korea Program has been in operation since 1975 and the Peace Camp was first initiated in 2010, marking the 60th anniversary of the outbreak of the Korean War.
A number of commemorations aimed at extending Korea's appreciation of the contributions and sacrifices of the war veterans will also take place overseas, at nine countries that committed troops to the UN forces in the Korean War. An official commemorative ceremony hosted by the U.S. government for American veterans is set to be held on July 27.
By Hwang Dana
Korea.net Staff Writer
http://www.korea.net/NewsFocus/Policies/view?articleId=100598
URL Copy
Department Global Communication and Contents Division, Contact Us