Korea's green growth: the world's green future
Jun 18, 2012
"Today, as we celebrate the 60th anniversary of the foundation of the Republic of Korea, I propose a new vision for the nation: Low Carbon Green Growth. Green growth is sustainable growth that also reduces greenhouse gases and environmental pollution. It will be a new paradigm for national development that creates jobs and new driving forces of growth for the nation."


President Lee Myung-bak announced the beginning of the green growth paradigm during his congratulatory speech to celebrate the 60th year of the foundation of the nation in 2008. Since then, the Presidential Committee on Green Growth has been organized and a number of policies have been made and enacted. There also has been much concern especially when President Lee announced that Korea will launch an international organization related to green growth in late 2008, as launching an international organization has never been easy for any countries.

Four years later, the Global Green Growth Institute (GGGI), which was founded by the Korean government as a non-profit foundation in Seoul, is about to be launched as an international organization financed by eight countries. The GGGI was not co-founded with other countries nor aided by UN organizations; it is the first international organization that Korea has founded all by itself.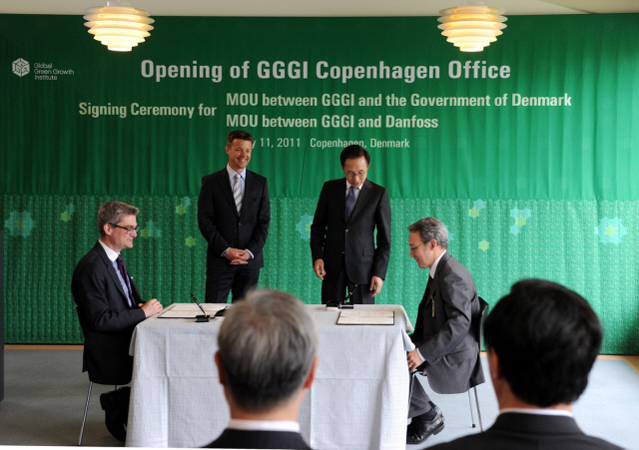 Green growth includes three major goals. First, it must be stable growth with the minimum use of resources or energy; the use of energy must be reduced and used efficiently. Second, when using the same amount of energy or resources, carbon dioxide emissions need to be minimized. According to this, regulations on carbon dioxide emissions have become stricter and purchase of green products, which emit less carbon dioxide in production, has been popular. The Green Card system 'which rewards citizens with points when purchasing green products or reducing energy helps achieve the second goal. The last one is to develop new driving forces of growth for the nation. Accordingly, the government has spared spared no expense in investing on R&D of green technology and has fostered green industries such as new and renewable energy industries.


The government has also set up ten major policies for green growth. They include reduction of greenhouse gases, reinforcement of energy independence, and improvement of adaption abilities to climate change. The major policies include activating the emissions trading scheme and fostering green industries as well as products. In addition, in order to secure ecological space, Korea will expand its natural ecology protection area up to 250,000ha. It will also foster 4 million green households that lead activation of green consumption by 2050.


Since the announcement of the vision of green growth, Korea also has expanded its investment in R&D related to green technology from 2 trillion won in 2009 to 2.3 trillion won in 2010; it has maintained a green budget which is to invest 2% of the GDP in the green technology and new growth fields. Korea has drawn dramatic results; its lithium secondary batteries have taken the second largest global market share and it has launched the first mass-production electric car 'BlueOn.' The number of households that have joined a carbon point system has rapidly increased while more and more people have signed up for the green card. The amount of food waste began to decrease for the first time in the last nine years.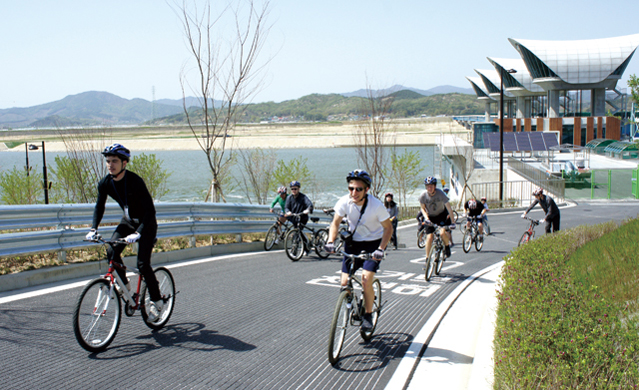 The United Nations Conference on Sustainable Development, also known as Rio +20, will be held from June 20 to 21 where President Lee Myung-bak will hold a signing ceremony for GGGI to become an international organization along with countries including Denmark, Australia, the UAE, Qatar, Norway, the UK, and Mexico. Opening its first overseas office in Copenhagen, Denmark last year, the GGGI has become a think tank for Korea to achieve its national vision of Low Carbon Green Growth.


It will also conduct various projects to share its vision with other countries and promote green growth in developing countries. Korea is slated to support USD 10 million while the remaining seven countries annually contribute USD 5 million for the first three years.


"The objective of those countries participating in the GGGI is to help developing countries to find their own model for low carbon green growth," an official from Cheong Wa Dae said. "Because they agreed on the model Korea proposed, they decided to participate in the organization by spending their own national budget."


As the conference will focus on a green economy in the context of sustainable development and poverty eradication, Korea is planning to play a leading role in drawing up a summit declaration which can promote a green economy across the world. Along with the keynote speech of President Lee, Korea is also expected to unveil a new green official development assistance (ODA) initiative that will help developing countries with green growth.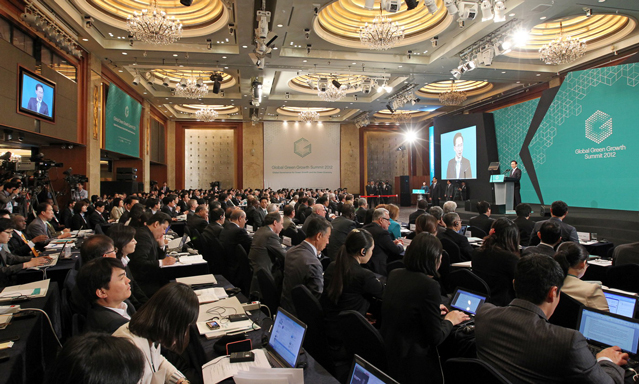 Moreover, Korea is slated to host a forum related to development of a green economy with the United Nations Economic and Social Commission for Asia and the Pacific (ESCAP) on June 19 while the Ministry of Environment will host a promotion booth on Korean green growth which will intensively promote the nation's green card, emission trading scheme, and four rivers projects.


"It is expected that the Rio +20 will become a very important point to set up visions and paradigm shared by the world: green economy and growth," Minister of Environment Yoo Young-sook said. "We'll try our best to spread Korean green growth through the continued international conferences such as the 18th UN Climate Change Conference."


The G20 Summit is being held from June 18 to 19 in Los Cabos, Mexico with goals such as promoting sustainable development, green growth, and the fight against climate change while the Rio +20 will also focus on green economy and sustainable development. President Lee is slated to propose Korea's green growth initiative as an "inclusive action strategy" combating the economic crisis and bridging the gap between the haves and the have-nots, in the wake of climate change and the progressive loss of biodiversity.

By Jessica Seoyoung Choi
Korea.net Staff Writer
Department Global Communication and Contents Division, Contact Us