Korean and Mexican presidents pledge to reinforce bilateral cooperation
Jun 19, 2012
President Lee Myung-bak held a bilateral meeting with President Felipe Calderón of Mexico on the sidelines of the G20 Los Cabos Summit, slated for June 18 to 19. The topics on the meeting agenda ranged from mutual interests to the upcoming G20 Summit and other international mechanisms.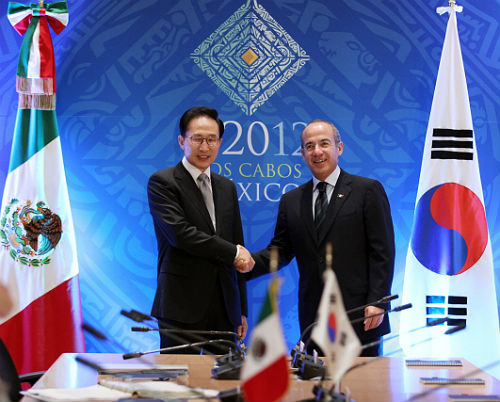 During the Korea-Mexico summit, Presidents Lee and Calderón praised and stated their contentment with bilateral trade reaching a USD 12 billion breakthrough last year. Marking the 50th anniversary of bilateral ties, the two sides pledged to further strengthen cooperative measures of the bilateral strategic partnership.
The talks between the heads of state broached the means of reinforcing the scope of dialogue and effective collaboration in various spheres including trade and human resources exchanges. In this regard, both presidents hoped that Mexico's participation in the Yeosu Expo 2012 in Korea would contribute to the success of the event and enhancing of bilateral relations.
As former and incumbent G20 summit chairs, Presidents Lee and Calderón have worked closely on the highest-level meeting, calling for environment-friendly green growth as a solution to overcoming the global financial crisis. Previously, the two leaders made the appeal in a contribution article to Germany's Financial Times published on May 21, on the new, greener growth paradigm, noting that green growth can create millions of new jobs and help renovate industries.
The two presidents also agreed to consolidate efforts in their partnership revolving around the Global Green Growth Institute (GGGI), a Korean government-led initiative of which Mexico is a participant.
"The summit has further solidified bilateral relations in various realms, and the two leaders agreed to resume FTA talks," noted a spokesperson for Cheong Wa Dae. The two countries had forged a "strategic partnership for co-prosperity in the 21st century" during the summit in September 2005.
By Hwang Dana
Korea.net Staff Writer
Featured Topics
http://www.korea.net/NewsFocus/Policies/view?articleId=100806
URL Copy
Department Global Communication and Contents Division, Contact Us